Slow Cooker Greek Chicken And Potatoes Recipe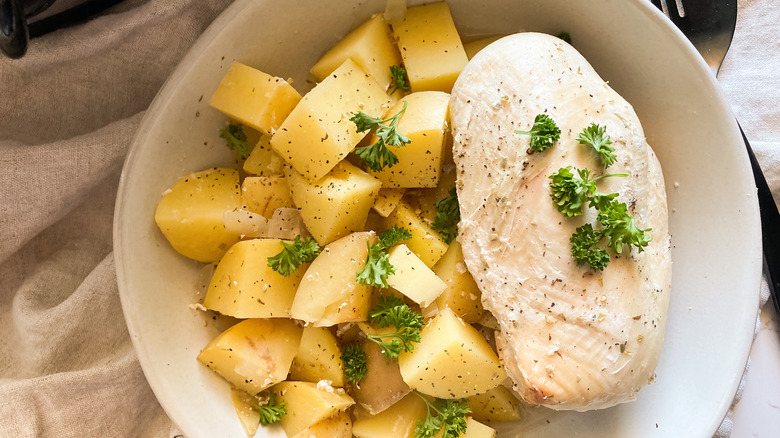 Kristen Carli/Mashed
The traditional Mediterranean seasonings of lemon, parsley, garlic, and oregano come together to make this chicken flavorful and full of zest. Oregano, which grows in the mountainsides of Greece, was thought to bring luck, health, and happiness in ancient times, and it's still a prominent part of Greek cooking, according to Greek Reporter. Not to mention, it adds a nice touch to the taste!
This recipe creates a meal that projects a sunny vibe with its gold potatoes and yellow onion. "I love the brightness of the lemon in dishes like this," says private practice registered dietician and recipe developer Kristen Carli, who also adores potatoes. She's a fan of the vegetable staple "in any way, shape, or form." The dash of garlic, salt, pepper, and chicken broth keep things tasty, and the sprinkle of chopped parsley topping the chicken offers freshness and color, almost like a bit of spring.
If you or your family are counting carbs, you can consider substituting red potatoes in place of gold potatoes. Red potatoes offer more protein and less calories than gold potatoes. Since the dish is prepared with a slow cooker, all you'll need to do is prep the ingredients, place them in your pot, and in five hours, dinner is served. This chicken dish is a great choice to make when entertaining, as you'll have time to do other things while it is cooking. In no time at all, your kitchen will smell like you were at the stove for hours!
Gather the ingredients to prepare this recipe for slow cooker Greek chicken and potatoes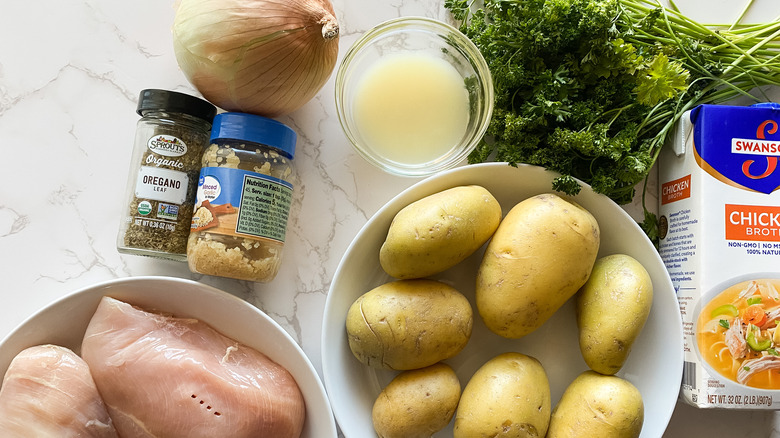 Kristen Carli/Mashed
To get started making this recipe, you'll need to get your ingredients together. You will need three boneless skinless chicken breasts, 2 pounds of cubed gold potatoes, ½ diced yellow onion, 1 tablespoon of minced garlic, 1 teaspoon of dried oregano, ½ cup of lemon juice, 1 teaspoon of salt, ½ teaspoon of pepper, 1 cup of chicken broth and 2 tablespoons of fresh chopped parsley. You probably have most of these items on hand already, which makes this recipe even easier to do.
If you'd like, you can also add in other vegetables — such as carrots, red peppers, or artichoke hearts — to up the health factor. Really, you can never have too much produce, right? "I love this dish on it's own, but as a dietitian, I always suggest to serve with more veggies," says Carli.
So use your own creative judgment regarding any other veggies you'd like to include, and in the summer, it may be what you have growing in your garden or available at your local farmer's market. It will be great to switch up the additional items in the recipe each time you put it together based on what you easily get your hands on.
Dice the potatoes and onions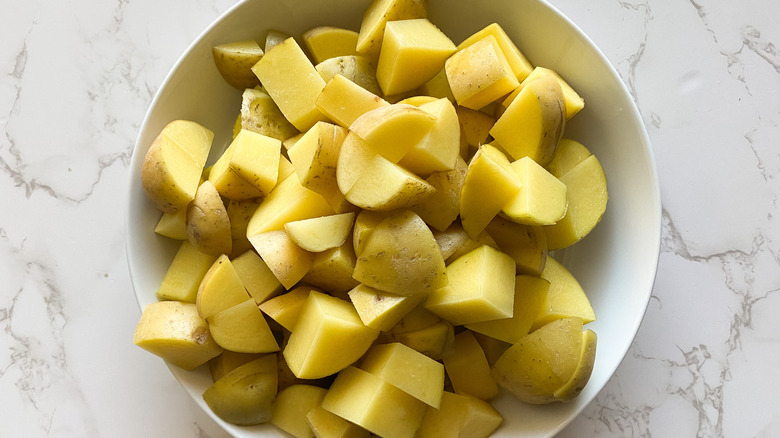 Kristen Carli/Mashed
Now it's time to get your potatoes and onions ready. A good way to cut your potatoes into cubes is to first slice it into strips, and then turn those pieces into long batons. Leave the skin on since it contains so many natural nutrients, like fiber. Do this for 2 pounds of gold potatoes.
Then, you can dice half of a yellow onion. If doing so stings your eyes, freezing the onion or placing it in cold water, and then using a super sharp knife will release less enzymes and help with the tears.
Next, place the vegetables into the large slow cooker. Looking for a quicker dinner? Use an Instant Pot. According to Carli, you should opt for the pressure cook setting for 10 minutes.
Spice up those potatoes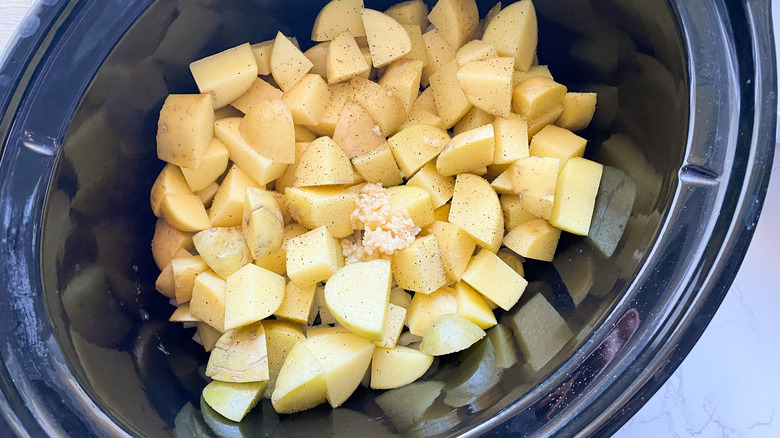 Kristen Carli/Mashed
For the next step, you'll start spicing up the dish with 1 tablespoon of minced garlic, ½ teaspoon of salt, and ¼ teaspoon of pepper. Notice here that you're halving the salt and pepper amounts from the original ingredient list. Put the remainder aside, because you'll use it to flavor the chicken a little later.
Salt is in so many recipes, because it helps enhance the flavor of the other ingredients in a dish, heightening their appeal and potential. Pepper keeps things from tasting too watery and lifeless. Together, salt and pepper are the power pair of cooking. Both have graced dishes since ancient times.
Prepare the chicken for cooking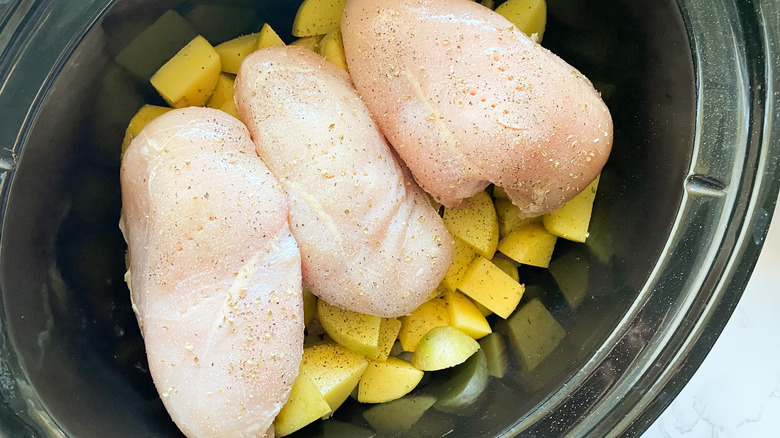 Kristen Carli/Mashed
Next, you'll prep the dish for cooking. Add in ½ cup of lemon juice, three boneless skinless chicken breasts, the remaining salt and pepper, 1 teaspoon of dried oregano, and a cup of chicken broth. The lemon is an especially good match for chicken, and is often found in marinades. The ingredient helps tenderize the poultry and gives it a slightly tart flavor, which the oregano will enhance.
The added chicken broth will make a rich and potent sauce, and turns your chicken into something soft, tangy, and delicious. It's full of essential fatty acids and protein, too, which helps create and repair muscles, bone, and blood cells. So not only are you preparing a delicious meal that your family or friends will totally enjoy eating, but you are providing everyone with a dish that's chock full of healthy stuff, too.
Five hours later, and dinner is ready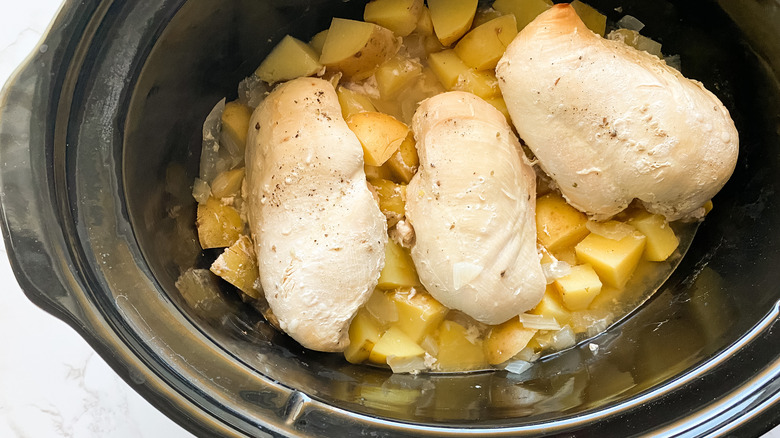 Kristen Carli/Mashed
Now comes the relaxing part: Cover the pot with its lid, and set the heat on high for five hours. Your slow cooker does all the rest of the work. You don't even have to stir the dish. Now isn't this the absolute best kind of meal to cook up?
Your kitchen will be filled with delicious scents, and you'll want to taste this dish very soon. When the time is up, you'll have piping hot meal of Greek chicken with potatoes. After plating, be sure to sprinkle each dish with a bit of fresh parsley on top. The fresh earthiness matches perfectly with the bright lemon flavor. You will have a totally picture-worthy meal right at your fingertips, and a very happy crew.
If there are any, you can enjoy leftovers from this meal for up to three days if you store them in an airtight container and refrigerate. Keep in mind that it won't freeze well, advises Carli, but that's perfectly fine. Since this dish is so quick and easy to whip up, you can plan on making it again and again. Plus you want an opportunity to switch up the add-on vegetables.
This chicken dish is divine, it's sure to be a crowdpleaser at your house. So it's time to simply sit back, have a great dinner, and enjoy the compliments you are sure to receive! You can serve it along with a side salad or even sautéed spinach.
Slow Cooker Greek Chicken And Potatoes Recipe
This slow cooker Greek chicken and potatoes recipe creates a meal that projects a sunny vibe with its gold potatoes and yellow onion.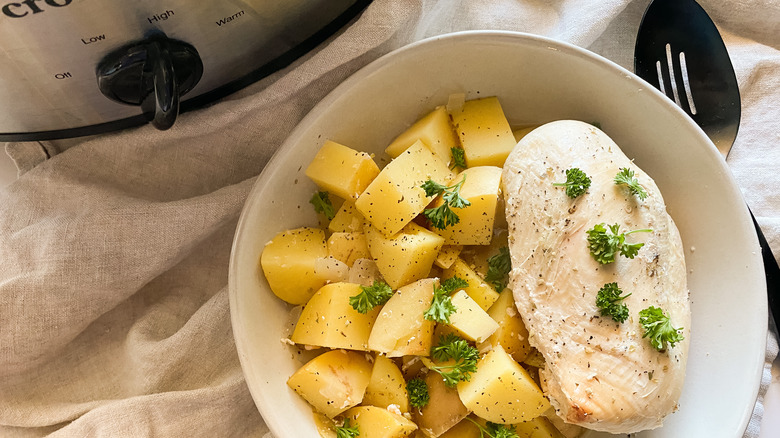 Ingredients
½ yellow onion, diced
2 pounds gold potatoes, cubed
1 tablespoon minced garlic
1 teaspoon salt, divided
½ teaspoon pepper, divided
½ cup lemon juice
3 boneless skinless chicken breasts
1 teaspoon dried oregano
1 cup chicken broth
2 tablespoons fresh parsley, chopped
Directions
In a large slow cooker, add the diced onion and cubed potatoes.
Add the minced garlic, ½ teaspoon of salt, and ¼ teaspoon of pepper.
Add the lemon juice, chicken breasts, remaining salt and pepper, oregano, and chicken broth.
Cover with lid, and cook on high for 5 hours. Garnish with fresh parsley.
Nutrition
| | |
| --- | --- |
| Calories per Serving | 306 |
| Total Fat | 4.3 g |
| Saturated Fat | 1.0 g |
| Trans Fat | 0.0 g |
| Cholesterol | 100.5 mg |
| | |
| --- | --- |
| Total Carbohydrates | 31.0 g |
| Dietary Fiber | 3.8 g |
| Total Sugars | 2.8 g |
| Sodium | 516.7 mg |
| Protein | 35.0 g |