Copycat Applebee's Quesadilla Burger Recipe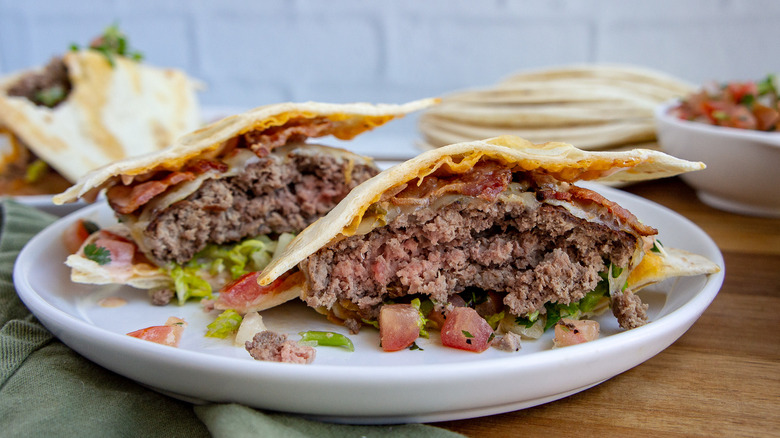 Mikayla Marin/Mashed
Known for both its unique flavors and unique appearance, the Applebee's Quesadilla Burger is one of the restaurant's most popular menu items. Today we're sharing our copycat version from Mikayla Marin of The Flour Handprint, one that's layered with all the same fantastic ingredients for a perfect burger.
With the tips and cooking techniques we're sharing to make your copycat Applebee's quesadilla burger, we think you'll find that the homemade burger is even better than the restaurant version. It's packed with juicy flavor, seasoned just right, and is put on your plate hot and fresh for you to enjoy right away. Transform your home kitchen into a restaurant for a night and whip up these burgers for a fun and tasty dinner. And we promise that we'll never tell anyone that you "dined out" in your pajamas.
The ingredients that make a perfect quesadilla burger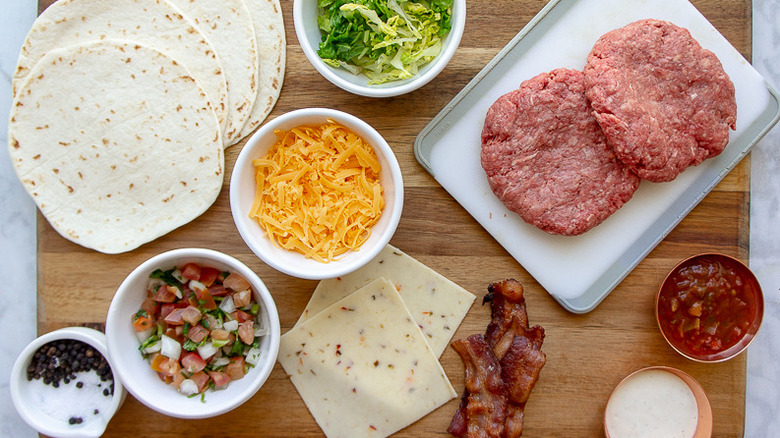 Mikayla Marin/Mashed
This style of burger is like a perfect blend of taco flavors and a juicy burger smashed into one.  To make it, you'll need 2/3 lb ground beef, 1/2 teaspoon salt, 1/2 teaspoon pepper, 4 small flour tortillas, 1/4 cup shredded cheddar cheese, 2 slices pepper jack cheese, 2 tablespoons pico de gallo salsa, 2 tablespoons ranch dressing, 1/4 cup shredded lettuce, 1/4 cup pico de gallo, and 4 pieces of cooked bacon.
Every Applebee's quesadilla burger is topped with that "Mexi-ranch" sauce. Thanks to some insider knowledge, we can pretty confidently tell you that it's simply a combination of ranch and salsa in equal parts. Yup, it really is that easy! Use a buttermilk ranch and a medium heat chunky salsa for best results.
With a sauce that easy and only 10 minutes of cooking required, all these low prep ingredients make your copycat quesadilla burger very easy to prepare and even easier to enjoy as soon as you can.
Choose a good quality ground beef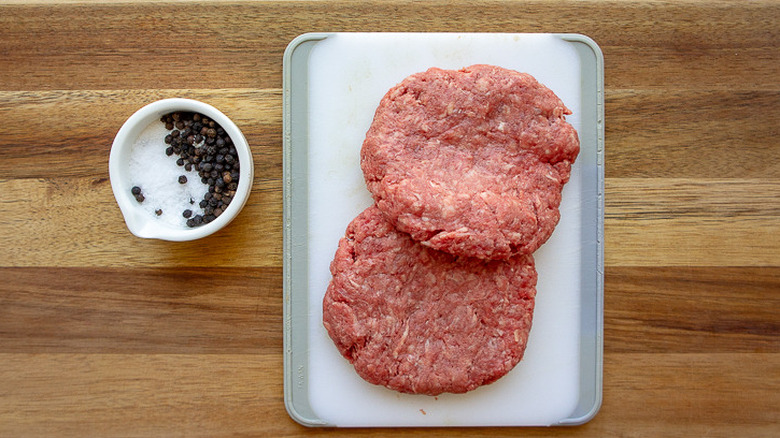 Mikayla Marin/Mashed
Whether you're making this copycat Applebee's quesadilla burger or really any juicy cheeseburger, starting with good quality ground beef can make all the difference. To create a copycat of the original, we're using two ⅓ pound beef patties that we made with 80/20 ground beef (meaning roughly 80 percent lean meat to 20 percent fat). Using a version of ground beef with a relatively generous fat content like this one is a good way to make sure you have juicy burgers and great flavor.
You can certainly use a leaner blend, like 90/10 or even 93/7 if you're hoping to cut back on some fat, but be aware that the burgers made form these blends can dry out faster this way.
A cheese crusted tortilla replaces the bun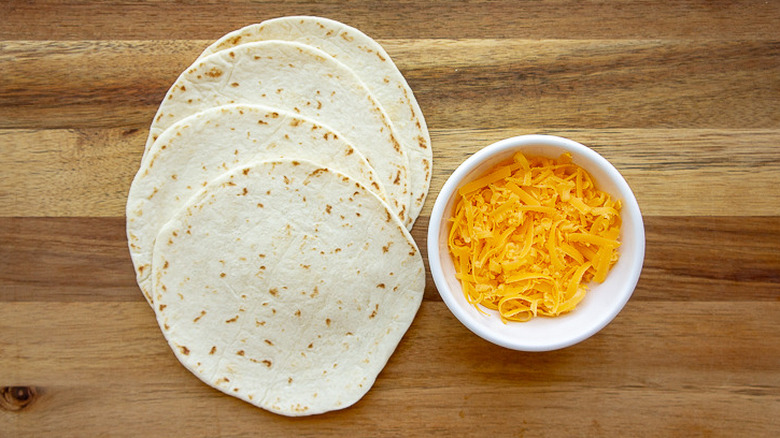 Mikayla Marin/Mashed
It would be pretty hard to call this a quesadilla burger without the tortilla shells that we use in place of a typical bun. The burger sits on normal flour tortillas that have been crisped in the oven with some cheese. Look for the small, fajita-style flour tortillas that are 6 inches or even a little smaller if possible.
To that, we'll be adding some shredded cheddar cheese. It takes just a quarter cup for the four tortillas we'll be using as buns, and you can definitely use either pre-shredded or cheddar you shred yourself. If you don't have cheddar, a blend of jack and cheddar, plain jack, or Colby cheese will work as well.
The toppings that blend burger and quesadilla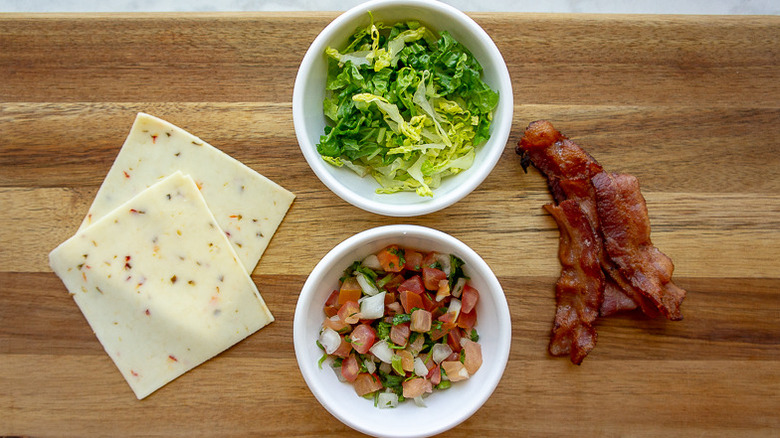 Mikayla Marin/Mashed
In addition to the Mexi-ranch sauce, burger patties, and tortilla 'buns', we need a handful of simple ingredients to finish off the layers in the burger.
Each of the cooked burgers will need a slice of pepper jack cheese. We're using pre-sliced cheese here, but you can definitely use a block of pepper jack and slice it yourself. You'll also need 4 pieces of pre-cooked bacon.
Then you'll need some shredded lettuce and pico de gallo. We're using a finely shredded romaine, but iceberg lettuce will work just as well, too. For the pico de gallo, buy a good pre-made version to keep things simple or make your own.
Form and season your burger patties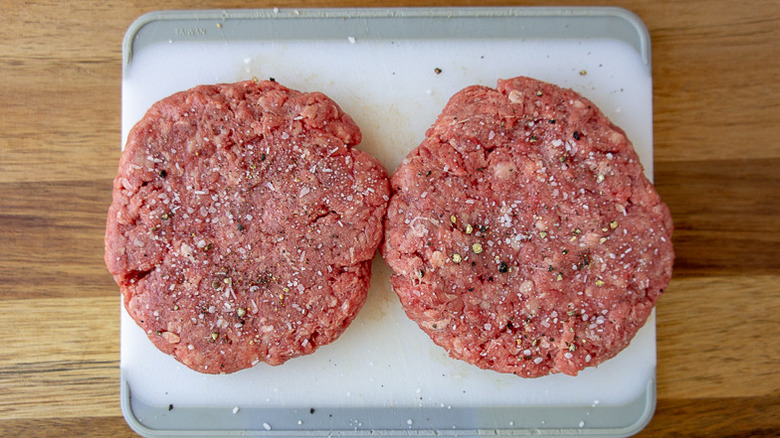 Mikayla Marin/Mashed
If you're using ground beef instead of preformed patties, take a moment to form good patties now before you begin cooking. This is easiest to do by forming a ball and then flattening it, using your fingers to smooth and bind the edges until you have an even and flat patty.
We recommend making an indent in the middle with your knuckle or thumb, which also happens to be a Bobby Flay burger rule, too. This step can help prevent shrinking. It's also ideal to let the patties warm up to room temperature, as the cold of the fridge can make the burgers shrink when they hit the pan.
Finally, season both patties with salt and black pepper. We typically use 1/4 teaspoon each of salt and pepper for each patty.
Toast your tortillas with a cheesy crust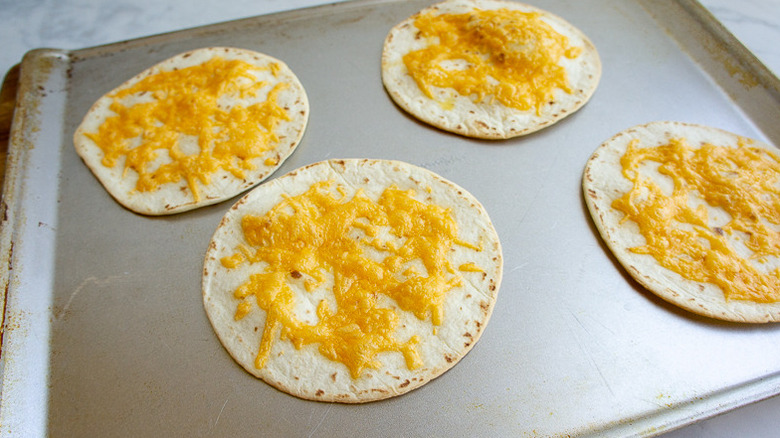 Mikayla Marin/Mashed
Preheat your oven to 400° F and get out a baking sheet. You'll also need a pan for cooking the burger, ideally nonstick. Get that on the stove to heat over medium heat as well.
Place the tortillas in a single layer on the baking sheet and divide the cheddar cheese evenly among them. Sprinkle the cheese so it covers most of the tortilla, then place the baking sheet in the preheated oven for about 7 minutes. The tortillas will bubble up a bit as they toast, but then they'll flatten. When the edges are beginning to look golden brown and the cheese is melted, you can remove the tortillas and set them aside.
Cook your burgers and top with cheese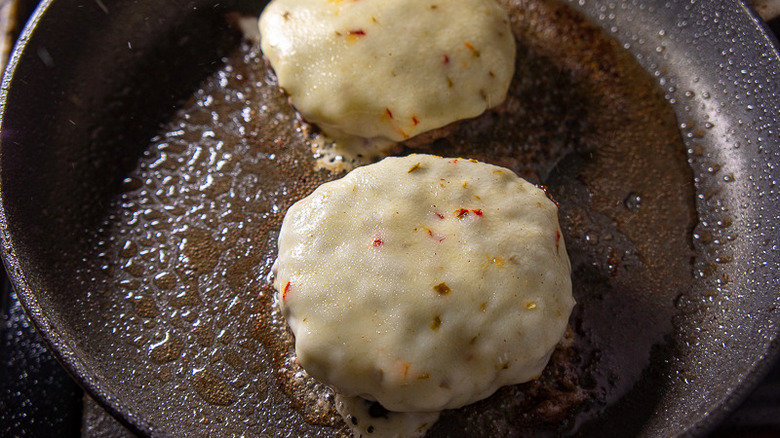 Mikayla Marin/Mashed
Add the seasoned burger patties to your preheated pan and let them cook for about 5 minutes on the first side. If you haven't made your Mexi-ranch sauce yet, this is a great time to stir that together quickly and set it aside with the other toppings for assembly.
When your burgers are flipped, lay a slice of pepper jack cheese on top of each patty and allow it to melt.
This is where you decide how you like your burgers cooked. For a medium burger, with pink in the middle, cook the burgers on the second side over medium heat for just 3 minutes. For a more well-done burger, add 2 to 3 minutes. When they're cooked, remove the burgers from the heat to rest for a moment while you assemble your tortilla buns.
Assemble the burgers and slice in half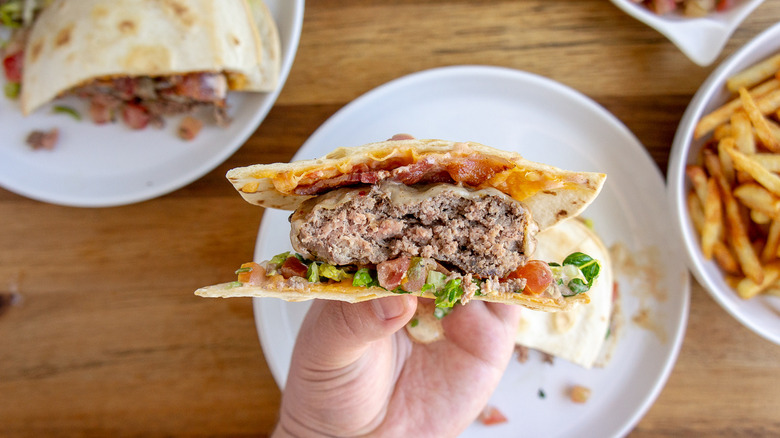 Mikayla Marin/Mashed
To truly create a copycat Applebee's quesadilla burger, assembling it with the layers in the right order is key. Start by laying your four tortillas out. On all four, add a tablespoon of Mexi-ranch sauce and gently spread it out over the toasted cheese. 
Then, on two tortillas, add the lettuce and then two tablespoons of pico de gallo. On the other two, divide the bacon pieces and place them over the Mexi-ranch.
Place the burgers on top of the pico and lettuce, and carefully flip the bacon sides over the top. With the burgers shut, all that's left is to cut it, so you can show off those gorgeous layers of your quesadilla burger.
Serve hot with fries to finish the restaurant quality plate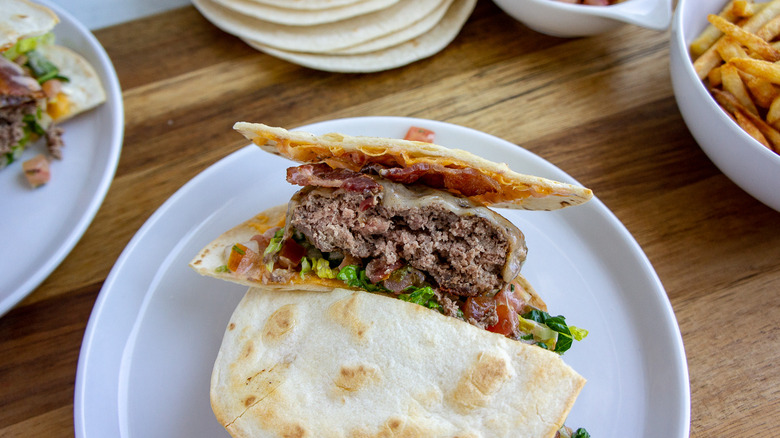 Mikayla Marin/Mashed
Once assembled, quesadilla burgers don't last long texture-wise, as the juice from the patty and the Mexi-ranch sauce can make the bottom tortillas soggy. If there happen to be leftover patties or toppings, they're best stored separately and assembled only when you're ready to dig in.
Ultimately, these burgers are really best served right away. And to make it look really like a restaurant plate, add some crispy french fries as a finishing touch. We think these juicy quesadilla burgers are even better than the original and with your first, mouthwatering bite you'll be sold, too. Soon enough, you'll find yourself whipping these up in your own kitchen all the time.
Copycat Applebee's Quesadilla Burger Recipe
Today we're sharing our copycat of Applebee's quesadilla burger, one that's layered with all the same fantastic ingredients to create a perfect burger.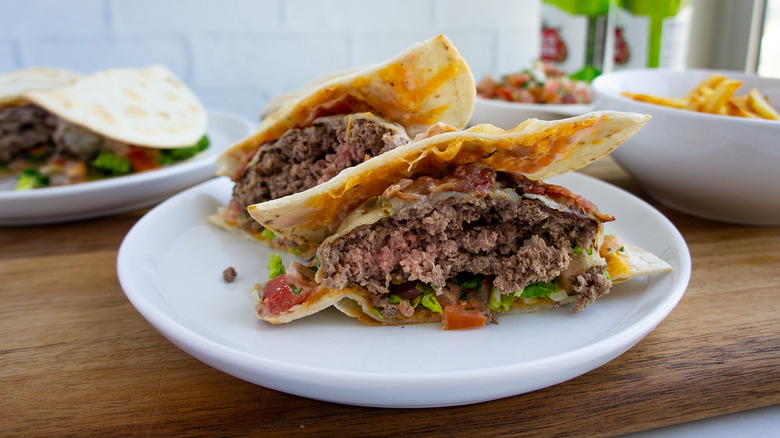 Ingredients
⅔ lb ground beef
½ teaspoon salt
½ teaspoon pepper
4 small flour tortillas
¼ cup cheddar cheese, shredded
2 slices pepper jack cheese
2 tablespoons salsa
2 tablespoons ranch dressing
¼ cup shredded lettuce
¼ cup pico de gallo
4 pieces bacon, cooked
Directions
Preheat the oven to 400° F and set a medium nonstick skillet over medium heat.
Form the ground beef into two ⅓ pound patties and season with salt and pepper.
Place the tortillas on the baking sheet and divide the cheddar cheese among them. Bake until the cheese is melted and the bottom of the tortilla is lightly toasted and crisp, about 7 minutes.
Cook the patties in the skillet for 4 to 5 minutes per side, adding the slice of pepper jack cheese once the patties have been flipped.
Make the Mexi-ranch sauce by mixing the salsa and ranch dressing together in a bowl.
Assemble the burgers by spreading 1 tablespoon of Mexi-ranch on each tortilla. Place the lettuce on two tortillas and add two tablespoons of pico de gallo on top of that. On the other tortilla, place the bacon.
Place the cooked burgers on the pico de gallo side and top with the other tortilla. Press gently down and slice to serve and eat.
Nutrition
| | |
| --- | --- |
| Calories per Serving | 1,087 |
| Total Fat | 78.8 g |
| Saturated Fat | 29.2 g |
| Trans Fat | 2.1 g |
| Cholesterol | 188.9 mg |
| | |
| --- | --- |
| Total Carbohydrates | 43.0 g |
| Dietary Fiber | 2.3 g |
| Total Sugars | 6.2 g |
| Sodium | 1,700.7 mg |
| Protein | 50.1 g |