Antonia Lofaso Reveals The Truth About Judging Cutthroat Kitchen - Exclusive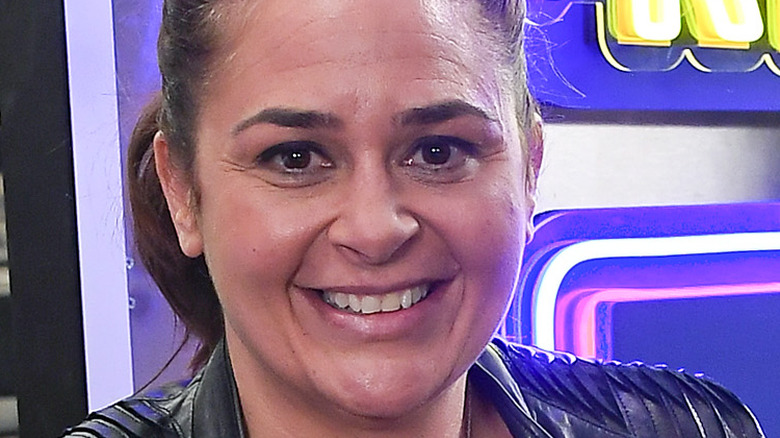 Steve Jennings/Getty Images
One thing that makes all those cooking competition shows so much fun is the thrill of never knowing exactly how far the chefs might be willing to go to impress the judges. Food Network's "Cutthroat Kitchen," which is literally premised on that very question, raises the tension further by encouraging its competitors to undermine one another via trash talk, bidding wars, and carefully plotted (albeit often quite silly) acts of sabotage. In that sense, "Cutthroat Kitchen" could be viewed as a kind of humorous cross between Food Network's "Chopped" and ABC's "Survivor."
Most of the time, Antonia Lofaso and her fellow "Cutthroat Kitchen" judges are thinking like, well, judges, not competitors; though there is one notable exception which Lofaso shared with Mashed during an exclusive interview.
Judging Cutthroat Kitchen isn't as "cutthroat" as you might think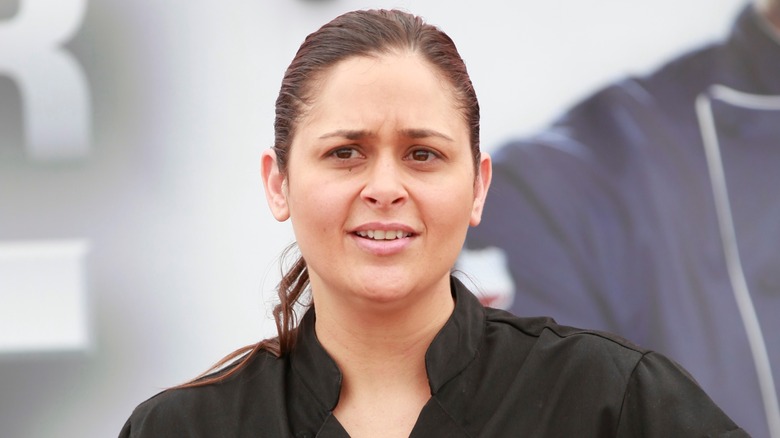 Charles Eshelman/Getty Images
One truth about judging "Cutthroat Kitchen," according to Antonia Lofaso, is that it's virtually impossible to separate what you're doing as a judge from what you recall feeling as a competitor — but that's a good thing. A cooking competition show veteran herself, Lofaso has competed on programs like "Top Chef," "Tournament of Champions," "Guy's Grocery Games," and "Chopped," among others (via IMDb). Having that experience as a competitor has afforded Lofaso "a great amount of sympathy and empathy for everything [the competitors] do." 
Though you might expect food competition judges — especially those on "Cutthroat Kitchen" — to focus on "just the dish," Lofaso sometimes finds herself also considering other things that make up the bigger picture. "I'm more inclined to put myself in their shoes because I've been in their shoes. And I've had great mistakes and I've had great failures and incredible successes. And so, to be able to also tell them that."
For that reason, Lofaso recommends that before a chef even thinks about getting into judging, it would be a good idea to get into competing first. "I think that you become so much more of a dynamic judge when you've been in their shoes," Lofaso told Mashed during an exclusive interview. "And you can be like, 'God, I know what you were going for. I saw it. I knew the determination. Time got away from you.'"
Judging Cutthroat Kitchen requires a certain open-mindedness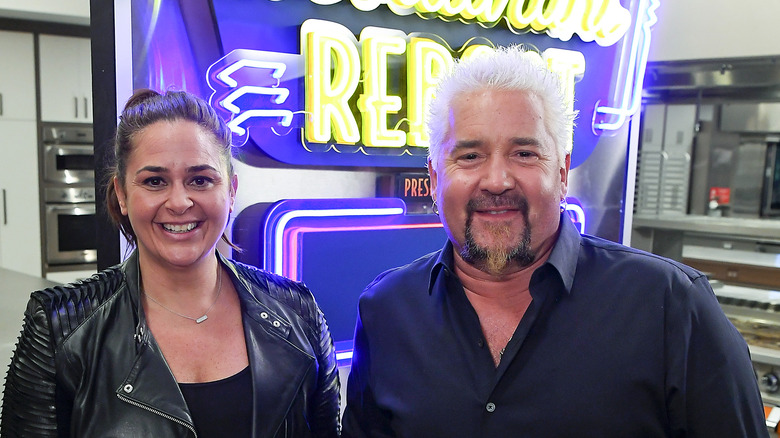 Steve Jennings/Getty Images
"Cutthroat Kitchen" is known for posing some of Food Network's weirder challenges, so the results are unsurprisingly often as weird as it gets. For example, Antonia Lofaso recalls the time that chef Eric Greenspan's challenge was to come up with a dish involving ingredients he was not allowed to mix together. "Everything had to be served separately," Lofaso explained to Mashed. For Greenspan's seafood cocktail, "he had clams, and then he had some chopped shallots, and he had some herbs, and then he had some vinegar, and then he had some ketchup," but it was Lofaso who was mixing everything together. Whereas another judge might have found this concept — through no fault of Greenspan's — too much work, Lofaso found the presentation and experience fantastic. "Everything was so perfectly organized. ... And I was like, 'Oh my God. This is so much fun.'" 
To get a sense of what Antonia Lofaso is really like as a judge, tune into "Cutthroat Kitchen" on the Food Network. You can also see Lofaso in action co-hosting LendingTree's Restaurant Reboot with Guy Fieri, which is streaming on 20+ platforms, including LiveXLive, YouTube, Twitch, TikTok, Twitter, Guy's Facebook page, and GuysRestaurantReboot.com.