You've Been Eating Tacos Wrong, According To George Lopez - Exclusive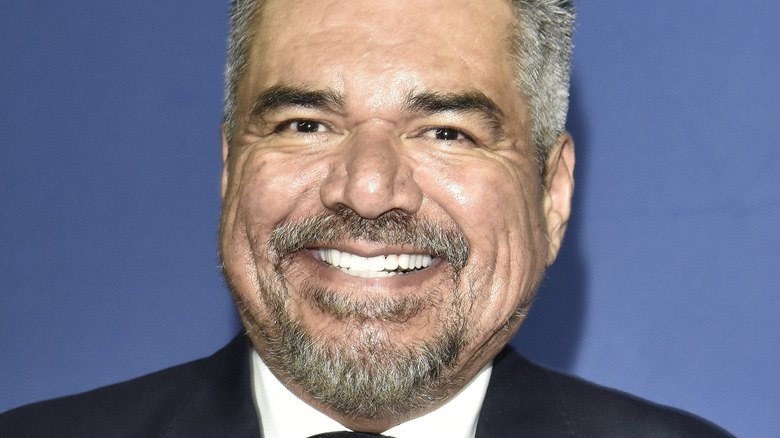 Tim Mosenfelder/Getty Images
Comedian and actor George Lopez isn't just a big name in entertainment, he's also a successful restaurateur, having launched George Lopez's Chingon Kitchen in 2017 and George Lopez's Brewing Company in 2019 (via PR Newswire). Most recently, Lopez introduced George Lopez Tacos, a unique delivery-only taqueria with over 80 locations that cook up what the company website refers to as "badass tacos," delivering them hot and fresh to your front door in minutes. 
In an exclusive interview, Mashed asked Lopez to share a bit about how he got into the restaurant business. The comedian explained that during his stand-up act, he often spoke about his grandmother's cooking. "I was talking about putting the bacon grease back in the beans, and the homemade tortillas, and the chiles, and the salsa. My grandmother was not a complicated cook, but she made some pretty delicious things." He confessed that at the time he really didn't appreciate someone making food from scratch every day, but said, "everything that she made, we ate. And there wasn't a lot left over."
The perfect taco starts with the tortillas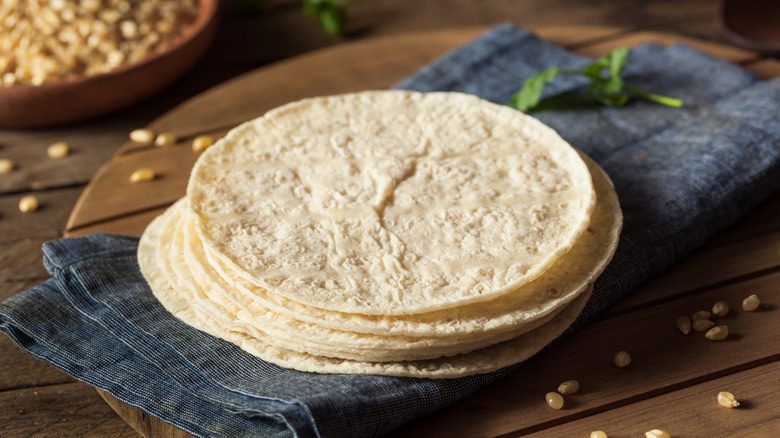 Shutterstock
Left by his parents at a young age (in infancy by his father and at 10 by his mother), George Lopez was raised by his maternal grandmother and step-grandfather in the San Fernando Valley (per The New York Times). Growing up, money was tight (if you're familiar with Lopez's standup work or sitcom, you know that he is open about the hard times he has experienced), so when his grandmother made tacos, she made them one at a time and with only one tortilla.
"I like the double tortilla ... When you grow up poor, you don't have the option," Lopez shared. But authentic tacos usually have two corn tortillas, and from that starting point, Lopez revealed his way for building the perfect taco. First, the tortillas have to be warm — not hot — when you're holding them in your hand. Not only is a fresh, warm tortilla delicious, but for Lopez, its aroma is beautiful as well. "And when you taste it, it's all connected to the heart, I think."
George Lopez's secret for building the perfect taco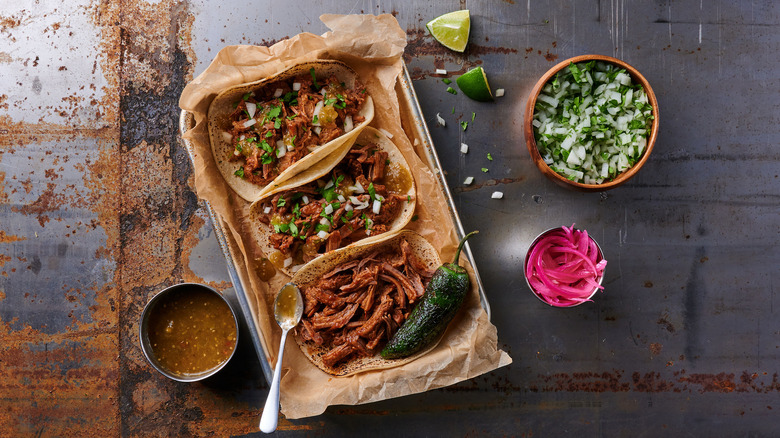 Rachel Adams for George Lopez Tacos
According to Lopez, in Mexico, pico de gallo is much more dry than it is in the U.S. It's made with chopped tomatoes, onions, and cilantro, and there's no excess liquid. Other taco delivery services package watery pico de gallo in little plastic containers. "So when you put that on a taco," he told us, "the liquid's going to go to the bottom of the taco, and then you're going to get a soggy taco." Of course, Lopez is right — nobody wants a soggy taco.
To make tacos the Lopez way, put the meat in you tortilla first, then add some seasonings — like onions, cilantro (Lopez's favorite), jalapeños – and finally, the pico de gallo on top. George Lopez Tacos comes deconstructed; as Lopez himself explained, "we're giving you [a] kit to accelerate your taco-making and taco-enjoying skills." So, if you follow Lopez's advice, you'll be making the best taco you ever had with your George Lopez Tacos delivery.
From the churro bites to the la chingona, check out George Lopez Tacos for a complete menu and ordering information.