Why People Think Rockstar Might Soon Launch A Hard Seltzer Line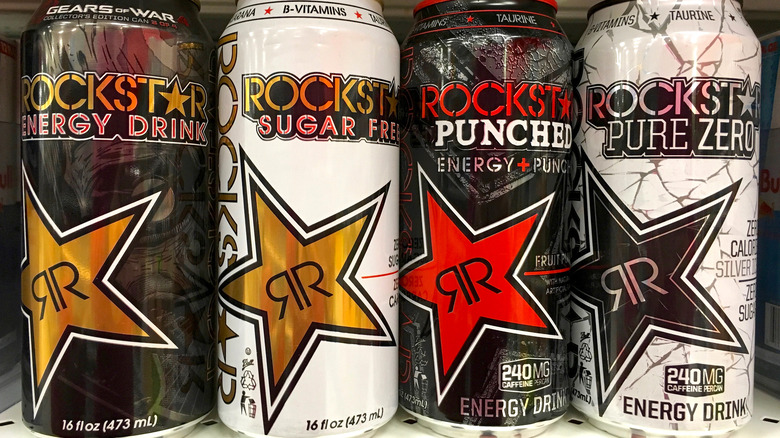 Shutterstock
Everyone and their cousin are getting into hard seltzers. White Claw and Truly might dominate with a combined 70% of that market (via The New York Times), but they have a lot of company. Seeking to snag a share of a quickly growing revenue pie, beer giant Anheuser-Busch puts out at least five seltzers, including Cacti, which also carries the name of celebrity hip-hop artist Travis Scott (via Forbes). Speaking of celebrity seltzers, Gordon Ramsay has his name on cans of Hell's Seltzer, according to Thrillist. And if you thought Sonic was content to focus on drive-in burgers and slushies, then you haven't yet stumbled across Sonic Hard Seltzer in the beer aisle. Even Coca-Cola, the biggest name in soft drinks, got into the game by introducing Topo Chico Hard Seltzer through a partnership with Molson Coors. 
The hard seltzer industry is looking like a gold rush because everyone anticipates making money in a market that grew from $500 million in 2018 to $4 billion in 2020, per The New York Times. Annual sales should hit $8 billion in the next four years.
PepsiCo isn't saying anything yet about a Rockstar hard seltzer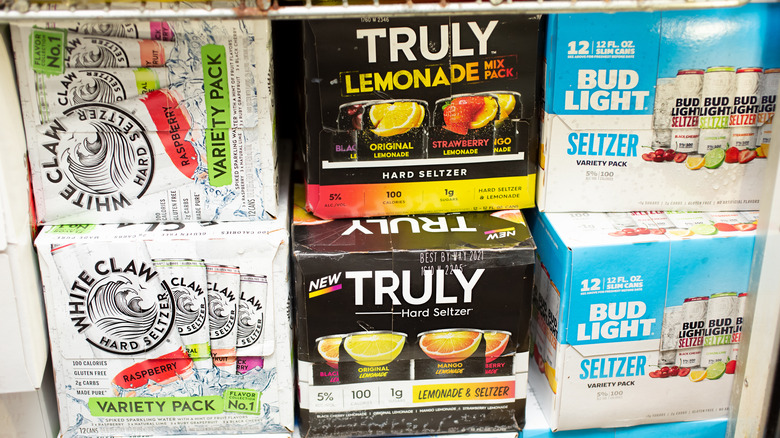 Shutterstock
Thanks to a trademark expert who pays attention to these things, PepsiCo will likely try to catch up to its soda rival with its own alcoholic beverages. Attorney Josh Gerben tweeted PepsiCo's application for a beer trademark and a hard seltzer trademark under the brand name Rockstar. Gerben told Bloomberg the application, filed June 14, suggests PepsiCo is "very much considering a product launch around beer and hard seltzer."
PepsiCo bought the energy drink maker Rockstar in 2020, per Seeking Alpha, and now it appears the beverage giant is poised to attach the brand name to future alcoholic offerings. An intoxicating beverage called "Rockstar" does seem like a natural. Food Dive said PepsiCo is in the same position as Coca-Cola was when it planned to launch Topo Chico seltzer — that is, it has no experience making or selling alcohol. Like Coca-Cola, PepsiCo will probably partner with a large beer maker to brew and then distribute Rockstar seltzer.
Everything about Rockstar hard seltzer is speculation at this point. PepsiCo isn't saying anything yet (via Bloomberg), so it's anybody's guess when — or even if — a Rockstar to rival White Claw will appear in stores. Food Dive figured that PepsiCo would want to expand slowly, releasing maybe one or two types of alcoholic beverages to start. Coca-Cola debuted Topo Chico Hard Seltzer in March with four flavors, per Fox Business.