Slow Cooker Creamy Chicken Nachos Recipe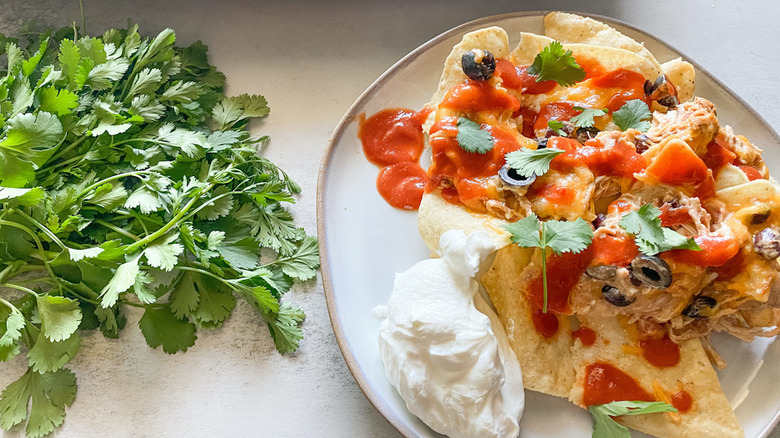 Kristen Carli/Mashed
There are few foods more comforting after a busy day than a big plate of warm nachos. And with nutritionist and food developer Kristen Carli's slow cooker creamy chicken nachos recipe, you can enjoy them with only minimal effort. "This is an easy weeknight recipe!" Carli says, making it a must-have for any home cook searching for easy recipes that deliver a delicious and satisfying dinner that the whole family will enjoy — and that doesn't require hours of preparation in the kitchen.
These chicken nachos are extremely easy to adapt to your own personal tastes. You can swap out or add toppings depending on what you have in your fridge or what you find tastiest on your nachos. The chicken mixture can also be spooned over baked potatoes, served as a dip with chips, or mixed with pasta for other delicious dinner ideas that don't add much more work. The possibilities are practically endless!
Assemble your ingredients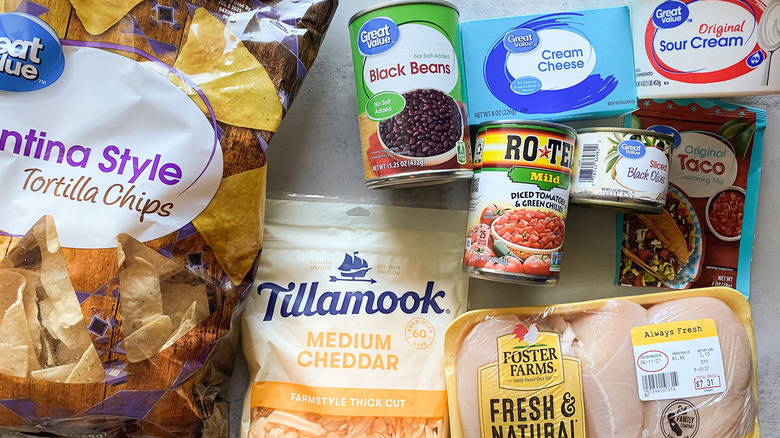 Kristen Carli/Mashed
Of course, chicken nachos wouldn't be anything without the two star ingredients: the chicken and the chips. For this recipe, Carli uses boneless, skinless chicken breasts, which will ultimately be shoveled into hungry mouths using whatever type of tortilla chip strikes your fancy. You'll also need a can of black beans, a can of Rotel (diced tomatoes with green chilies), a packet of taco seasoning, and a block of cream cheese. If you can't find Rotel, you can use a small can of diced tomatoes and a few canned green chilies (or a diced, seeded fresh one). 
You'll also need shredded cheese and sliced olives, along with whatever other toppings sound good to you. "There are no rules with nachos," Carli says, adding that you can throw "whatever your heart desires" on top of your finished nachos.
Cook the chicken in the slow cooker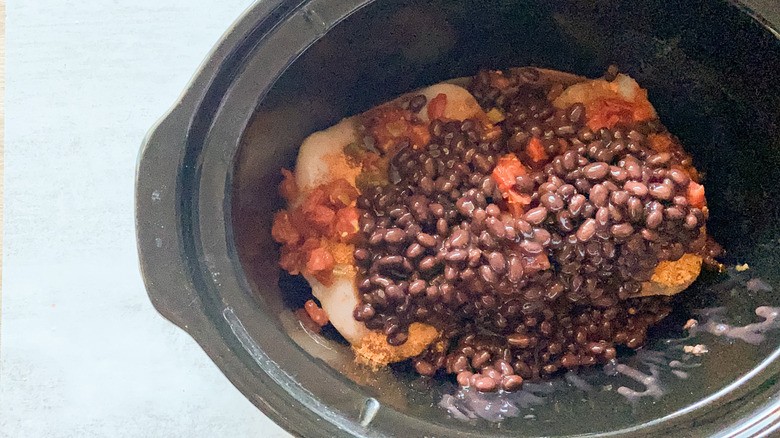 Kristen Carli/Mashed
The preparation for these creamy chicken nachos is so easy that even young kids can help put the base of the dish together. Place the chicken breasts into your slow cooker, then top it with the taco seasoning, undrained black beans, and Rotel. Place the lid on your slow cooker and set it on high for four hours. Then forget about it until it's time to come back and finish it off.
That's it! No need to mix anything together or cut anything up. The slow cooker will do all the work.
Make the chicken creamy by adding cream cheese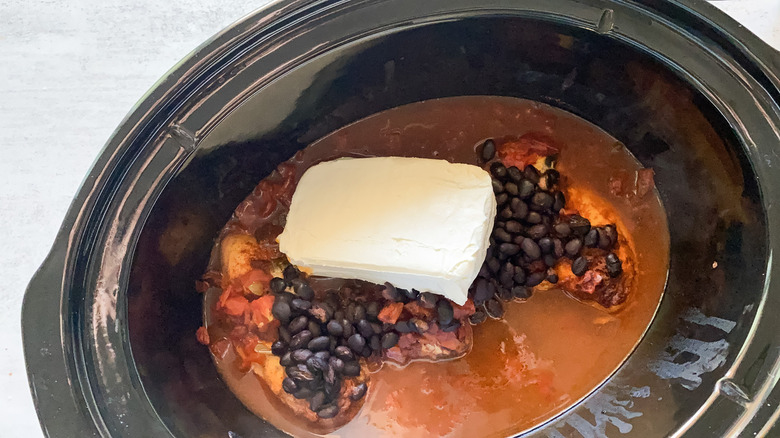 Kristen Carli/Mashed
After four hours in the slow cooker, your chicken should be cooked through and tender. Your kitchen will be filled with the mouthwatering aroma of all the spices and flavors cooking together. 
At this point, drop your block of cream cheese into the slow cooker and replace the lid. Again, don't worry about mixing right now; just wait for about eight minutes until the cream cheese has completely softened and started to melt through. Once your cream cheese is soft and gooey, it's time for the last few steps.
Shred the chicken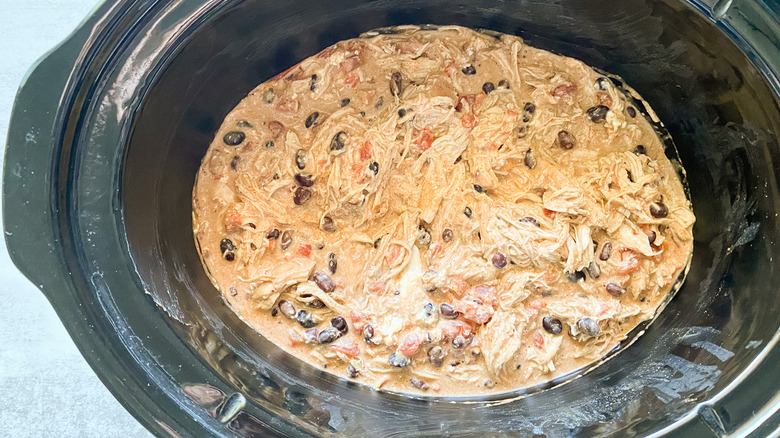 Kristen Carli/Mashed
One of the great things about slow cooking meat is how tender the final product is. After your chicken spends a few hours cooking, it should be tender enough to easily shred using two forks. 
Shred all of the chicken in the pot, and then give the whole mix a good stir with your forks, making sure the cream cheese is fully incorporated into the shredded chicken and beans. You should be left with a creamy concoction with the ingredients distributed evenly throughout.
Top tortilla chips with the chicken and cheese, and bake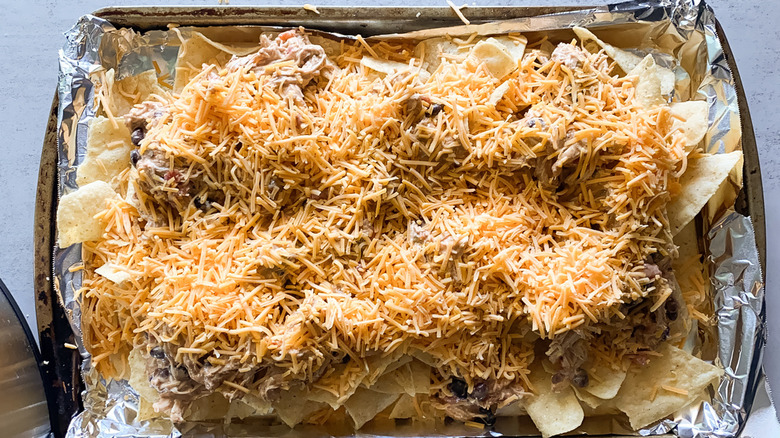 Kristen Carli/Mashed
Now it's time to make your nachos actually look like nachos. Preheat your oven to 350 F, and then line a baking sheet with aluminum foil. Spread out your chips on the baking sheet, then spoon the chicken mixture evenly over top, making sure that everyone will be able to scoop up some of that tasty chicken topping in every bite. 
Then sprinkle shredded cheese over the whole thing, and bake in the oven until the cheese is completely melted, about five minutes, or up to 10.
Plate up your nachos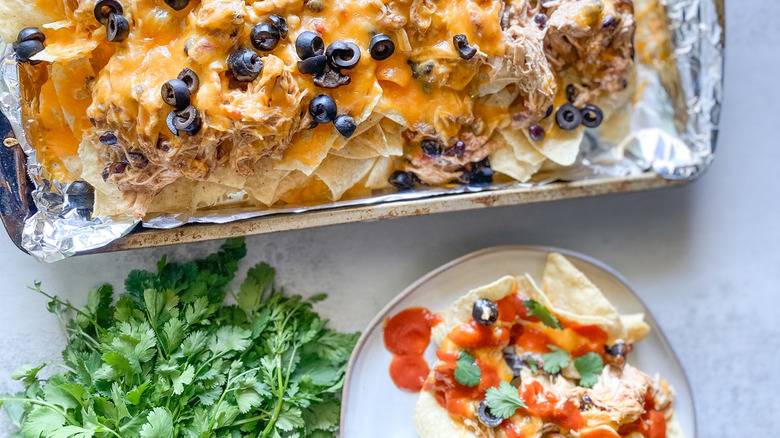 Kristen Carli/Mashed
After your cheese is melted, remove your nachos from the oven and sprinkle the sliced olives over top. At this point, you can also add any other toppings you want. Carli recommends guacamole and hot sauce, but says anything goes! She also likes to sprinkle fresh cilantro over the top and serve her nachos with salsa and sour cream. You can even make your own salsa that's better than anything from a jar.
You can either have everyone gather around the baking sheet and pull nachos straight off the pile, or you can plate up individual servings and let everyone choose any further additions they'd like. Whichever way you choose to serve your nachos, they're sure to be a crowd-pleasing treat that you'll want to add to your regular rotation.
Slow Cooker Creamy Chicken Nachos Recipe
This slow cooker creamy chicken nachos recipe is a must-have for home cooks who want a delicious, satisfying, and low-effort treat for the whole family.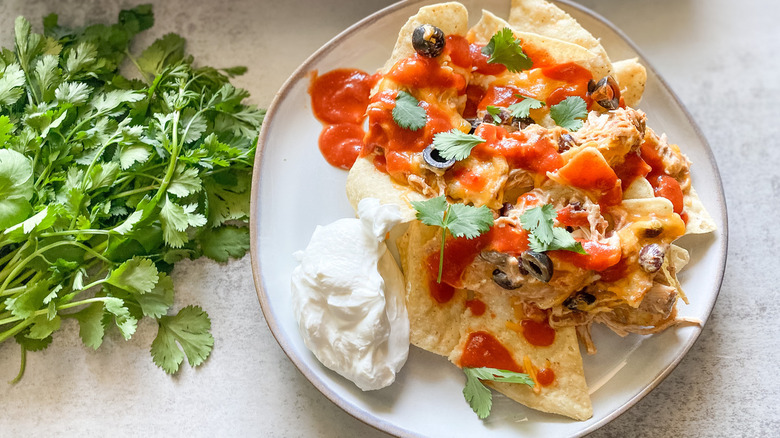 Total time: 4 hours, 18 minutes
Ingredients
3 boneless, skinless chicken breasts
1 (15-ounce) can black beans
1 (15-ounce) can Rotel
1 (1-ounce) taco seasoning packet
1 (8-ounce) block cream cheese
1 (13-ounce) bag tortilla chips
2 cups shredded sharp cheddar cheese
1 (2.25-ounce) can sliced olives
Optional Ingredients
Cilantro
Salsa
Sour cream
guacamole
Hot sauce
Directions
In a large slow cooker, add the chicken breasts.
Top the chicken with the taco seasoning, undrained black beans, and Rotel.
Cover with the lid and cook on high for 4 hours.
Remove the lid and add the cream cheese. Recover the slow cooker and cook until the cream cheese melts through, about 8 minutes.
Remove the lid again and shred the chicken using two forks. Stir to combine.
Preheat the oven to 350 F.
Line a baking sheet with foil. Pour a layer of tortilla chips onto the baking sheet.
Scoop the chicken mixture over the chips. Top the chicken with shredded cheese.
Bake for 5 to 10 minutes, until the cheese is melted.
Remove the nachos from the oven and top with sliced olives and whatever toppings you like.
Nutrition
| | |
| --- | --- |
| Calories per Serving | 879 |
| Total Fat | 47.0 g |
| Saturated Fat | 18.7 g |
| Trans Fat | 0.6 g |
| Cholesterol | 185.7 mg |
| | |
| --- | --- |
| Total Carbohydrates | 61.5 g |
| Dietary Fiber | 10.0 g |
| Total Sugars | 4.1 g |
| Sodium | 931.7 mg |
| Protein | 52.9 g |