JunsKitchen's Omurice Recipe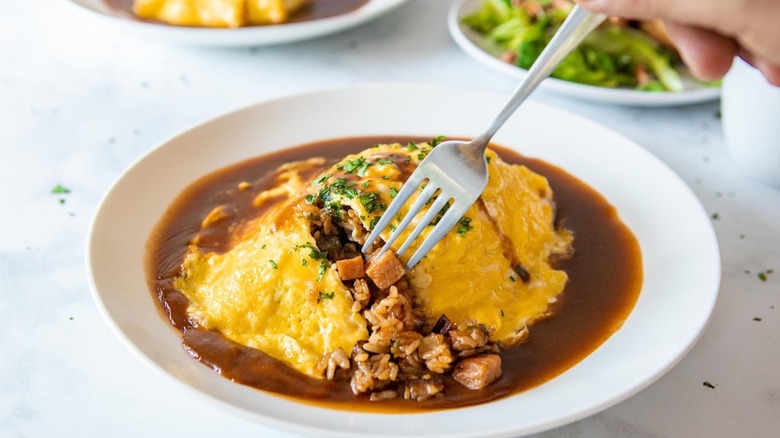 Keith Kamikawa/Mashed
If you're familiar with YouTuber JunsKitchen, it's probably because he has over 5 million subscribers who eagerly look for his consistent output of cooking videos and cat content, making him one of the most popular cooking YouTube channels out there. Even if you don't watch JunsKitchen, you might be a fan of his other channel, Rachel and Jun, where Jun (who is from Japan) and his American wife Rachel make videos about their life as a couple in Japan.
One of JunsKitchen's most popular recipes is for omurice, the video for which has amassed 16 million views and counting since its premiere in 2016. Omurice (a portmanteau of "omelet" and "rice") is just what it sounds like: fried rice, usually with chicken, topped with a silky omelet and finished with ketchup or a demi-glace sauce. Omurice is an example of yoshoku, a type of Japanese cuisine best described as "Western food reinvented the Japanese way" (via Japan.travel).
Photographer and recipe developer Keith Kamikawa has taken JunsKitchen's recipe for the Japanese breakfast staple and given it his own unique spin. The result may not be your traditional omurice, but it remains a loving (and delicious) tribute to Japanese cuisine. Even better, Kamikawa's recipe is relatively simple, requires only a few ingredients, and is written to serve a single person. That's not common in the world of recipes but great news to anyone frequently cooking for one. Here's how to make it.
Gather your ingredients for omurice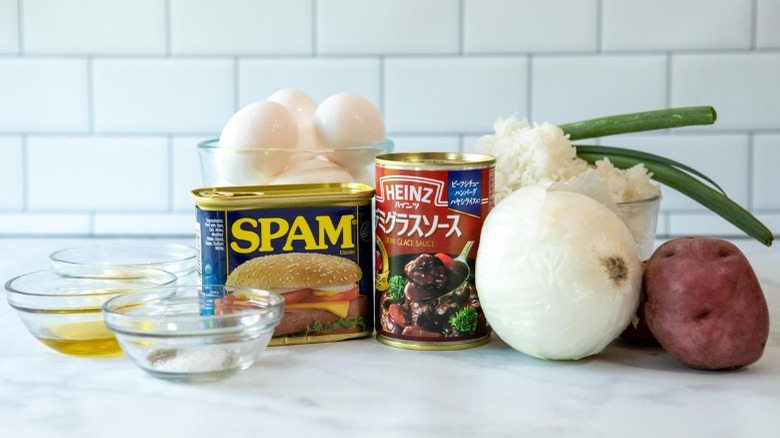 Keith Kamikawa/Mashed
Before you start cooking, get your omurice ingredients ready. You'll need 3 large eggs, 1 ounce of diced red potato, 2 ounces of diced white onion, ½ ounce of sliced scallion, 4 ounces of cooked sushi rice (ideally day-old rice), 3 ounces of demi-glace sauce, 2 ounces of cubed Spam, 1 teaspoon of olive oil, 1 tablespoon of unsalted butter, and a pinch each of salt and pepper.
If you don't have any red potatoes, Kamikawa says other types of potato are fine, but that he "love[s] red potatoes in this recipe for their great smooth and creamy texture. Plus they're small and easy to portion!" He also explains that the rice works best when it's day old, as "there is less moisture in day-old rice, [which is] perfect to get a crispy texture when frying the rice." This would be the perfect chance to use up some leftover rice from another meal!
What did we change?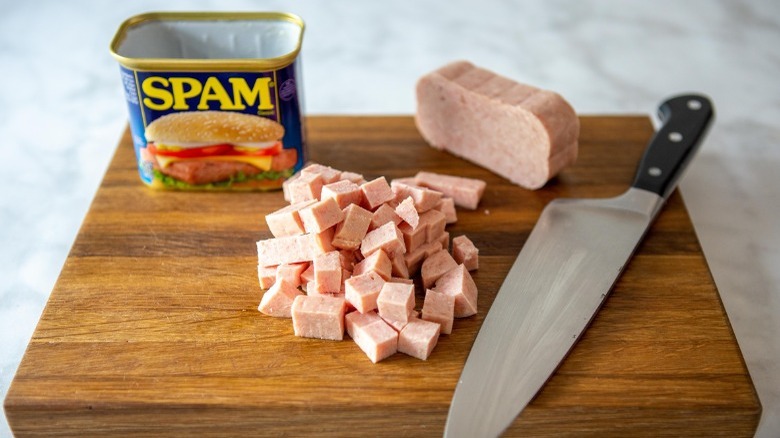 Keith Kamikawa/Mashed
If you're familiar with JunsKitchen's omurice recipe (or just omurice in general), you may have raised an eyebrow or two upon noticing Spam in the recipe list. That's the twist! Instead of chicken, Spam and red potatoes take the flavor spotlight in Kamikawa's omurice. But why should you use Spam instead of some other protein source here?
"I'm a proud huge fan of Spam and knowing that it has a history in Japan (and other Asian countries) from our American GIs, I wanted to make an omurice that spoke to that," Kamikawa explains, noting that being part Japanese himself "was a big part of that draw too." Plus, potatoes and salty meats like Spam are always a good complement to an eggy breakfast. If you're still a bit skeptical, give it a try the first time around and see for yourself.
Heat your sauce and cook your potatoes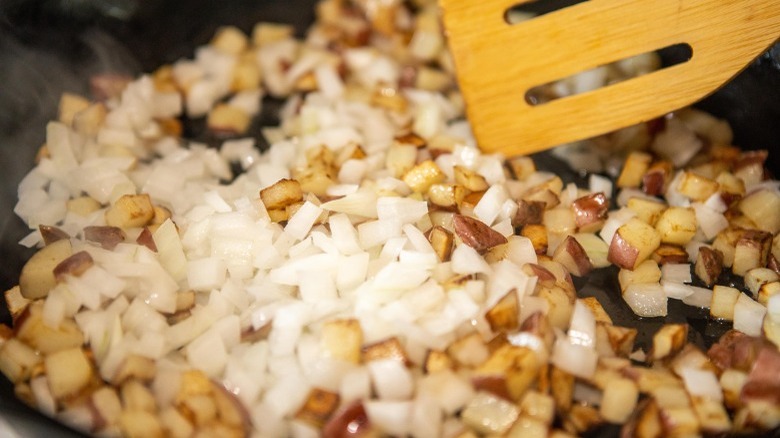 Keith Kamikawa/Mashed
First, get your demi-glace sauce into a small saucepan and heat it up on the stove. This recipe uses Heinz canned demi-glace, but if you want to be ambitious and make your own, Kamikawa shows you how to do so in his classic omurice recipe. The homemade version includes some familiar ingredients, including beef broth and ketchup. However you decide to make it, once the sauce good and warm, set it aside. 
Then, heat a nonstick pan over medium and add 1 teaspoon of butter. When it melts, add your diced potato and saute for about 4 minutes. Add the rest of the butter and, when it melts, add the diced white onion. Allow it to cook for about 4 minutes, until the onion softens and becomes fragrant.
Fry up the rice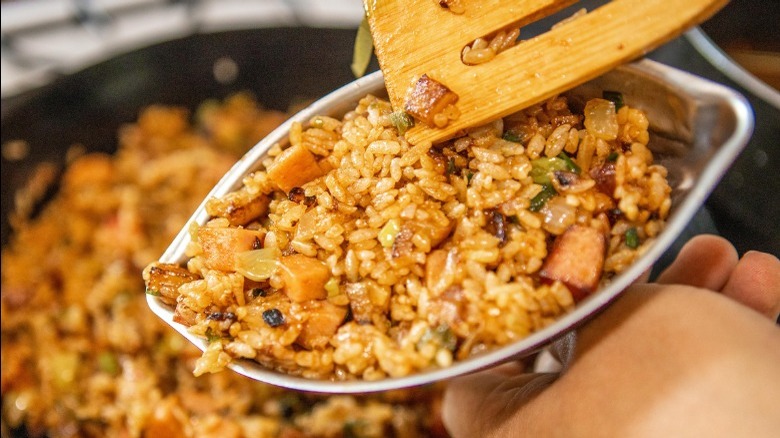 Keith Kamikawa/Mashed
Once the onion has sauteed for around 4 minutes, add the Spam and cook until the pieces of meat get brown, crisp edges. This should take about 3 minutes, but feel free to give it an extra minute or two if it's not browned enough. Then, add the rice and cook, stirring, until it gets hot and crisp as well (which will also take about 3 minutes). Add the scallions and give everything another stir.
Finally, add 1.5 ounces of demi-glace sauce, a pinch each of salt and pepper, and stir. Now, your rice is done. But don't leave it in the pan — pack it into an omurice mold and put the mold on a plate until you're ready to serve. If you don't have one of these dedicated molds, you can also use a small cup or dish. Either way, it'll help the rice stay hot and nicely shaped while you cook the omelet portion.
Cook the omelet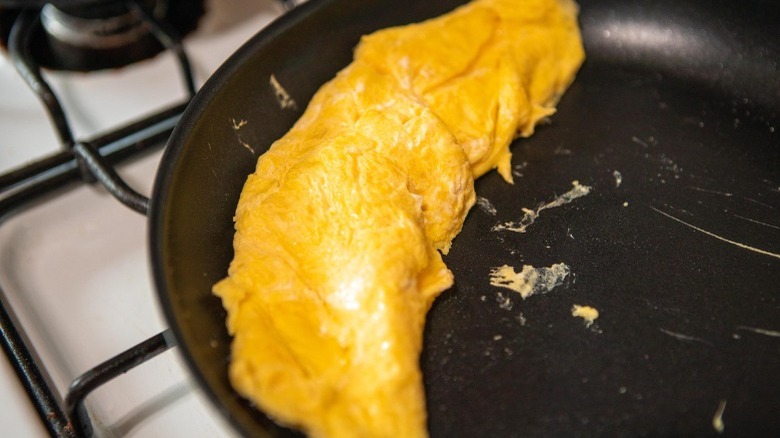 Keith Kamikawa/Mashed
Now that your rice is done, crack your eggs in a bowl and stir them until they're scramble-ready. Then, pour the egg through a fine mesh strainer. That may seem a touch fussy, but the small extra effort is worth it. "This step really gives you a tender and creamy result. I wouldn't skip it!" Kamikawa says.
Heat the olive oil in a nonstick pan over medium, making sure to coat the pan with the oil. Add the eggs and give them a quick couple of stirs, so they begin to cook, but don't overcook. No one wants an overcooked omelet.
Now, give shape to the omelet by folding the egg layer in half towards one side of the pan. "You make almost an omelet 'taco' on the edge of the pan with the interior being loose [and the] exterior being slightly more cooked. Then you do flip it over as best you can for a quick sear to seal the omelet," Kamikawa explains. Ultimately, you're looking for an "elongated football shape."
Omelet, meet rice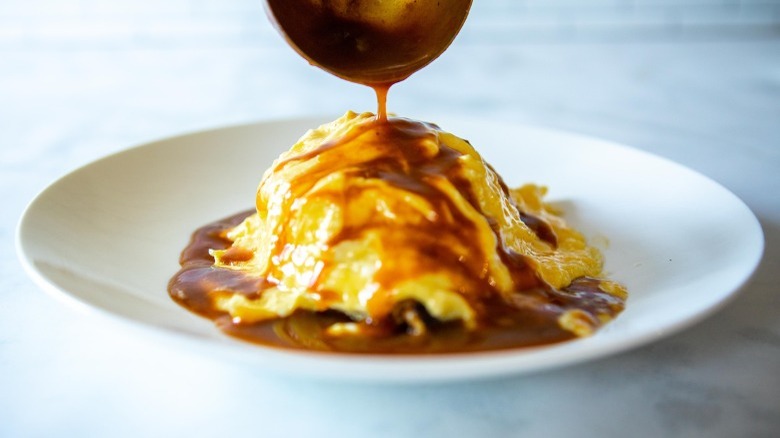 Keith Kamikawa/Mashed
It's time for the final step. Lift the omurice mold to reveal the still-warm fried rice on the plate. Then, ever-so-gently, slide your omelet on top of the rice. Get a knife and cut the omelet lengthwise, but don't cut it entirely in half. Instad, cut it just enough so that the omelet falls open on either side, expanding in width and revealing its delicate, tender interior as it envelops the fried rice. Top the whole thing off with the remaining 1.5 ounces of demi-glace sauce, and you've just made omurice magic!
It's time to eat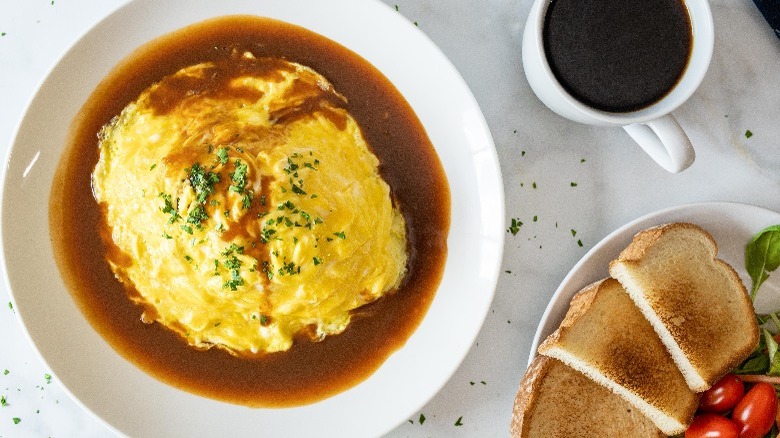 Keith Kamikawa/Mashed
Breakfast is served! Or breakfast for dinner, if that's more your speed. Since this is an omurice for one, you don't even need to plate the finished product from a larger bowl or pan. Your work is already done.
Omurice can be a hearty, filling dish on its own, but if you want side dish suggestions, look to the most important meal of the day for guidance. "With omurice it's common for a kissaten (Japanese cafe) to serve side salads, mini sausages, toast... Or of course, you can always serve your favorite American breakfast sides," recipe developer Keith Kamikawa says. A light side like toast or some biscuits could work especially well here. After you experience the Spam-infused goodness of this JunsKitchen omurice with a twist, you may never go back to eating omelets and rice separately again.
JunsKitchen's Omurice Recipe
We've taken JunsKitchen's recipe for the Japanese breakfast staple and given a unique spin. The result may not be your traditional omurice, but it is delicious.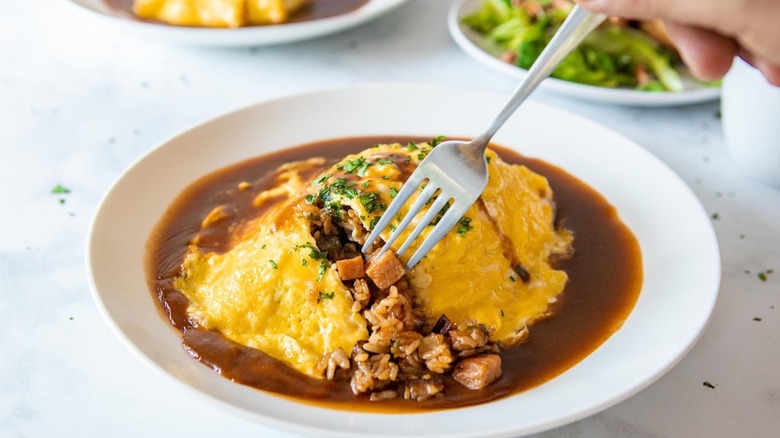 Ingredients
1 ounce red potato, diced
2 ounces white onion, diced
2 ounces SPAM, cubed
½ ounce scallion. sliced
4 ounces sushi rice, cooked (day old preferable)
3 ounces demi-glace sauce
3 eggs, large
1 tablespoon unsalted butter
1 teaspoon olive oil
1 pinch salt & pepper
Directions
Heat the demi-glace sauce in a pan and set aside.
Heat a nonstick pan on medium heat. Add 1 teaspoon of unsalted butter. When the butter is melted add red potato. Sauté until ¾ cooked, about 4 minutes.
Add the remaining 2 teaspoons of unsalted butter to the skillet. When melted, add the white onion. Sauté for 4 minutes. Add cubed Spam and sauté for 3 minutes until Spam begins to brown on the edges.
Add sushi rice and toss in the pan until the rice begins to become crisp, about 3 minutes. Add scallion and mix.
Add 1.5 ounces demi-glace sauce, salt, pepper, and mix the fried rice.
Place rice in omurice mold and place on a plate. Keep the rice covered with the mold until service. Use a cup or small dish if you do not have an omurice mold.
Scramble the eggs in a bowl. Use a mesh strainer to strain eggs smoothly.
Heat a nonstick pan to medium heat and add olive oil. Coat pan.
Add eggs to the pan. Quickly stir eggs twice as they cook to mix them. Cook eggs very loose -- they should not be hard-cooked.
Fold one side of the eggs towards the opposite end of the pan creating an envelope.
Gently loosen eggs on the side of the pan. Tilt the pan slightly to cook the eggs on the edge of the pan, then fold the eggs at the edge of the pan with a spatula.
Flip the omelet in the pan. It should have an elongated football shape.
Remove omurice mold from the top of the fried rice. Slide the omelet onto the rice.
Cut the omelet length-wise, letting the omelet open and fold over the rice.
Top the omelet with the remaining demi-glace and serve.
Nutrition
| | |
| --- | --- |
| Calories per Serving | 932 |
| Total Fat | 38.9 g |
| Saturated Fat | 15.4 g |
| Trans Fat | 0.5 g |
| Cholesterol | 631.1 mg |
| | |
| --- | --- |
| Total Carbohydrates | 103.0 g |
| Dietary Fiber | 1.9 g |
| Total Sugars | 4.4 g |
| Sodium | 1,400.8 mg |
| Protein | 38.7 g |