Burger King Japan's Massive Tokyo Teriyaki Tower Burger Has People Talking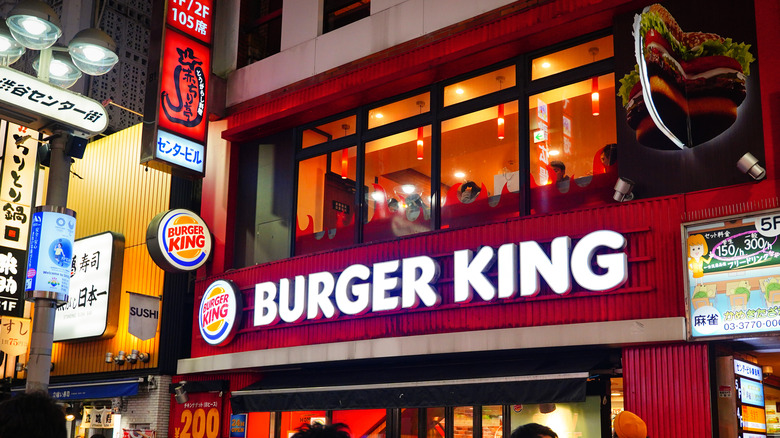 Shutterstock
Recently, it seems Burger King Japan has been out to prove that when it comes to beef, they mean business. Earlier this year, the chain released their 1.12 pound "Extreme One Pound Beef Burger," a burger packed with so much calorie-dense meat it didn't even come with a bun. And then there was their all-you-can-eat burger challenge, which granted customers the chance to earn discounts if they could prove the power of their stomachs (via Sora News 24).
Now it would appear that BK Japan's commitment to catering to those with big stomachs is stronger than ever, as the chain just released the newest addition to its giant burger brigade: The Tokyo Teriyaki Tower Burger. And it already has BK fans all over the world taking to the internet to express their thoughts. On one post sharing news about the gargantuan burger in fast food sub Reddit, users expressed excitement over the offering, with many saying they wish they could try it. One user wrote that the burger "looks succulent," while another compared it to a "NJPW," aka a New Japan Pro Wrestler.
The wrestler comparison seems spot-on, because based on the looks of the burger, it's easy to see why finishing it might feel like you've won a match with a WWE professional. Should you get the opportunity to try one, of course, you'll have bragging rights for days, since BK Japan currently rewards those who are brave enough to order the monstrosity with a sticker to remember you survived the experience. How cool is that?
The Tokyo Teriyaki Tower is a celebration of the famous Japanese sauce
So what makes this Tokyo Teriyaki Tower different from their other big burgers? Unlike their other big beefy items, it seems this one pays tribute specifically to Japanese flavors. Sora News 24 calls it a "celebration of teriyaki sauce," since it features four massive beef patties (adding up to a whopping one pound of meat) soaked in the famous sweet and sour Japanese sauce. They also explain that BK Japan's take on the sauce features an added kick of miso paste and green onions, which gives it a uniquely sweet, spicy, and tangy flavor. Per Food Beast, the tremendously tall offering also comes with the other standard burger fixings, too, like pickles, onions, two slices of cheese, and a slathering of mayonnaise, so it's definitely not for the faint of heart. As one Reddit user noted, it seems like the kind of burger that necessitates a fork and knife because of all the excessive toppings. (We'd have to agree there.)
It's also worth noting that a bigger burger means bigger bucks. This one clocks in at 1380 yen, or approximately $12.42 U.S. per order (via Burger King Japan). But considering it's packed with nearly a full day's worth of calories, you definitely get your money's worth when you order it.
If you want to get your hands on this juicy giant, you'll have to act quickly. It's only available in Japan until July 8, while supplies last.