Instant Pot Creamy Penne Pasta Recipe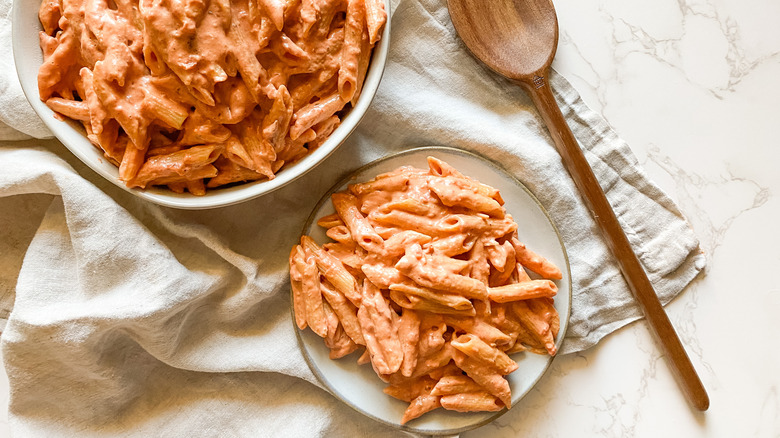 Kristen Carli/Mashed
How much do Americans love pasta with tomato sauce? Well, considering that the 2020 census had the U.S. population at 331,449,281 (via U.S. Census Bureau), and Statista had the U.S. consumption of tomato sauce at 221.07 million for 2020, we're going to go with ... a lot. That's a good thing, because tomato sauce is healthy. It's chock-full of lycopene, an antioxidant that's found in tomatoes, along with vitamin C, another potent antioxidant (via The Health Site). But sometimes, you and your family just may find yourselves craving something a little bit creamier. But making a creamy pasta sauce is hard, right?
Nope — or at least, not with this particular dish that was created by recipe developer Kristen Carli, who says, "I'm always on the hunt for weeknight meals that everyone will love," and this is truly a winner of a weeknight recipe. Carli's Instant Pot creamy penne pasta has all of the bright but creamy flavor of a restaurant-quality penne with vodka sauce, but without the vodka and without nearly as many steps. And since it's made in an Instant Pot, it's going to come together at lightning speed.
When it comes to whipping something up in the middle of the week, quick, easy and delicious are three words everyone loves to hear. This recipe falls under all three categories, and it's so delicious that it's sure to be a regular family favorite. It's also an inexpensive dish to prepare when entertaining guests. Just add a salad and wine!
Gather your ingredients to prepare Instant Pot creamy penne pasta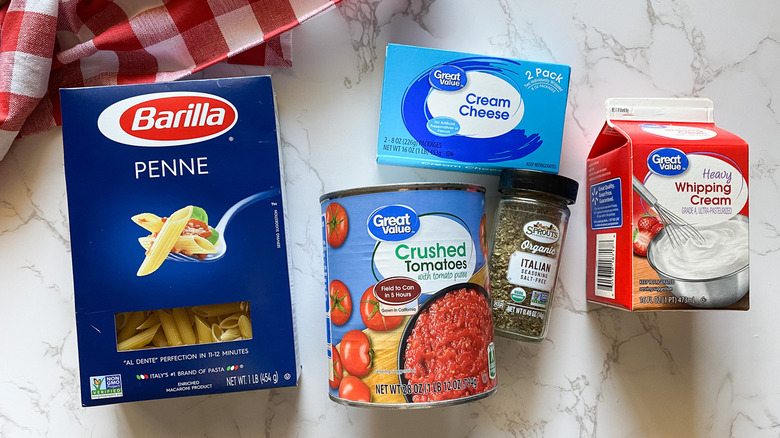 Kristen Carli/Mashed
Amazingly enough, to make Carli's Instant Pot creamy penne pasta recipe for four people, you'll need just five simple ingredients, plus some salt and pepper. The best part is, you may have most of these items already in your pantry. Pull together one pound of dry penne noodles, a 28-ounce can of unseasoned, crushed tomatoes, 4 ounces of cream cheese, ½ cup of heavy cream, and 1 teaspoon of Italian seasoning. If you're not familiar with this seasoning, Carli explains that Italian seasoning is a blend of basil, oregano, marjoram, sage, rosemary and thyme, and you can purchase it pre-mixed from McCormick and other brands. And as far as substitutions are concerned, you can swap in gluten-free penne instead of regular penne with no other changes to the recipe.
You'll also need 1 teaspoon of salt and ½ teaspoon of pepper to taste. In addition, you'll need to use an Instant Pot for this recipe, as the title says. If you don't have one already, and if you don't, well, read on and see how the Instant Pot is such an incredible game-changer, because you may realize that you need one in your life. Once you have one, you'll find there are so many recipes that you can use it for. An Instant Pot is probably one of the best kitchen appliances you will ever own, and one of your favorites, too!
Place all of your ingredients into your Instant Pot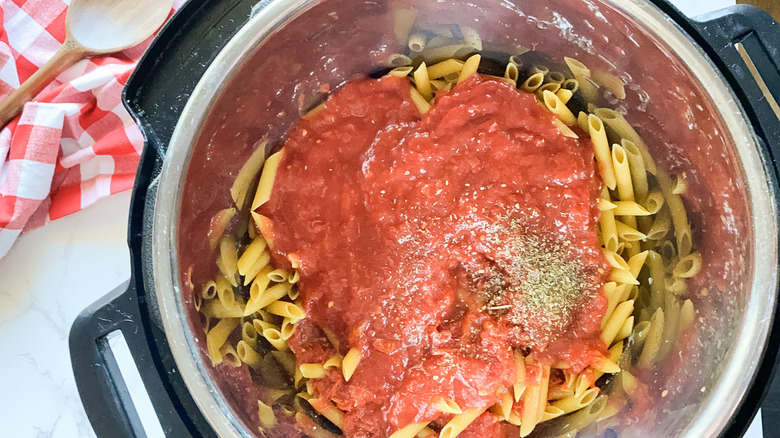 Kristen Carli/Mashed
Once you've gathered all of your ingredients, you can get started whipping up this tasty meal for four. Now it's time to toss in some of the ingredients we talked about earlier into the Instant Pot. Put in your penne noodles, crushed tomatoes and your Italian seasoning. (Actually, you're putting in all of the ingredients right now except for the cheeses, salt, and pepper!) And if you're curious, Carli uses crushed tomatoes instead of a pre-prepared spaghetti sauce, because she loves that chunky texture, and she picks unseasoned because you'll be using Italian seasoning. It's going to be chock-full of flavor, and the scent in your kitchen will be divine. But for an extra kick of flavor, feel free to use a can of crushed tomatoes with basil flavoring rather than unseasoned.
Stir the dry pasta and the sauce, and let the Instant Pot work its magic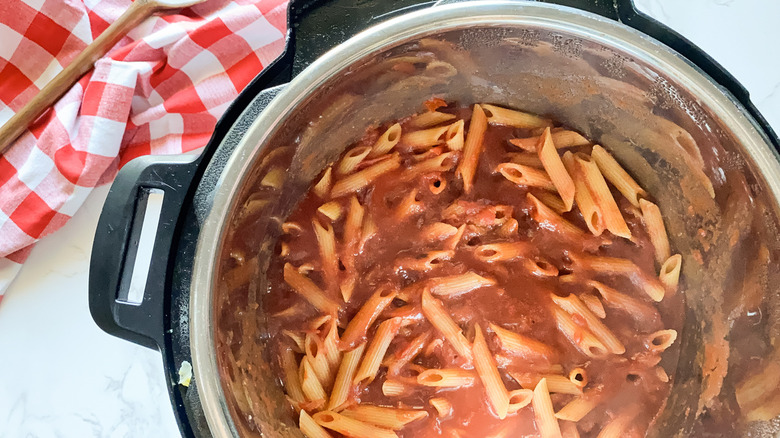 Kristen Carli/Mashed
Stir the crushed tomatoes, pasta, and Italian seasoning into a sauce, and make sure it coats all the dry pasta evenly, because it's going to need to absorb some moisture in order to soften up to al dente. And guess what? That happens in the Instant Pot over the course of four minutes. Simply close the lid, set to pressure cook for four minutes, and, of course, set the valve to seal. Hey, we told you that you'd love your Insta Pot — and it's for great reason.
When the timer tells you four minutes have passed, it's time to manually release the sealing valve. When the steam stops releasing, you can open the lid. Be prepared, because your kitchen will smell oh-so delicious right about now.
Here's the part where you add the creamy flavor and texture to this dish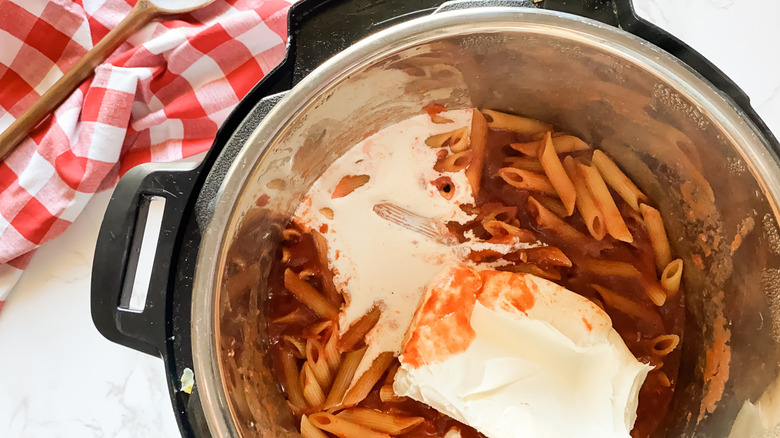 Kristen Carli/Mashed
Your penne with tomato sauce is good to go right now as is, thanks to the diligent efforts of your Instant Pot's pressure setting — so much so, in fact, that this is why Carli recommends using the manual quick-release, because the pasta doesn't need any more time to cook, and the auto-release setting would afford more cooking time. Add in the cream cheese and the heavy cream, then stir well to combine with the pasta and tomato sauce. Add the salt and the pepper, and stir once again, and dinner is ready to be served!
Grab a bottle of red wine, and put together a tossed green salad along with garlic bread, and you have yourself a delicious dinner to put out for your family. Serve up your meal, and enjoy.
Instant Pot Creamy Penne Pasta Recipe
When whipping something up mid-week, quick, easy and delicious are three words we love to hear. This Instant Pot penne recipe falls under all three categories.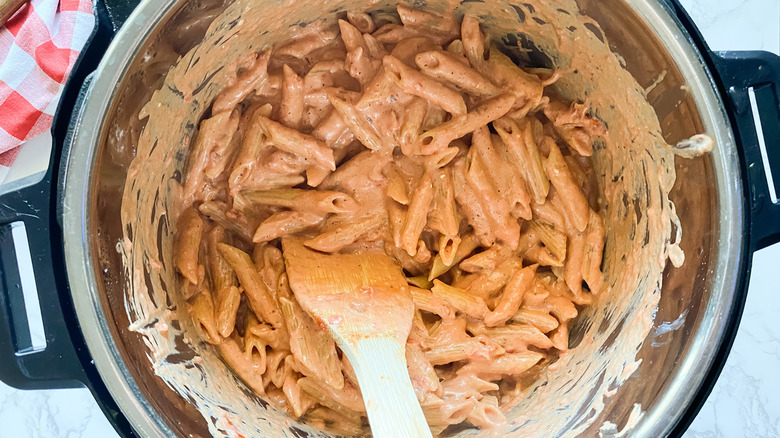 Ingredients
1 pound penne
1 (28-ounce) can crushed tomatoes
1 teaspoon Italian seasoning
4 ounces cream cheese
½ cup heavy cream
1 teaspoon salt
½ teaspoon pepper
Directions
In the Instant Pot, add the dry penne pasta, crushed tomatoes, and Italian seasoning, and stir well to coat the pasta.
Close the lid on the Instant Pot, set to pressure cook for 4 minutes with manual release.
When the 4 minutes are up, release the sealing valve.
Add the cream cheese and heavy cream, and stir well.
Season with salt and pepper, and stir until everything is combined.
Nutrition
| | |
| --- | --- |
| Calories per Serving | 685 |
| Total Fat | 23.0 g |
| Saturated Fat | 12.7 g |
| Trans Fat | 0.0 g |
| Cholesterol | 71.9 mg |
| | |
| --- | --- |
| Total Carbohydrates | 101.5 g |
| Dietary Fiber | 7.6 g |
| Total Sugars | 13.5 g |
| Sodium | 861.7 mg |
| Protein | 20.4 g |