Here's What Celebs Had To Say About Valerie Bertinelli's Emotional Instagram Post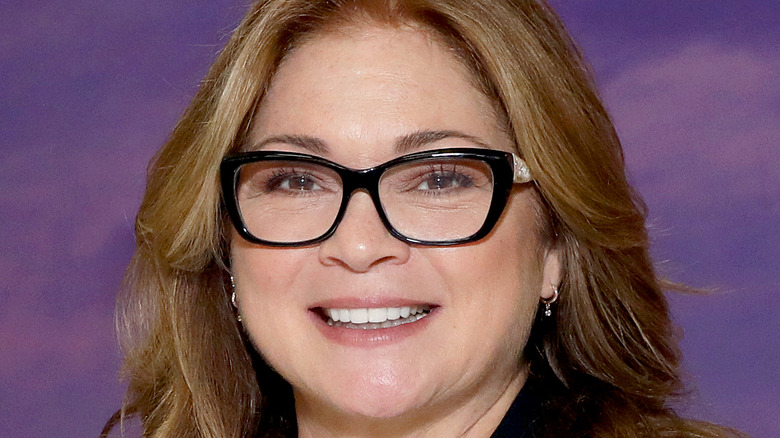 Robin Marchant/Getty Images
Fame and success don't shield celebrities from the pain of hurtful online comments. Valerie Bertinelli has been in front of TV cameras since she was just 15, when she was cast in the 1970's sitcom "One Day at a Time," per Today. Now 61, the actress is a fixture on the Food Network with "Valerie's Home Cooking" and other shows. While fans might think that Bertinelli would just shrug off online criticisms or just not read them at all, she can still get stung.
Nobody understands this better than other celebrities, who flocked to Instagram to support Bertinelli after her tearful video describing how she felt after a commenter told her she needed to lose weight. Several of the star's Food Network peers showed up on Instagram to support her, including Sunny Anderson. "I feel like cursing, but I won't ... publicly," Anderson commented. "Just know your insides count, everyone ... your INSIDES." Anderson's co-host on "The Kitchen," Katie Lee, also commented on Bertinelli's video, "You are so beautiful, inside and out, and so inspiring."
Other stars also had kind words for Valerie Bertinelli
Bertinelli has famous fans outside the food world, too. Faith Ford, who is known, among other roles, as Corky Sherwood from "Murphy Brown," commented on Bertinelli's emotional Instagram video. "I love you Valerie & I love your truth!" Ford wrote. "I am with you 100%!" Singer Demi Lovato, who knows firsthand about enduring public criticism during personal trauma also commented, "You're already enough AND whoever said that is hurting. ... I'm sorry you had to deal with this. Here for you always." Mackenzie Phillips, who played the older sister to Bertinelli's character on "One Day at a Time," also showed up to Instagram. "I've loved you forever," Phillips wrote. "You're beautiful and kind and more than enough."
Some of the biggest names in food celebrity were also there for the actress on Instagram. Giada De Laurentiis, who got personal about her eating challenges in her latest cookbook, sent Bertinelli a "heart" emoji. Ree Drummond, "The Pioneer Woman," responded with an especially thoughtful message. "This video is everything," Drummond wrote. "Beautiful Valerie, you inspire, you encourage, and you make people feel like everything is good and right. You have done this your whole life. You win."