Jimmy John's New Salad-Inspired Wraps Are Only Around For A Limited Time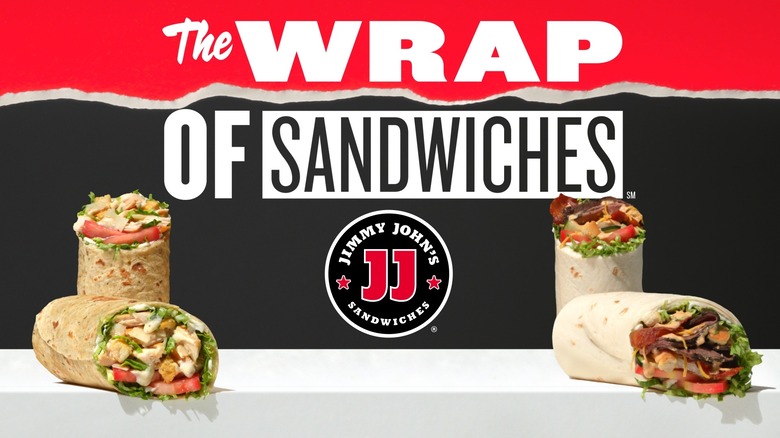 Jimmy John's
Continuing with their focus on fresh new items in 2021, Jimmy John's is now offering a limited time sandwich wrap that transforms their delectable salads into fork-less meals. In a press release sent to Mashed, the sandwich chain explained that these new treats will be available July 12 through August 22, or while supplies last. Among the choices are a Chicken Caesar Wrap and a Beefy Ranch Wrap.
The new menu items are styled as summer salads repurposed in sandwich wrap form. The Chicken Caesar option contains seasoned chicken, shaved Parmesan cheese, mayo, mini croutons, tomatoes, lettuce, and Caesar dressing, all contained within an herb and garlic wrap. The Beefy Ranch pick combines sliced roast beef, bacon, cheddar cheese, onions, tomatoes, cucumbers, mayo, mini croutons, and ranch dressing bundled within a flour wrap. Wraps are priced around $8.50 but may vary by franchise location. 
The new menu items are one more way Jimmy John's is evolving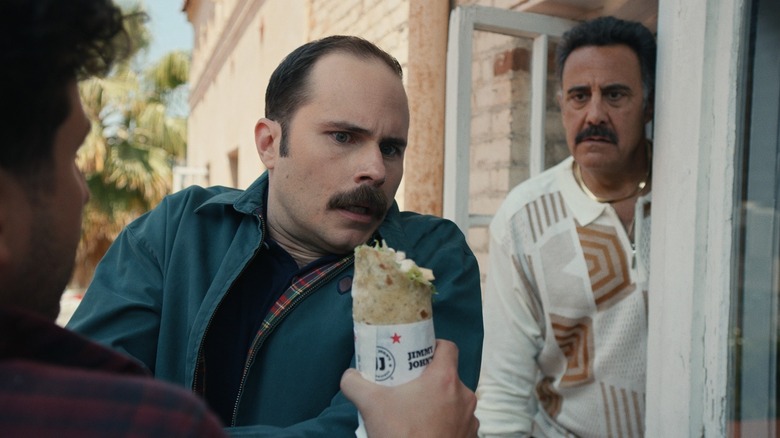 Jimmy John's
These limited-time wraps are part of Jimmy John's attempt to evolve in the current fast sandwich marketplace with "bold new flavors and ideas," per the press release. The new launch follows the success of their other limited-time offering, the Smokin' Kickin' Chicken Sandwich, that was pretty popular when it launched in February. All ideas are put through a consumer screening process, says the company, that ensures high-quality standards. 
As you might also remember, during a commercial at the 2021 Super Bowl, the chain also unveiled a new "anti-mascot": Tony Bolognavich, a self-proclaimed "king of cold cuts." The advertisement, as seen on YouTube, features actor Brad Garrett, showing that the sandwich chain is even relying on star wattage to stay ahead of its competition.
The changes have been needed. With Subway already the dominant force in the sandwich franchise industry, the run for second place has been a fierce battle. Franchise Times reports that, in addition to clever marketing ideas, stricter business practices have also been put in place at JJ's after Inspire Brands — the holding company that owns Arby's — acquired Jimmy John's in 2019. And one of those great new ideas has been the limited-time offerings like these sandwich wraps, that are new for the chain this year. Jimmy John's also assures in the press release that even more limited-time products are planned throughout 2021.