Texas Style Peach Cobbler Recipe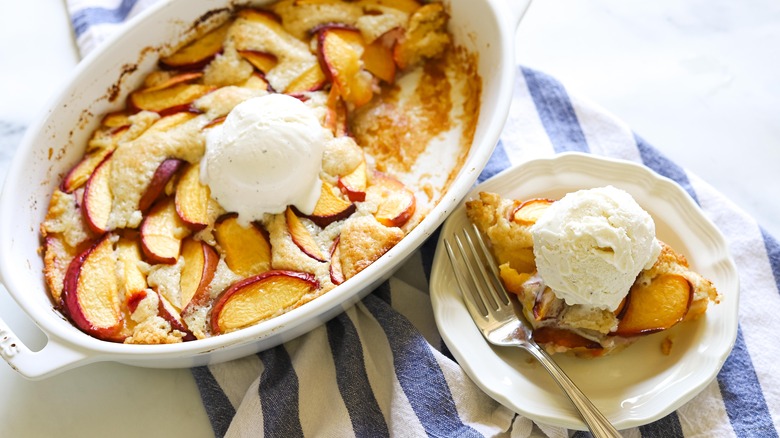 Kit Hondrum/Mashed
We may receive a commission on purchases made from links.
Cobbler, which is essentially a pie with a buttery cakey crust on the bottom (as opposed to the typical flakey shortening-based pie crust on top and bottom), dates back to America's colonial days, when British settlers longed for the puddings of their native land but had to settle for whatever they could improvise with in the new world, according to Johnny Shepherd, an alumnus of "The Great British Bake Off" (via Amazon), who wrote about it in his book "Puddings: Over 100 Classic Puddings" (via Google Books). By 2013, peach cobbler had been designated "the official cobbler of Texas" (via Texas State Library). But that came as no surprise to recipe developer Kit Hondrum, for whom this Texas-style peach cobbler recipe is an "old family recipe."
Well, to be more accurate, this Texas-style peach cobbler recipe is actually a take on Hondrum's old family recipe with less sugar (since "many old recipes can be [overly sweet]," as Hondrum points out). But don't worry, because if you love yourself some classic Southern cobbler, then Hondrum offers a higher-sugar modification.
Gather your ingredients to prepare Texas-style peach cobbler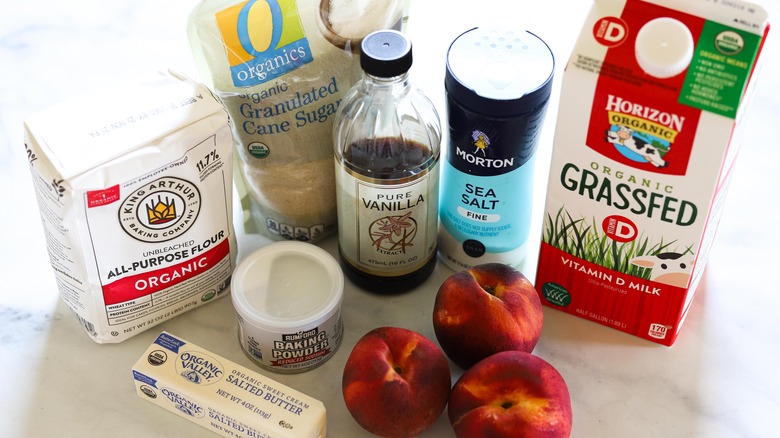 Kit Hondrum/Mashed
The first and most important thing you're going to need to make this Texas-style peach cobbler is three ripe peaches (medium-sized, as shown in the photo). A ripe peach will have a sweet, peachy scent before you even slice or bite into it. Its flesh gives slightly when you press your fingers into it, and it has a very round appearance. (It gets rounder as it gets riper, according to Parlee Farms). You'll also need ½ cup of salted butter (that's one stick of butter), 1 cup of all-purpose flour, ¾ cup of granulated sugar, 1 ½ teaspoons of baking powder, ¼ teaspoon of salt, ½ cup of milk, and ½ teaspoon of pure vanilla extract. And although it's "optional," you might want to seriously consider tossing in a container of your favorite vanilla ice cream to serve either on top or alongside of your freshly baked Texas-style peach cobbler. 
With regard to the baking powder, Homdrum personally recommends one that is aluminum-free because "aluminum is a known neurotoxin and carcinogen." To make this cobbler even sweeter, you can increase the sugar to 1 cup. You can also toss the fruit in sugar before adding to the cobbler. For a lower-sugar version, reduce the sugar to ½ cup.
Wash, pit, and slice your fresh, ripe peaches to get the cobbler started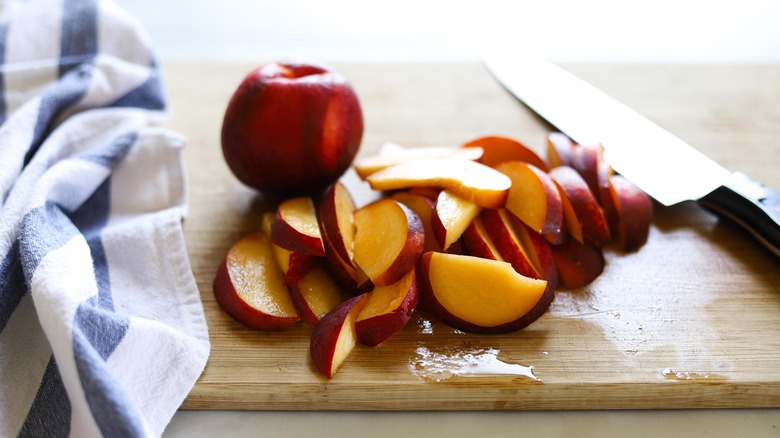 Kit Hondrum/Mashed
For this next step, you're going to run your peaches under cool water, pat each of them dry, and place them on a nicely sized cutting board. To slice the peaches for this Texas-style peach cobbler, use a paring knife to slice all the way through each peach from stem to end — the way you would slice an avocado. Then, twist the two halves apart, and pop out the pit, using the tip of your knife. From here, slice each peach half into half-inch slices. Please note that the peaches pictured might appear to be unusually red — but that is the color California peaches ripen to, according to Hondrum, who resides in California.
Preheat your oven, and make good use of your time in this way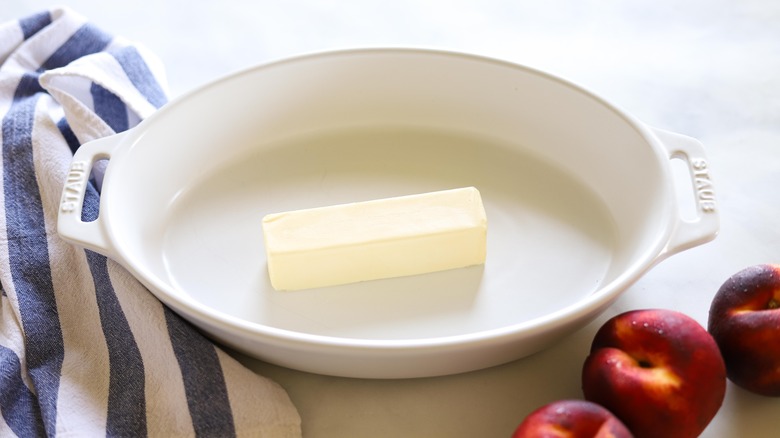 Kit Hondrum/Mashed
Preheat your oven to the ultimate baking temperature, 350 F. Unwrap your stick of salted butter, and place it in the center of a 9x9-inch baking dish (or a dish of similar surface area). Then place the baking dish containing the butter into the oven on the center rack. This will slowly melt the butter as the oven preheats. Please note: The dish that Homdrum is using for her Texas-style peach cobbler is a little on the fancy side. You don't need to do that — a similarly sized glass or Pyrex baking dish will work equally well.
This step puts the cobbler in your Texas-style peach cobbler recipe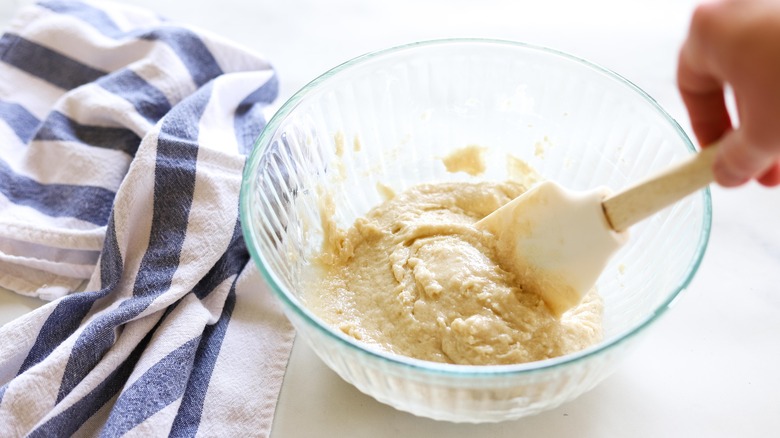 Kit Hondrum/Mashed
If this recipe were just about peaches, and with peaches like the ones pictured, it easily could be, then you'd be in juicy, dripping peach heaven right about now. But since this is a cobbler recipe, that means we still have to prepare the batter. To make your batter, you'll start by combining the remaining dry ingredients: the flour, the sugar, the baking powder, and the salt. (This can be done by stirring them with a fork, spoon, or whisk). Then, add the milk and the vanilla, and stir by hand until the batter is well combined.
Your butter should be melted by now, and here's what to do with it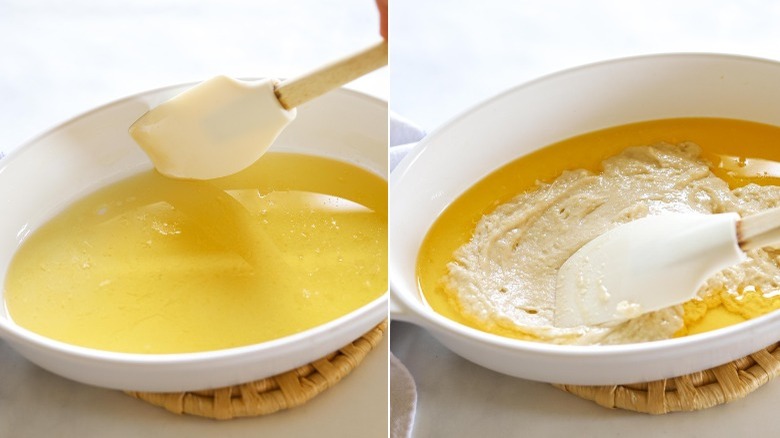 Kit Hondrum/Mashed
Whether or not your oven is fully preheated to 350 F, now is the time to take the pan with the butter out of the oven (use potholders, of course) to make the cobbler's topping or top-crust, whichever you prefer to call it. Using a flexible, articulated spatula such as the silicon one Hondrum is using in the photo above, spread the butter up the sides of the dish, which will amply grease the baking dish so that the cobbler won't adhere to the sides. Then pour the batter right on top of the melted butter, and gently flatten it using your flexible articulated spatula. Be sure not to mix the batter and the butter.
Layer the peaches on the top of the cobbler batter
Kit Hondrum/Mashed
Grab your sliced peaches, and one by one, layer the slices on top of the batter in the baking dish. Place the prepared baking dish in the preheated oven on the center rack, and set a timer for 40 to 45 minutes. Keep an eye on the baking process, because when the peaches start to brown on top, it will be time to take your Texas-style peach cobbler out of the oven, even if it has not been 40 to 45 minutes. 
Allow to cool down for 20 minutes so that the fruit won't burn anyone's tongue. This dessert is going to smell and look pretty amazing! You can spoon it out into individual plates, and serve it up with some vanilla ice cream.
Texas Style Peach Cobbler Recipe
This recipe for Texas-style peach cobbler is best enjoyed while it's warm with a dollop of vanilla ice cream on top.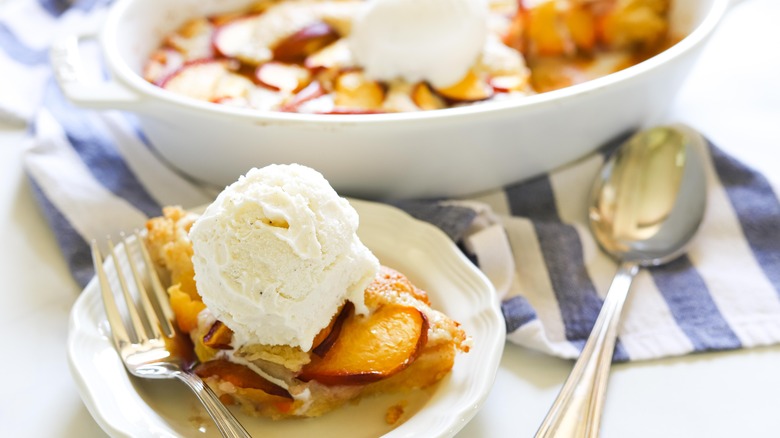 Ingredients
½ cup salted butter
3 ripe peaches, sliced
1 cup all-purpose flour
¾ cup sugar
1 ½ teaspoons baking powder
¼ teaspoon fine sea salt
½ cup whole milk
½ teaspoon pure vanilla extract
Optional Ingredients
vanilla ice cream, for serving
Directions
Preheat your oven to 350 F.
Place the butter into a 9x9-inch baking dish, and place the dish in the oven to melt the butter while the oven is preheating.
Slice the peaches, and set them aside.
In a medium-sized bowl, whisk together the flour, sugar, baking powder, and sea salt until thoroughly combined.
Add the milk and vanilla extract until just combined, and set aside the bowl.
Using a potholder, take the baking dish out of the oven, and with a flexible spatula, spread the butter up the sides of the baking dish.
Pour the flour and sugar mixture right on top of the melted butter, and use the spatula to flatten, but don't mix.
Layer the peach slices on top of the batter.
Bake on the center rack for 40 to 45 minutes, or until the cobbler starts to brown on top and around the edges.
Carefully remove from oven, and allow to cool down for about 20 minutes.
Serve while still warm with vanilla ice cream, and enjoy.
Nutrition
| | |
| --- | --- |
| Calories per Serving | 352 |
| Total Fat | 16.4 g |
| Saturated Fat | 10.1 g |
| Trans Fat | 0.6 g |
| Cholesterol | 42.7 mg |
| | |
| --- | --- |
| Total Carbohydrates | 49.5 g |
| Dietary Fiber | 1.7 g |
| Total Sugars | 32.5 g |
| Sodium | 318.7 mg |
| Protein | 3.7 g |