Oven Fried Catfish Nuggets Recipe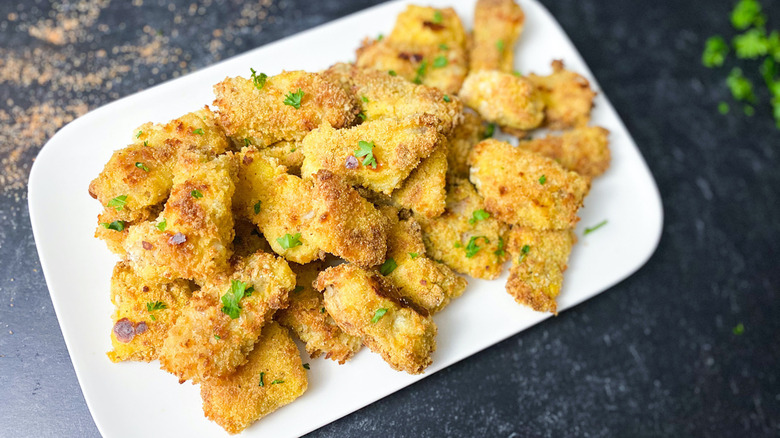 Erin Johnson/Mashed
There are few quick meals that are as easy to throw together and as beloved as that childhood classic of fish sticks. And while the fish sticks that claim freezer space in so many households certainly have a time and place, turns out it's not all that difficult to make your own from scratch. That's especially delicious and easy with this oven-fried catfish recipe from recipe developer Erin Johnson. "This recipe is incredibly kid friendly and could easily take the place of fish sticks in your house," Johnson says.
Best of all, with a short ingredient list of seven items (many of which you likely already have in your kitchen) and a short total cook time of about 35 minutes, you can get these on the table without much hassle at all. And this oven-fried catfish is easy to customize, too. You can spice up the breading if you prefer a little heat, or you can add your own favorite spice into the mix. So, it's time to put down those freezer-burned fish sticks and get these going. You won't regret it.
Gather your ingredients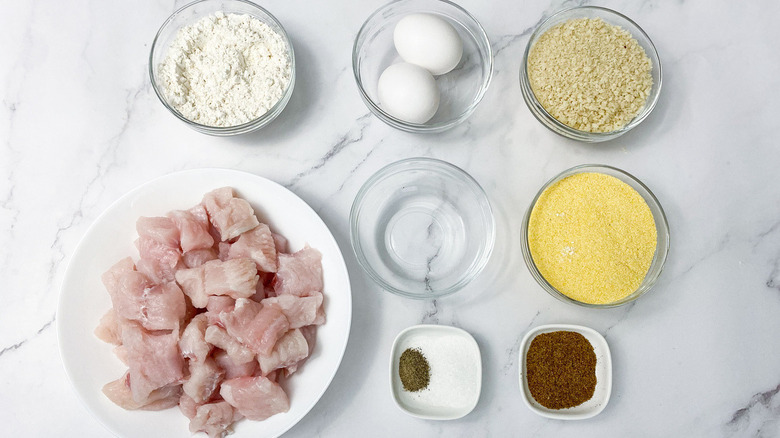 Erin Johnson/Mashed
This recipe makes 4 servings, which should be plenty for a nice lunch or even a small family dinner. For this amount, you'll need 2 eggs, 1 tablespoon of water, ½ cup flour, and 1 cup each of cornmeal and panko for the breading. In terms of spices, you'll need 1 tablespoon of Old Bay or another Cajun seasoning (plus cayenne or another chili powder if you want to pump up the heat). Finally, fresh parsley makes for a great garnish with bright, herbal flavor, though it's optional and won't make or break the dish.
At the heart of this recipe, of course, is the fish. Johnson's original recipe calls for a pound of catfish that has been cut into nugget-sized chunks. This type of fish is pretty well suited for this recipe in particular. "Catfish is mild in flavor and is firm enough that it can easily be cut into a nugget shape," Johnson says. "It's also common and easily found in most grocery stores."
Don't worry if you make it to the grocery store only to find there isn't any catfish there. This recipe does have some room for substitutions, within reason. Another type of white fish like tilapia or cod will do the trick just as well, Johnson notes.
Prepare the coating and fish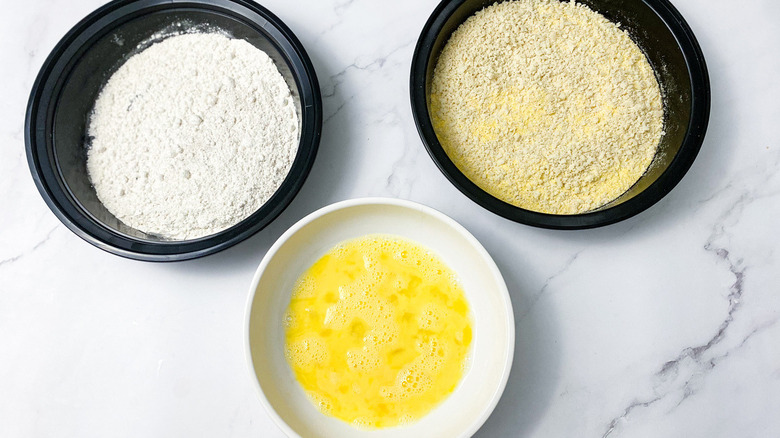 Erin Johnson/Mashed
Before you do anything else, preheat your oven to 425 degrees Fahrenheit so that it's ready as soon as you've prepared the fish. Then lay out your cut catfish pieces and season them with salt and pepper.
The secret to any good coating, whether you're doing a traditional fry or popping it in the oven like in this recipe, is to set up the bowls in the right order to dunk whatever you're cooking. Start with the eggs by beating them together with the water in a shallow bowl. The water "helps to thin out the egg to make it easier to coat the fish," Johnson says.
In another shallow bowl or pie pan, mix half of the flour and half of the Old Bay or Cajun seasoning. You'll also add the cayenne or other chili powder to this bowl if you're using it for an additional spicy kick. Finally, in a third bowl, mix the cornmeal, panko, and remaining seasoning.
Coat your fish in the correct order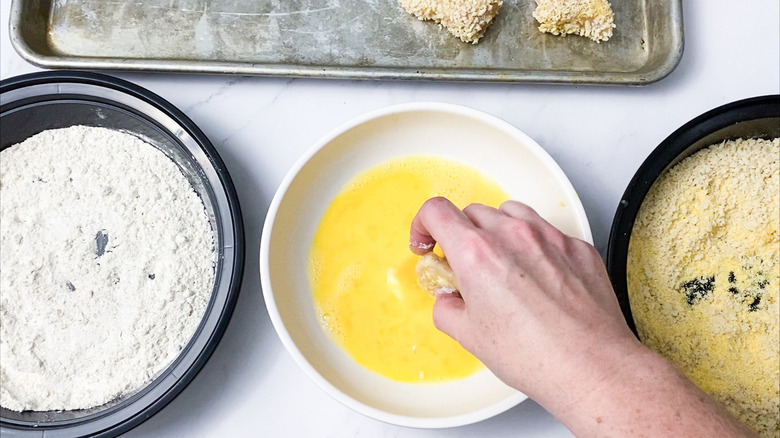 Erin Johnson/Mashed
Grab some cooking spray and spray a large baking sheet with it. Set the tray to the side so it's ready for the fish as soon as the pieces are covered in the flour, egg, and fry mixture.
Order is everything when it comes to keeping the cornmeal-panko mix on the fish through the baking process. This recipe uses a technique called dredging, which simply means coating in flour and breadcrumbs. First, you'll want to put the catfish pieces in the bowl of flour (since the fish is a little moist to begin with, these dry ingredients should stick to the pieces just fine). Then plop the catfish nugget in the egg mixture until it's completely covered. Finally, put the fish in the cornmeal-panko mix and make sure the fish is completely enveloped.
One tip to keep the mess down to a minimum here is to touch the wet ingredients (the fish prior to the flour and after being dipped in egg) with one hand, and the dry ingredients (the flour-covered fish and after it's been covered in the cornmeal-panko mix) with the other.
Spread the pieces of fish evenly on the baking sheet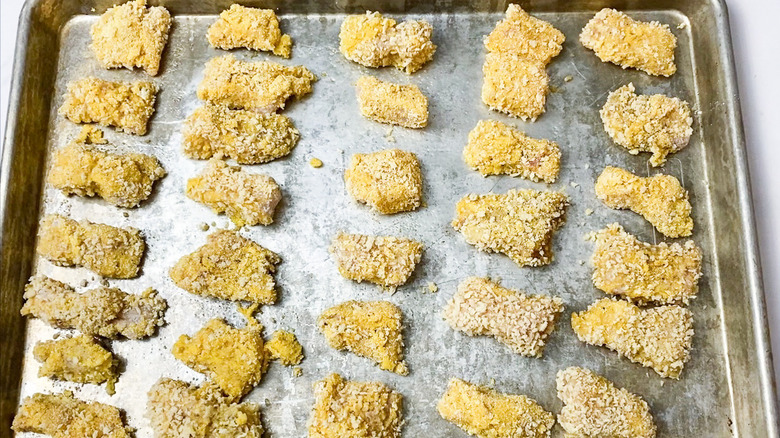 Erin Johnson/Mashed
Grab that baking sheet you previously greased with cooking spray and put the breaded nuggets of catfish onto it. Be sure to space out the nuggets so that they don't touch. Leaving about an inch or more on all sides ensures that the pieces of fish will cook evenly and thoroughly. When the pieces are all clumped together, they begin to cook as one mass rather than the individual pieces they are. This would mean that the cooking process gets altered and you may miss out on the all-important crisping and browning.
Before you put them in the oven, spray the tops of the nuggets with a little bit of the same cooking spray you used to grease the baking sheet. This will help each of the pieces get a nice golden brown color on top.
Bake and flip halfway through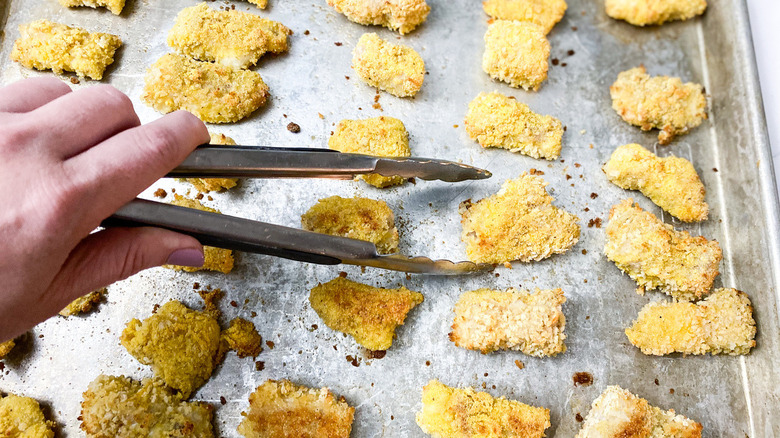 Erin Johnson/Mashed
By now, your oven should be preheated to 425 degrees Fahrenheit and ready to start cooking those nuggets. Put the baking sheet with the fish on it into the oven and set a timer for 10 minutes. Then, take the baking sheet out and quickly flip over each of the fish nuggets to make sure that both sides get cooked and crispy. Pop it back in the oven for another 10 minutes to finish thoroughly cooking.
Cooking the breaded fish in this way in the oven gives the pieces that perfect crunch. It's comparable to the texture you would get if you pan-fried or deep-fried the fish but without all of the added fats from these other cooking processes. "By cooking these nuggets in the oven, you get crispy, delicious nuggets without any guilt about eating fried food," Johnson says.
Plate the fish and serve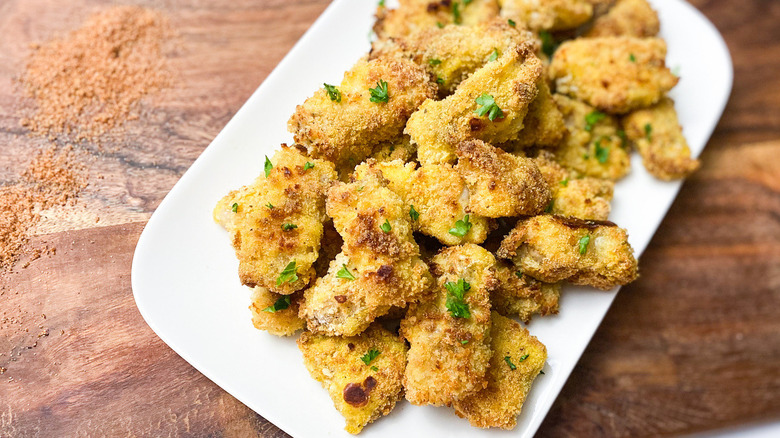 Erin Johnson/Mashed
The fish are finished as soon as your second 10-minute timer goes off. If you're using parsley as a garnish, now is the time to add that as you put the fish nuggets on a serving plate. You can also bring out your favorite dips. "Anything you'd use with fish sticks works here: tartar sauce, cocktail sauce, honey mustard, ketchup," Johnson says. "Anything you like, really."
As anyone who has enjoyed a crispy breaded fish stick or nugget before knows, these are best when they're eaten hot and fresh. That way the food still has the optimally crunchy crust. Sticking it in the fridge can cause the outside to get a little soggy. 
Yet, all isn't lost if you and your dining companions aren't able to finish the whole batch in one sitting, especially if you have access to an air fryer. "These are best eaten immediately," Johnson says, "but leftovers could be reheated in the air fryer to preserve some of the crunch."
Oven Fried Catfish Nuggets Recipe
This oven-fried catfish recipe isn't only delicious, but it's easy, kid-friendly, and takes just a few ingredients that might already be in your pantry.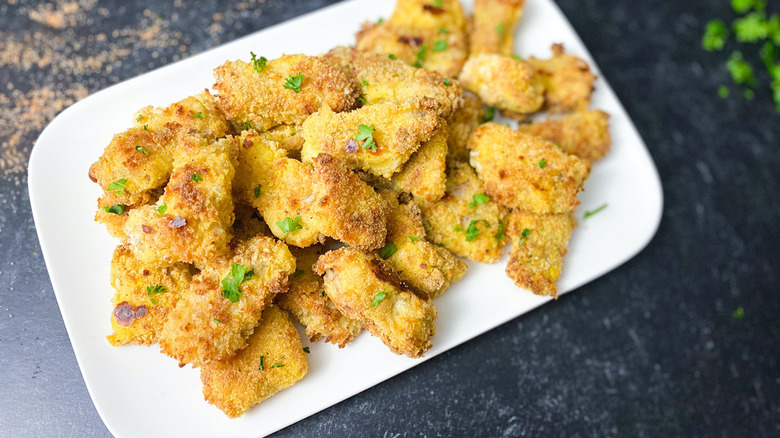 Ingredients
1 pound catfish, cut into nugget-sized chunks
2 eggs
1 tablespoon water
½ cup flour
1 tablespoon Old Bay or Cajun seasoning (divided)
1 cup cornmeal
1 cup panko
Optional Ingredients
Fresh parsley for garnish
Directions
Preheat oven to 425 degrees Fahrenheit.
Season catfish pieces with salt and pepper.
Beat together the eggs and water in a shallow bowl.
Mix together the flour and half of the Old Bay or Cajun seasoning in a shallow bowl or pie pan.
Mix together the cornmeal, panko, and remaining seasoning in another small bowl.
Spray a large baking sheet with cooking spray and set it aside.
Dredge the catfish first in the flour, then into the egg mixture, then into the cornmeal-panko mixture.
Place nuggets onto the baking sheet. Space the nuggets so they do not touch.
Spray the tops of the nuggets lightly with cooking spray before placing the pan into the oven.
Bake at 425 for 10 minutes. Flip the nuggets and bake for an additional 10 minutes.
Garnish with chopped fresh parsley, if desired. Serve immediately.
Nutrition
| | |
| --- | --- |
| Calories per Serving | 424 |
| Total Fat | 10.2 g |
| Saturated Fat | 2.3 g |
| Trans Fat | 0.1 g |
| Cholesterol | 142.3 mg |
| | |
| --- | --- |
| Total Carbohydrates | 54.5 g |
| Dietary Fiber | 2.6 g |
| Total Sugars | 1.3 g |
| Sodium | 166.6 mg |
| Protein | 25.9 g |