The One Flavor Kim Kardashian Avoids In The Kitchen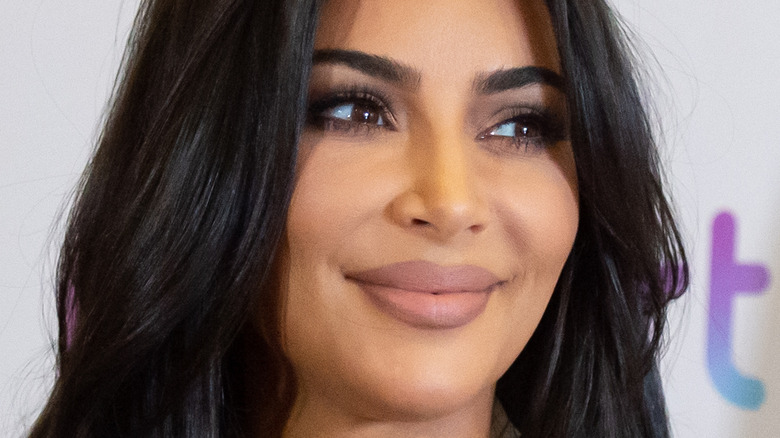 Shutterstock
It's rare that an Instagram photo from Kim Kardashian does not make headlines, but in 2020, there was one snap in particular that left the internet completely shook. The image in question captured the second-eldest Kardashian sister hanging out in the kitchen while clad in clothing from her SKIMS brand, but it was the open refrigerator she posed in front of that her millions of followers couldn't help but notice, as it appeared to contain nothing more than a few cartons of milk.
Naturally, the web went wild at the bizarre sight of one of the world's richest celebrities having a completely barren refrigerator. To quell the headlines, Kardashian offered a complete fridge and pantry tour of her house and — spoiler alert — the beauty mogul is more than stocked in the food department. As it turns out, the refrigerator that broke the internet was actually just her drink fridge, and she has an entirely separate walk-in refrigerator that is filled to the brim with sustenance (via Delish). Meanwhile, her sizable pantry is home to a variety of snacks, dry goods, and a frozen yogurt machine, because why wouldn't Kim Kardashian have one of those?
Needless to say, the reality TV star and her family won't be going hungry any time soon. However, you may be surprised that, amongst all the foods in her house, there is one particular flavor profile that you likely won't find at all.
Kim Kardashian hates anything spicy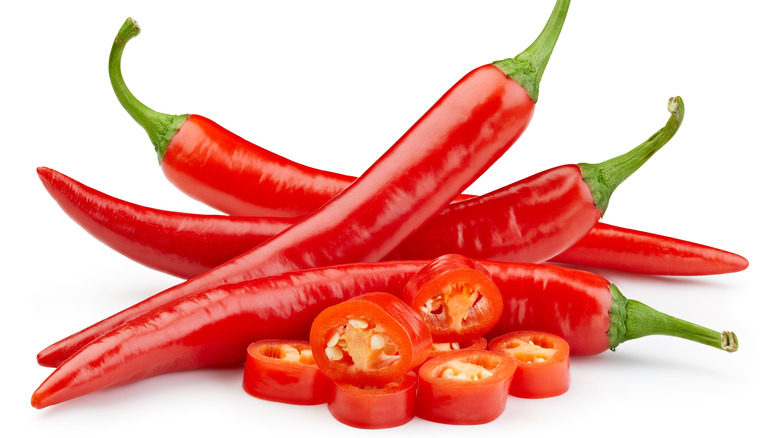 Shutterstock
It's no secret that Kim Kardashian cares about her health, and in 2020, she announced on Twitter that she had cut out meat from her diet and was eating "mostly plant-based." Her epic refrigerator tour revealed that she was stocked with plenty of organic produce and Beyond Meat products for her lifestyle (via Delish). During a Twitter Q&A, she also shared that she enjoys oatmeal and vegan sausage for breakfast, while lunch is typically a salad or vegan tacos (via Twitter). The star even sips on a sea moss smoothie from time to time, but one thing you will never see her eating? Anything spicy.
Kardashian disclosed her distaste for spicy foods while talking about some of her favorite snacks during the same Twitter Q&A (via People). "I love Cheetos. OMG Cheetos puffs too and Doritos sometimes," she explained, though she draws the line at the widely popular Flamin' Hot Cheetos. "I hate Spicy anything. I know this is going to be very unpopular to so many but I just don't like it. Regular Cheetos for me or Cheetos puffs are my absolute favorite." On the other hand, the "Keeping Up With the Kardashians" star is known to indulge in a sweet treat every once in a while, with Us Weekly noting that some of her go-to desserts are doughnuts and Haagen-Daz's Dulce de Leche ice cream.