Carla Hall Reveals What Contestants Are Really Like On Best Baker In America - Exclusive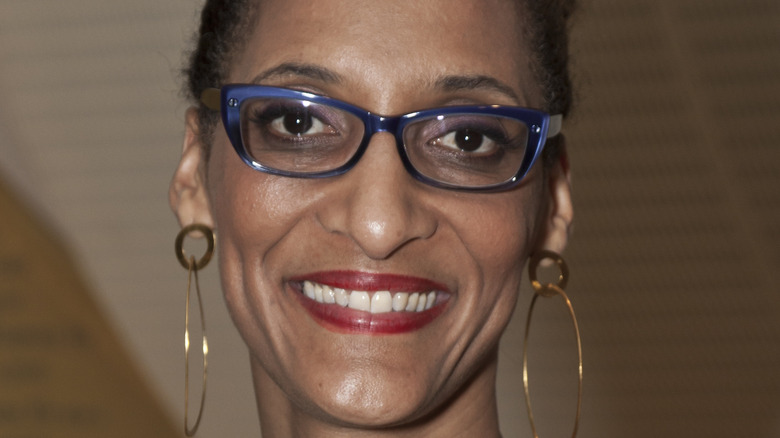 Shutterstock
Chef Carla Hall knows what it's like to succeed under pressure, especially when it comes to baking. Hall's no stranger to pastries, having started her own brand of signature cookies, which were in high demand from clients of her catering company, according to Forbes. Hall has navigated the world of cooking competitions, where she made it as a finalist (and as an audience favorite) in her season of "Top Chef." She's also been on the other side of the table, judging hopefuls on "Bakeaway Camp" and "Holiday Baking Championship."
Most recently, Hall brought her culinary knowledge as host during Season 4 of "Best Baker in America." The Food Network show picks 10 talented pastry chefs from across the states to compete for a $25,000 prize. The competition brought together a range of bakers who had to focus each episode on a different U.S. region. During an exclusive interview with Mashed, Hall spoke about the good vibes on the set. "There were a lot of tears this season, but the one thing that was true — and I don't know if you got the sense of it — the bakers all worked so well together and they were just so nice," Hall said. For these competitions, good chemistry is helpful for more than just crafting a winning dessert. "But, I think I walked away feeling like, 'oh, what nice people,'" Hall reflected, "just truly nice and sharing a lot with each other."
A power outage slowed down filming on Carla Hall's season of "Best Baker in America"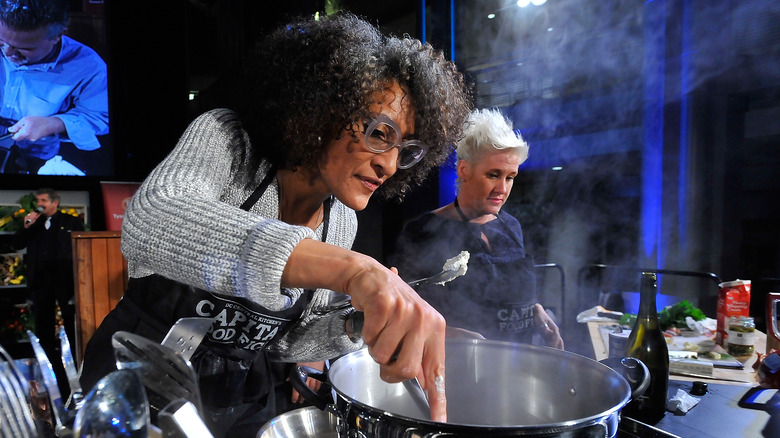 Larry French/Getty Images
On Season 4 of "Best Baker in America," Carla Hall explained not all of the challenges during filming were shown to audiences. The power went out during the Rocky Mountain-themed episode, causing all of the pastry tower creating to come to a halt, per Fansided. The fan-directed site noted how the pause broke a bit of the illusion of the show, when one contestant ran through the hotel where the filming was located to look for an oven that could complete the task at hand. It sounds like the judges at least appeared to take the delay into consideration. Hall explained the network only "showed a little bit" of the delay.
In reality, Carla Hall said the power went out for a long time and then continued to cause issues through the day on set. "We made it seem like it was really fast in the show, but that power was off for a while," she said. Television magic made the waiting seem much less dramatic (and left the drama to the competition). Hall also admitted the wait between filming and airing is also a large delay. No one involved is meant to spoil how the show will unfold. Hall explained the crew filmed "Best Baker" in May, so "it happened way early and everybody has to keep everything close to their chest."
For kitchen tips from Carla Hall herself, check out bite-sized cooking videos for Tostitos Next Day Delicious recipes on her social media accounts.