Crock Pot Bison Chili Recipe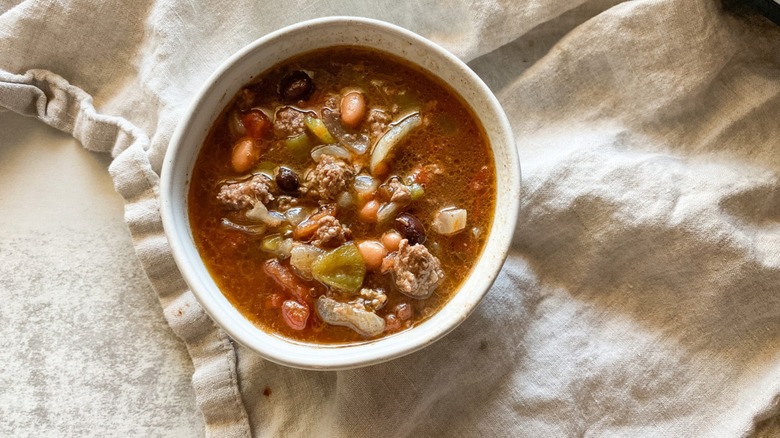 Kristen Carli/Mashed
What's for dinner? Chili is always a perfect answer. It's a hearty meal that warms you up on cold nights yet tastes just as good on hot ones. This recipe may look like it needs a lot of ingredients, but when you get into it, all the ingredients are easy to get and use, coming together for a dish that is bursting with flavor yet is extremely quick and easy to prep. Then you throw it in your slow cooker, which makes the actual cooking a breeze. Plus any leftovers are easily refrigerated and can make a great lunch or even leftover dinner.
What makes this Crock Pot bison chili stand out, however, is replacing the standard ground beef with ground bison. Bison has a unique flavor, less gamey than elk, for example, but more dynamic on your taste buds than beef. Recipe creator and dietitian Kristen Carli also chooses bison for health reasons. "Bison is a bit leaner, so it is a healthier choice," Carli says. Plus, there are few meats more symbolic of the old Wild West than bison, making it a perfect complement for a cowboy staple like chili.
So a quick and easy recipe that tastes delicious, fills you and your guests up, and is a bit healthier? Sounds like a perfect answer to the question, "What's for dinner?"
Gather your ingredients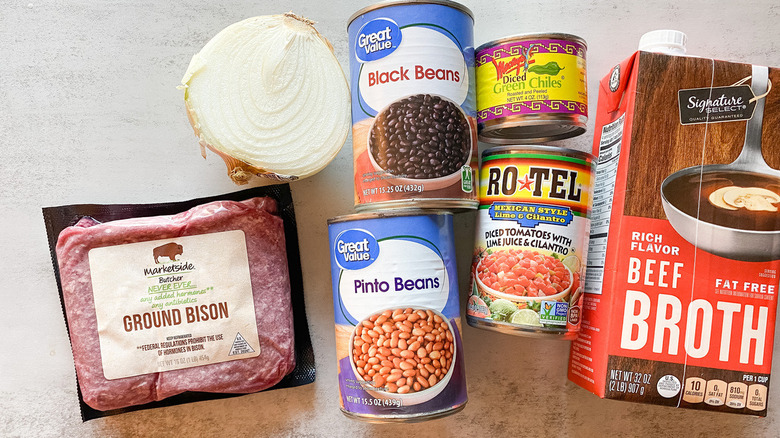 Kristen Carli/Mashed
Of course the most important part to making bison chili is the bison. More and more standard supermarkets carry ground bison. If your local grocery store doesn't, it's almost guaranteed that a specialty market or a quality butcher would have it. If you can't find any locally, there are mail order companies from whom you can order some ground bison or burger meat.
Everything else is pretty standard and easy to get. Just a tablespoon of olive oil is needed for this recipe. You'll need an onion (unless you have half an onion sitting around from a previous meal). Plan on a little salt, a dash of pepper, some ground cumin, and some chili powder, all of which can be found in any spice aisle if they're not already in your spice rack. Then you need a can of black beans, a can of pinto beans, and a smaller can of diced green chiles. Finish your shopping trip with a container of beef broth (you need a cup) and finally a can of Mexican-style diced tomatoes with green chiles, such as Ro-Tel. Now you're ready to cook.
Cook the diced onion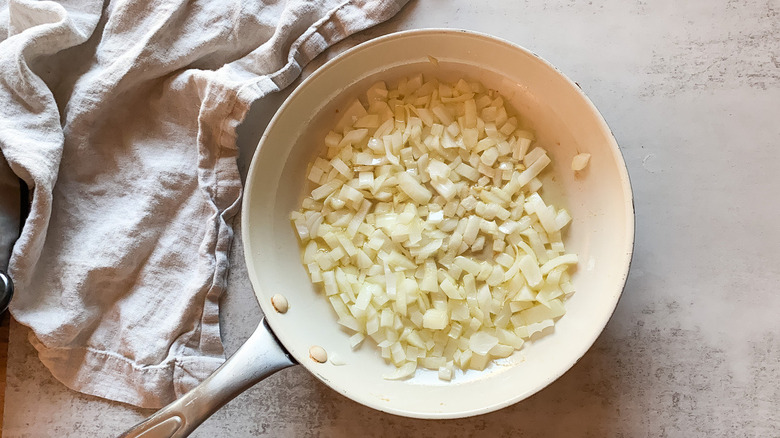 Kristen Carli/Mashed
Drizzle olive oil in a large skillet over medium heat. Once the oil is warmed up, add the onion. Cook until the onion is translucent, stirring to make sure all sides get heated evenly, about 5 minutes. This is the beginning of a very short 15-minute prep but sometimes even that can be tough on a busy day. A great thing about this recipe is you can make it all the night before, store it in an air-tight container, and refrigerate the mixture overnight. Then, when it's game time, all you'll have to do would be to put it in your Crock Pot and turn it on.
Pan cook the bison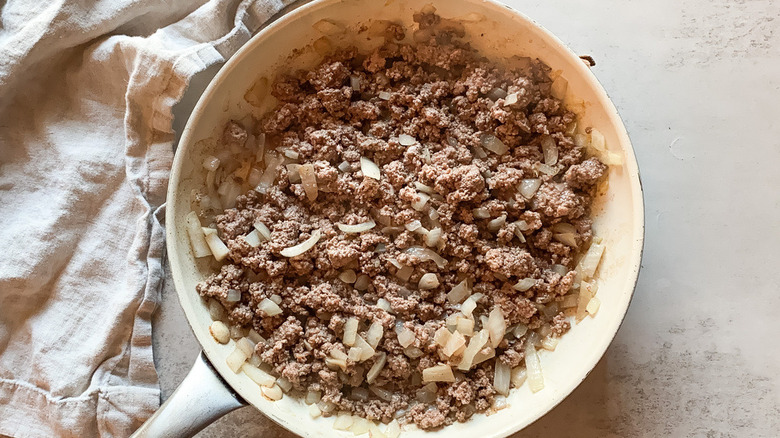 Kristen Carli/Mashed
Once the onion is cooked, it's time for the main ingredient, the bison. As Carli says, there's no prep needed for the meat, but "just make sure you use ground bison here. Ground bison is ideal to mimic the texture of ground beef in traditional chili." Add the bison to the onions, then sprinkle in the salt and pepper. Break the mixture up with a wooden spoon, making sure to mix and cook everything. The key ingredient to know when everything is cooked through is the bison. Cook until it's no longer pink, about another 5 minutes.
Add the tomatoes, beans, chiles, and more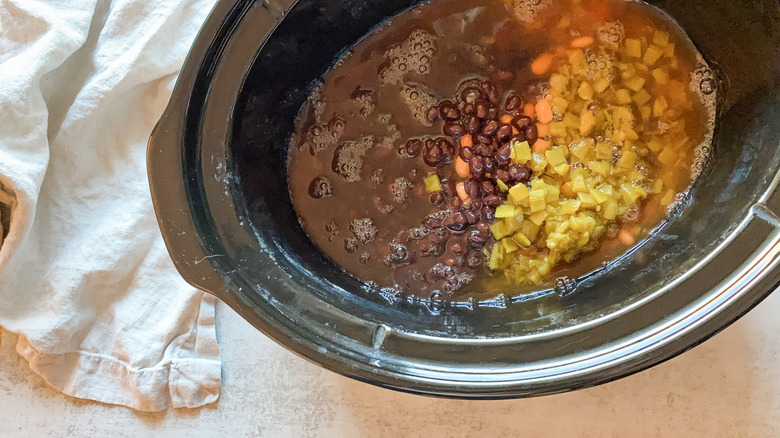 Kristen Carli/Mashed
While the bison is cooking, start adding your other ingredients to the slow cooker. Add your diced tomatoes, black beans, pinto beans, green chiles, beef broth, cumin, and chili powder to your large Crock Pot. Carli likes to start by laying a bed of the diced tomatoes, then adding the rest on top of that. Stir to combine, giving it an almost soupy look but with all ingredients distributed equally throughout. 
Add the bison to the Crock Pot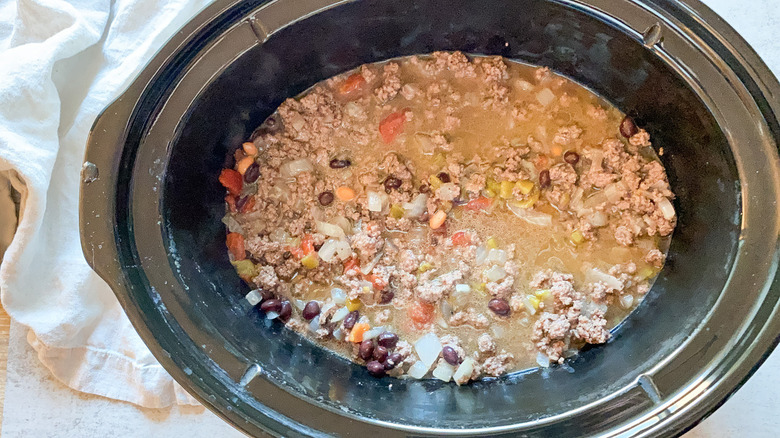 Kristen Carli/Mashed
Finally, add the bison and onion mixture to your slow cooker and stir to make sure everything is well blended. Again, Carli reminds us that you don't have to do this prep the day of if you know you'll be busy, saying "you could prep this the night before and just start cooking it [in the slow cooker] the next morning." That makes for a meal that you can start basically in seconds. Once everything is in the Crock Pot and mixed, cover with the lid and cook on low for 4 hours.
Serve your Crock Pot bison chili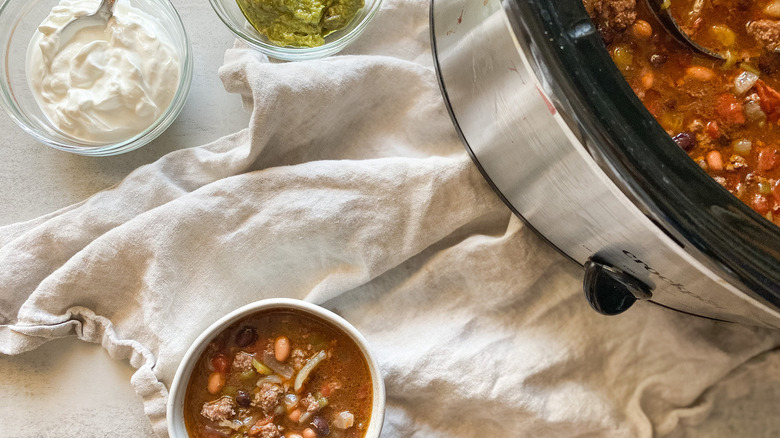 Kristen Carli/Mashed
After the four hours are up, it's time to serve your chili! The simplest way to serve this dish is to spoon it into bowls based on how hungry everybody is. While a standard bowl is fine, serving the chili in bread bowls adds some extra flair and makes clean-up even easier. Once the bison chili is done, you can just eat the bread that has the soaked chili in it.
You can also opt to add toppings to the chili. As Carli says, "I love all my chili topped with sour cream and shredded cheddar cheese. Additionally you could add diced onions, salsa, hot sauce, and guacamole." It would therefore be helpful to have some extra onions and containers of all the above ingredients ready for you and your guests to top the chili to everybody's individual taste. Let it cool for a few minutes, then dig in.
If you have leftovers, no problem. Chili tastes great reheated for lunch or even another dinner, and this bison chili is certainly no exception. Maybe make two batches so you have one for dinner and another to bring to lunch for the week!
Crock Pot Bison Chili Recipe
Looking for a slightly healthier version of chili? Try this Crock Pot chili made with lean ground bison meat for a delicious alternative to ground beef.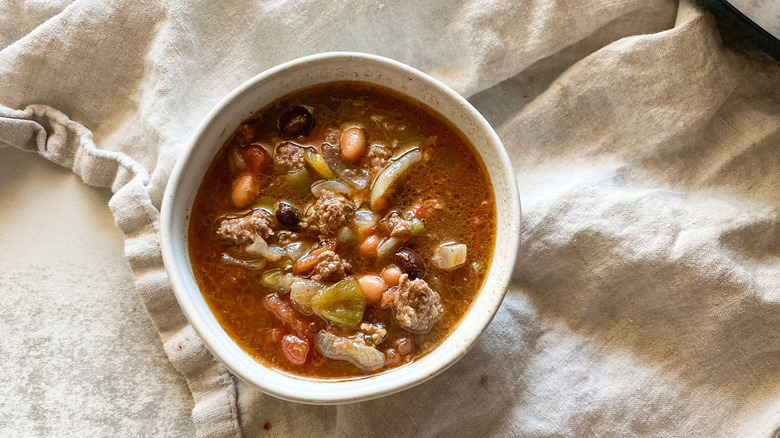 Ingredients
1 tablespoon olive oil
½ yellow onion, diced (plus more for topping)
1 pound ground bison
1 teaspoon salt
½ teaspoon pepper
1 (15-ounce) can Mexican-style diced tomatoes with green chiles
1 (15-ounce) can black beans
1 (15-ounce) can pinto beans
1 (4-ounce) can diced green chiles
1 cup beef broth
1 tablespoon ground cumin
2 teaspoons chili powder
Optional Ingredients
sour cream
shredded cheese
salsa
hot sauce
guacamole
Directions
In a large skillet over medium heat, add the olive oil and diced onion. Cook until the onion is translucent, about 5 minutes.
Add the bison, salt, and pepper. Break it up with a wooden spoon, cooking until no longer pink.
In a large slow cooker, add the diced tomatoes, black beans, pinto beans, green chiles, beef broth, cumin, and chili powder. Stir to combine.
Add in the bison and onion combination. Stir to combine.
Cover with the slow cooker lid and cook on low for 4 hours.
Ladle into a bowl and serve. Top with any combination of sour cream, shredded cheese, salsa, hot sauce, guacamole, and diced onions, if desired.
Nutrition
| | |
| --- | --- |
| Calories per Serving | 365 |
| Total Fat | 15.8 g |
| Saturated Fat | 5.7 g |
| Trans Fat | 0.0 g |
| Cholesterol | 52.9 mg |
| | |
| --- | --- |
| Total Carbohydrates | 31.9 g |
| Dietary Fiber | 11.1 g |
| Total Sugars | 3.1 g |
| Sodium | 841.7 mg |
| Protein | 25.3 g |