Easy Baked Peaches Recipe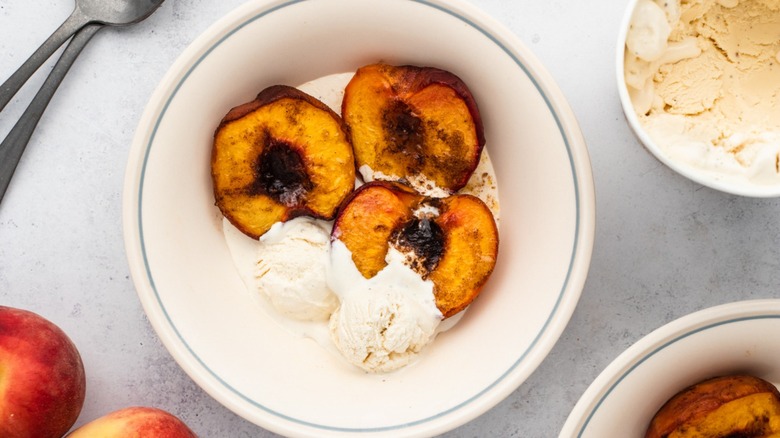 Catherine Brookes/Mashed
While you're not supposed to compare apples to oranges, at least not in the metaphorical sense, there are a number of things these two items do have in common. Not only are they both popular fruits, but they are also available in most grocery store produce sections 12 months out of the year. Even once-seasonal fruits like raspberries and clementines are now pretty much a year-round thing.
Certain other fruits, however, are still primarily seasonal, and this just makes us love them all the more knowing that we have to enjoy them while their too-brief season lasts. Chief among these is the peach, queen of the stone fruits. Sure, plums are pretty great, nectarines are nice, and apricots are awesome, but when was the last time you heard someone say they felt "nectarine-y keen" or heard anyone described as having an "apricots and cream" complexion?
While peaches are pretty amazing all by themselves, they are even better in delicious summer desserts like pies, cobblers, and ice cream. No time to make one of these classic treats? In that case, you could always whip up these equally scrumptious baked peaches from Catherine Brookes of Blue Sky Eating. As Brookes tells us, "It's such a simple dessert, you can't really go wrong. Just slice the peaches up, add the coating, and pop it all in the oven."
How to pick a perfect peach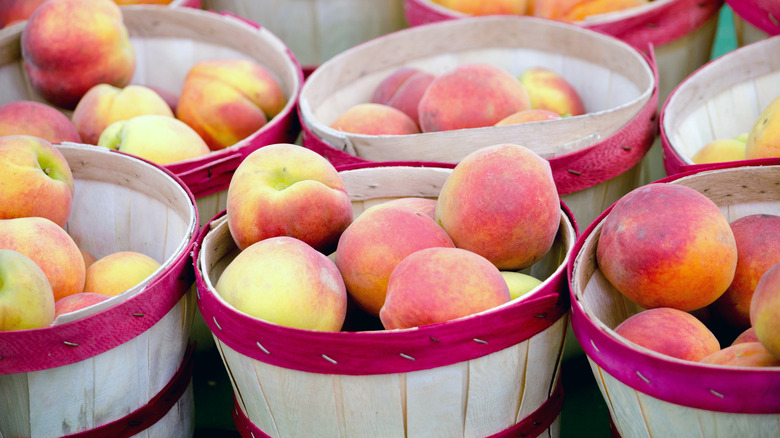 Shutterstock
Whether you're visiting a pick-your-own fruit farm, a farmer's market, or the produce section at Aldi, the perfect peach dessert begins with picking a just-right peach. Well, peaches, plural. Anyway, before you pluck peaches from the peach tree or the produce bin, it helps to know a few peach-picking tricks.
A peach that is ripe will have a nice sweet smell and be ever so slightly soft to the touch — there should be some give, but it shouldn't be too mushy. Ripe peaches will also be deep yellow in color with not a hint of green. If your peaches are just a touch on the unripe side, they will still be able to ripen a bit in a paper bag on the kitchen counter. Once they're ripe, though, you should refrigerate them until you're ready to use them to make this baked peach recipe.
You'll need a few more ingredients to make these baked peaches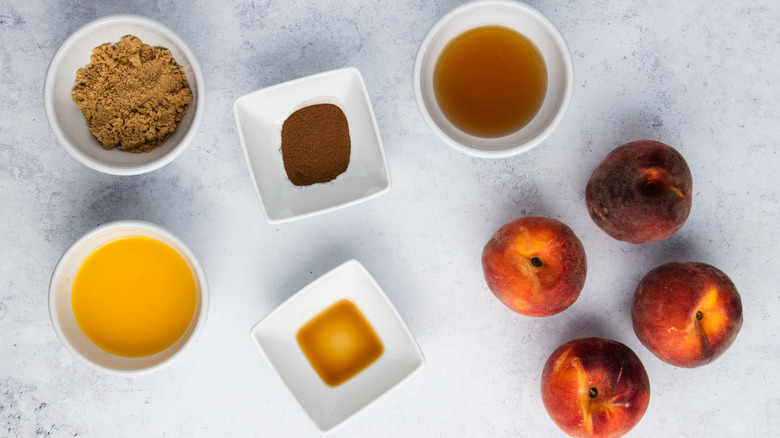 Catherine Brookes/Mashed
While peaches are obviously the star of this baked peach dish, you will be enhancing their sweet, juicy flavor with a few more ingredients that you most likely already have on hand in the fridge or pantry. You'll need some brown sugar, some butter, a teeny bit of vanilla extract, some cinnamon, and some maple syrup. If you want to make a vegan version of this dish, Brookes says it's perfectly fine to use plant-based butter instead of the dairy kind.
Prepare the peaches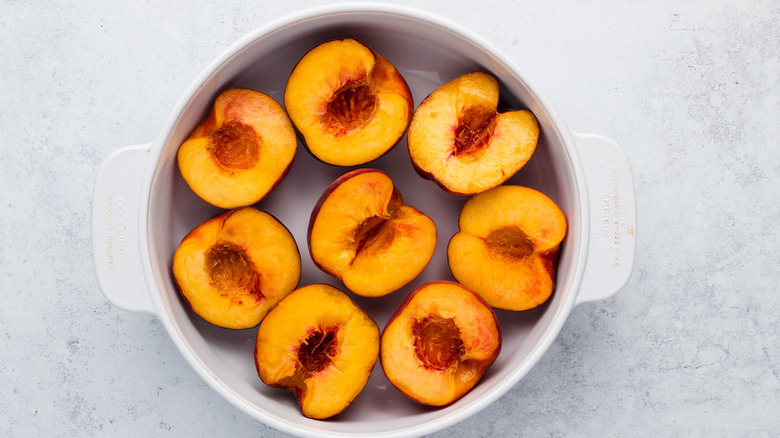 Catherine Brookes/Mashed
The most time-consuming part of the prep for this dish involves getting the peaches ready to cook, but even this will only take a few minutes, so it's best to preheat the oven to 350 degrees Fahrenheit before you start. Brookes did not peel her peaches before slicing them, but if you want to do so, you can blanch them by immersing them in boiling water for 45 seconds and then quickly plunging them into ice water. The peels should slip right off after this.
Slice each peach in half, starting at the indent on the stem end. If you have freestone peaches, you should be able to twist the sliced peach in half and the pit will pop right out. If your peaches are of the clingstone variety, you may have to do a bit of digging and prying to get those pits out of your peaches.
If necessary, you can cut the peaches into smaller segments while they are still attached, then slice each segment away from the pit. Find a baking pan large enough to fit all eight peach halves (or smaller segments, should you have had to wrestle with clingstone pits), then arrange the peaches, cut-side up. Brookes used a round dish about eight inches in diameter but says, "Just pick one that fits the peach halves inside without too much extra space."
Top the peaches with a sweet maple glaze before baking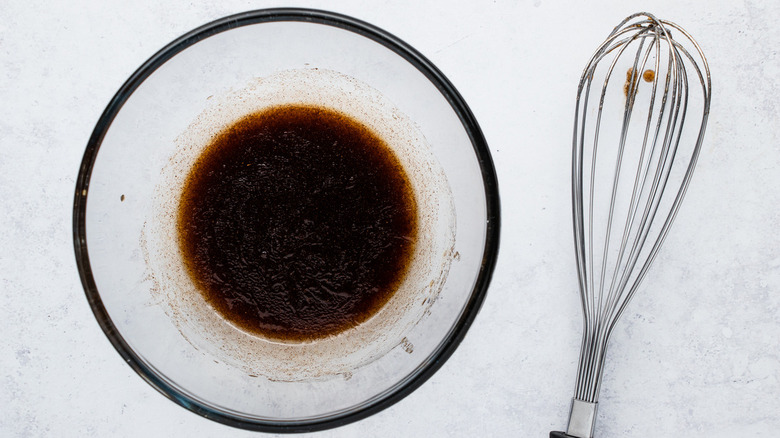 Catherine Brookes/Mashed
Now that the peaches are all set to go, it's time to make the topping. Mix the sugar with the melted butter, vanilla extract, cinnamon, and maple syrup in a small bowl. Pour and/or brush the butter mixture over each peach segment, making sure they are all well coated. Bake the peaches for 30 minutes, then check them to see if they are caramelized and tender. If they're not quite there yet, give them up to 10 minutes longer in the oven.
These peaches make for a perfect summer dessert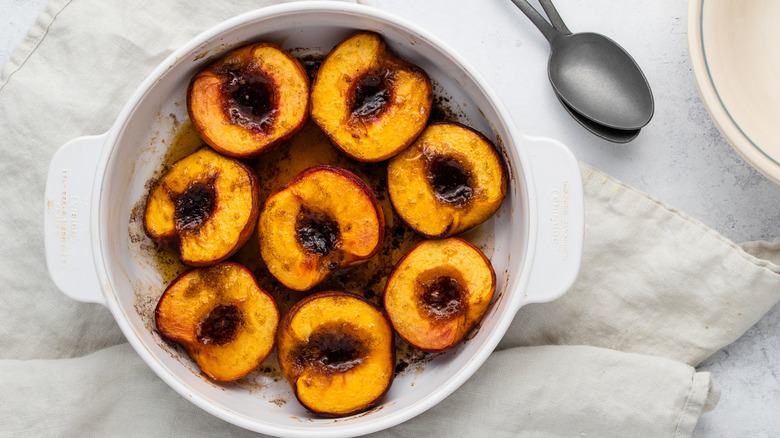 Catherine Brookes/Mashed
If you're a fruit-loving minimalist at heart, you can always enjoy these peaches just as they are, though you should probably give them a few minutes to cool before digging in. Brookes suggests you might enjoy them with whipped cream, ice cream, or yogurt, adding that you could also sprinkle them with chopped nuts (almonds would be particularly yummy!) or seeds. If you want these peaches to be even more dessert-like, though, you could use them to top a slice of pound cake or make a peachy version of strawberry shortcake.
While Brookes says, "I would usually serve this as a dessert after dinner," she also says, "it could totally be a breakfast or snack too," perhaps as a side dish or topping for pancakes, waffles, or French toast.
Easy Baked Peaches Recipe
It's such a simple dessert, you can't really go wrong. Just slice the peaches up, add the coating, and pop it all in the oven.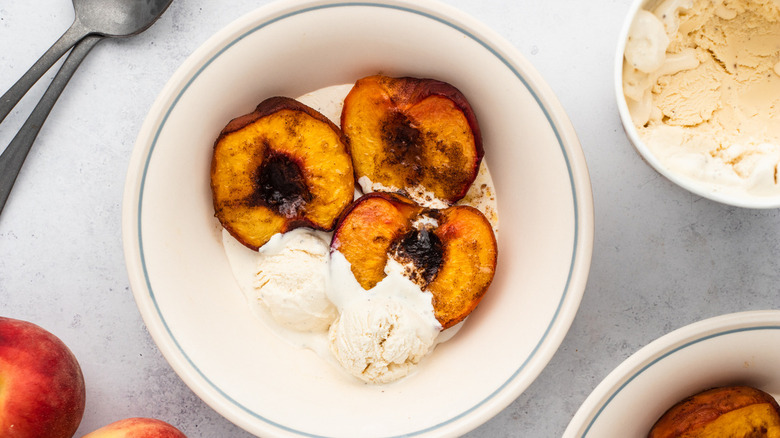 Ingredients
4 fresh ripe peaches
2 tablespoons brown sugar
3 tablespoons melted butter
¼ teaspoon vanilla extract
1 teaspoon cinnamon
1 tablespoon maple syrup
Directions
Preheat the oven to 350 degrees Fahrenheit.
Slice the peaches into halves, removing the pits.
Arrange the peach halves in a baking dish.
In a small bowl, whisk together the sugar, butter, vanilla extract, cinnamon, and maple syrup.
Pour or brush the maple mixture over the peach halves, making sure each one is well coated.
Bake the peaches for 30 to 40 minutes or until they are caramelized and tender.
Serve the baked peaches with toppings of your choice.
Nutrition
| | |
| --- | --- |
| Calories per Serving | 169 |
| Total Fat | 9.0 g |
| Saturated Fat | 5.5 g |
| Trans Fat | 0.3 g |
| Cholesterol | 22.9 mg |
| | |
| --- | --- |
| Total Carbohydrates | 23.0 g |
| Dietary Fiber | 2.6 g |
| Total Sugars | 20.3 g |
| Sodium | 3.1 mg |
| Protein | 1.5 g |