Wendy's Is Offering Free Fries And Frostys For National Drive-Thru Day. Here's How To Get Them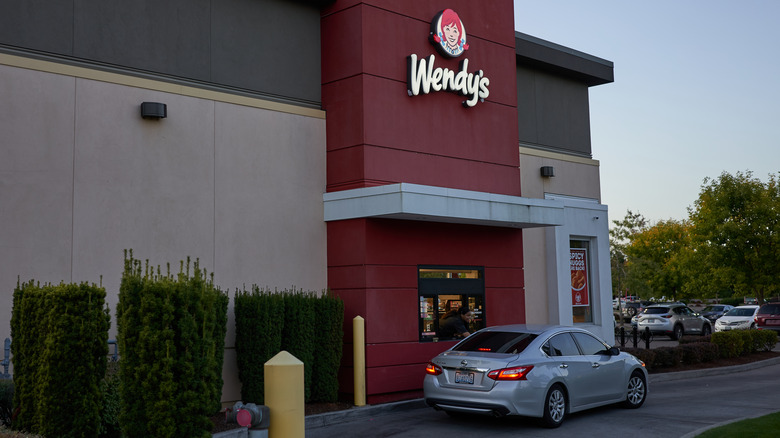 Shutterstock
If you are all in with Wendy's french fries dipped in a Frosty (and honestly, who isn't?), we have great news for you. You can indulge your sweet-salty tooth today as part of a special promotion.
According to a report by Fox News, Wendy's is giving away free fries and Frostys in honor of National Drive-Thru Day. The mobile app-exclusive offer gives you a free Frosty or order of fries with any purchase. Order a Frosty, get free fries; order some fries, get a free Frosty. Order anything on the menu, choose a free Frosty or fries. You get the idea. All you need to do is download and open the mobile app to find the app-exclusive offer any time today, July 24, National Drive-Thru day.
If you were wondering what makes this National Drive-Thru Day, the occasion was created (via National Today) in 2002, by Jack in the Box. That famous West Coast brand opened as a drive-in-only restaurant in 1951 in San Diego, and caught on with families who got a kick out of relating their orders into the face of its famous clown head speakers (via Mental Floss).
Wendy's claim to drive-thru fame
Though there were certainly drive-thru fast food establishments before it, according to Wendy's, the Columbus-Ohio based chain is the originator of the "modern" drive-thru. The story goes that founder Dave Thomas originally called it the "drive-in window" when he debuted it 51 years ago, later changing the name to "pick-up window" to attract "joy riders and cruisers." The company claims that in 1970, the concept was so novel that customers required instructions to learn how to place their order through the speaker. What no one can dispute is that drive-thrus, no matter who invented them, are a convenience appreciated by anyone with a car, especially over these last 16 socially-distant months.
The Fries-and-Frostys promotion isn't the only news to drop from Wendy's this month. The burger chain also just added a Ghost Pepper Ranch dipping sauce to its menu. According to a press release posted at PR Newswire, the super-spicy chicken nugget condiment combines the intense heat of the famously spicy ghost pepper with classic ranch dressing. We think that calls for a Frosty.