The Inspiration Behind Magnolia Network's Zoë Bakes - Exclusive
Zoë François has been baking breads, pastries, cookies, and more for years. As a cookbook author, blogger, and professional photographer, François' experience and passion for teaching others how to bake up something sweet in their own homes is expansive. Now, she's teaching home bakers how to achieve the perfect pastry dough, cookies, frosting, and more on her new television show "Zoë Bakes," which premiered on Magnolia Network on July 15.
François has always had a passion for teaching others, and her love for sharing her talents certainly comes through in her new show.
To learn more about the inspiration behind François' latest venture, we went straight to the source. In an exclusive interview with Mashed, the baker dished on why she wanted to share her story on Magnolia Network, along with why it was important to put her home of Minneapolis front and center on the small screen.
Zoë François dreamt of working with Chip and Joanna Gaines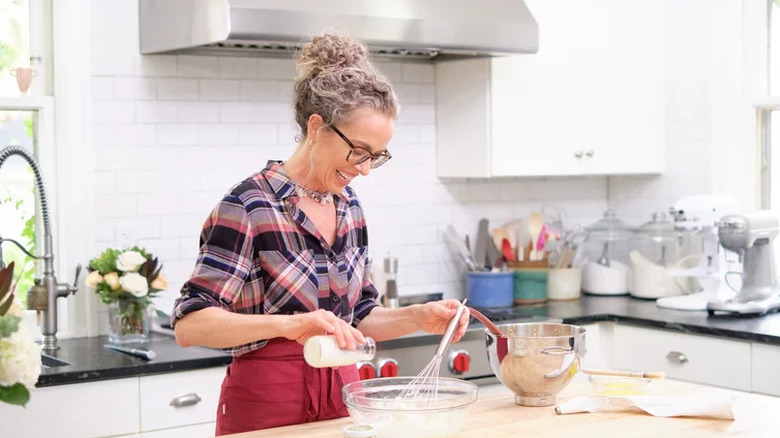 Magnolia Network
Chip and Joanna Gaines have been recognized as lifestyle gurus for years, and François was certainly following their work. "I'm in love with what Joanna and Chip do and always have been," she said. "In terms of being a craftsperson, I just was so attracted to how intense and passionate they are about what they do, but then also have so much fun doing it."
Smitten with that passion, François knew that if she ever wanted to have a television show that allowed her to teach others her own craft, it would definitely be with them. And with the launch of Magnolia Network, it was nothing short of serendipitous that it all came together. "I felt like they got it in the same way that I feel it," added François.
And as for Minneapolis, Minnesota? François wanted to share knowledge that people maybe didn't know just yet. As it turns out, much of the reasoning for the establishment of Minneapolis was due to the milling of wheat, ultimately turning it into the food town that it is today. "There's so much happening culturally, and especially in the food world," she said. "It was super exciting to get the opportunity to visit the farms and my fellow bakers and restaurants and highlight all of the incredible local food that's right here. It always has been, but people just didn't know about it."
To hear more from Zoë François, you can visit Zoë Bakes. New episodes of "Zoë Bakes" are now available on Magnolia Network, via Discovery+.