Fresh Plum Crumble Recipe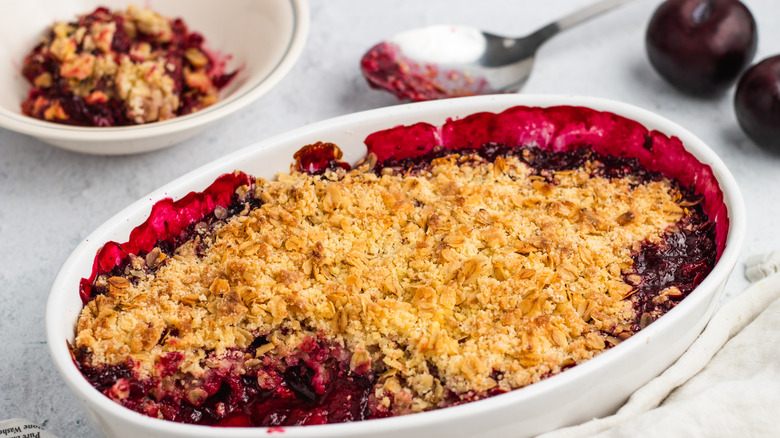 Catherine Brookes/Mashed
A fresh plum crumble is bound to draw the attention of everyone in your household, and not just because of its phonetically-pleasing name. Crafted by recipe developer Catherine Brookes of Blue Sky Eating, this dessert can be made year-round to fill your home with a delicious, sweet aroma. Our favorite part of this recipe? The beauty is in the simplicity.
"It's so simple to make but so full of flavor," Brookes explains. "Plums are such an underrated fruit to use in desserts!" It's true. Plums will give your crumble a unique, tangy twist as opposed to using traditional apples. Plus, this colorful fruit is chock-full of health benefits. Healthline reported that plums (and prunes) are important sources of vitamins A, C, and K. Their high fiber and sorbitol content also promote a healthy digestive system.
Many bakers will tell you that the best plum crumbles require ripe, in-season plums. However, using ripe plums in any season is sure to help you craft the crumbly dessert of your dreams.
The ingredients and tools you'll need to prepare this fresh plum crumble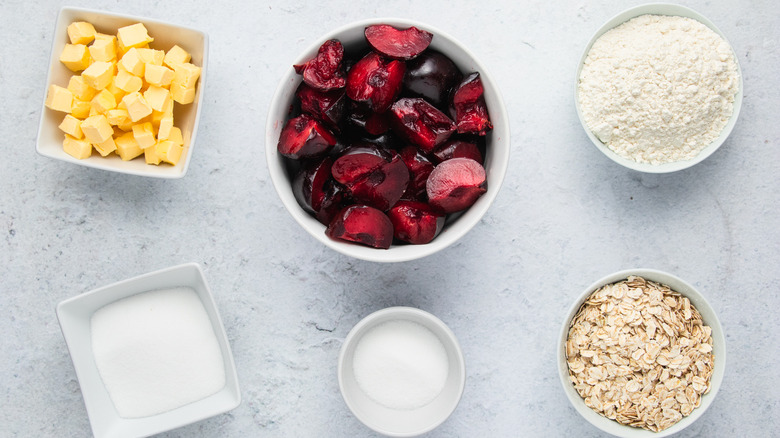 Catherine Brookes/Mashed
If you're looking for a simple, no-fuss plum crumble recipe, Brookes' recipe is most definitely the way to go. The short list of ingredients calls for ripe plums, granulated sugar, all-purpose flour, butter, and rolled oats. For the vegan bakers out there, simply use your favorite vegan butter in place of real butter. And for anyone who's gluten-free, Brookes notes that you can sub in gluten-free flour for the all-purpose flour.
As for baking tools, your preferred mixing bowl and ovenproof dish will work just fine. Brookes notes that you don't have to worry too much about the shape of your baking dish. "Any shape will do," she says. "Just make sure it's deep enough to hold everything and is a similar size to the one I used." For those who are curious, Brookes' baking dish was 11x7 inches.
Choosing the right plums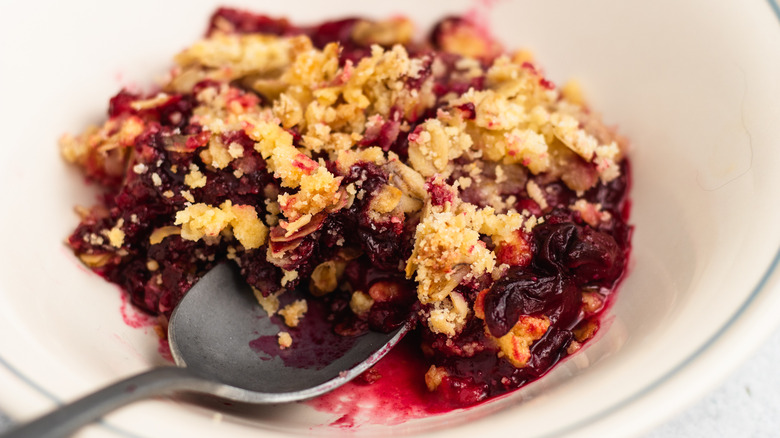 Catherine Brookes/Mashed
If you are struggling to find ripe plums at your local food stand or grocery store, you may be wondering whether you can swap in canned or frozen ones instead. Most fruit pies and crumbles taste better with fresh fruit, and plum crumble is no exception. "I prefer the texture and flavor that fresh plums give," Brookes explains.
However, that doesn't mean that you can't enjoy a plum crumble if you don't have fresh plums. "You could easily swap for canned or frozen," Brookes adds. Just remember that the canned or frozen version of this fruit may give you a different flavor and texture.
How to wash and cut your plums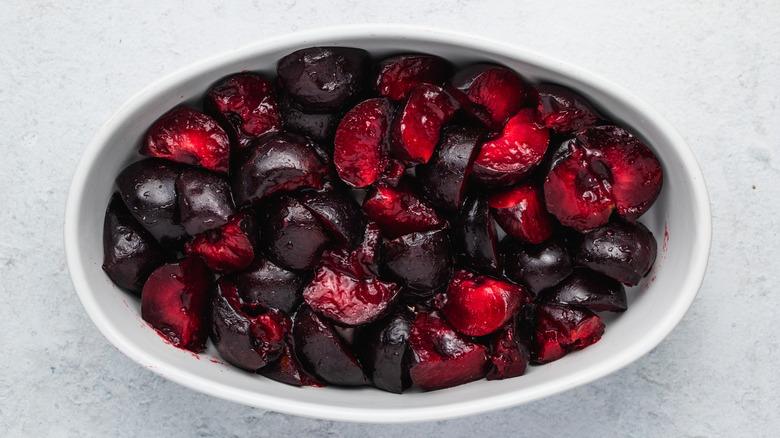 Catherine Brookes/Mashed
Before you can begin mixing your ingredients, it's important to prepare your plums. The FDA strongly recommends that you wash fresh fruits before consuming them. Fortunately, all you need to do to prevent foodborne illness is rinse your plums under running water, and gently scrub the skins with a silicone scrubber or a gentle washing tool, according to New York Magazine.
Cutting plums can be a bit tricky, too, as you need to remove the pit. Fortunately, Brookes has tips on how to de-stone plums. "I usually cut into a plum until I hit the stone, then turn the plum in my hand until I've cut all the way around," she says. "Then you can just twist one half of the plum away from the other and pull out the stone."
How to create the perfect oat crumble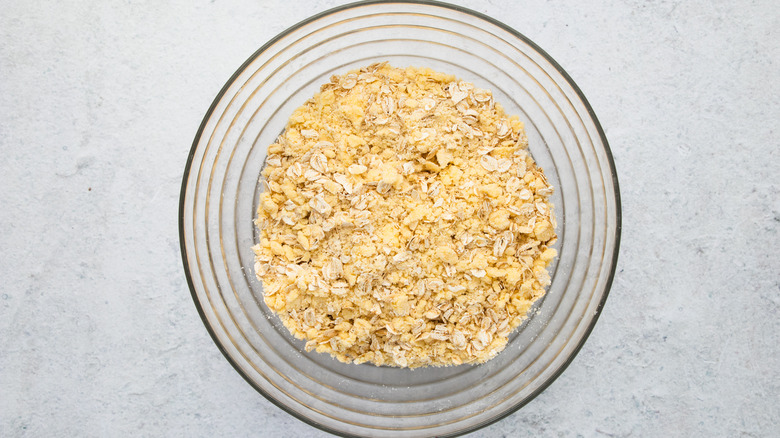 Catherine Brookes/Mashed
Brookes' plum crumble recipe is all about texture, and her oat crumble helps her achieve the perfect crunch and chew to pair with the soft, cooked plum. But how does she achieve the right amount of crunch in the crumble?
According to Brookes, the butter needs to be chilled before you use it. Warm butter will simply melt into the flour, resulting in a topping that could be far too crunchy for your liking. In contrast, chilled butter will hold its shape so that the flour can coat each small chunk of fat, creating individual crumbles.
For simplicity, Brookes suggests rubbing the cubed butter and flour together in your hands to create a breadcrumb-like mixture. From there, you can add in the oats and a little sugar to sweeten the mix. If you didn't use salted butter in your recipe, be sure to add a ¼ teaspoon or so of salt to enhance the flavor.
Put the plum crumble together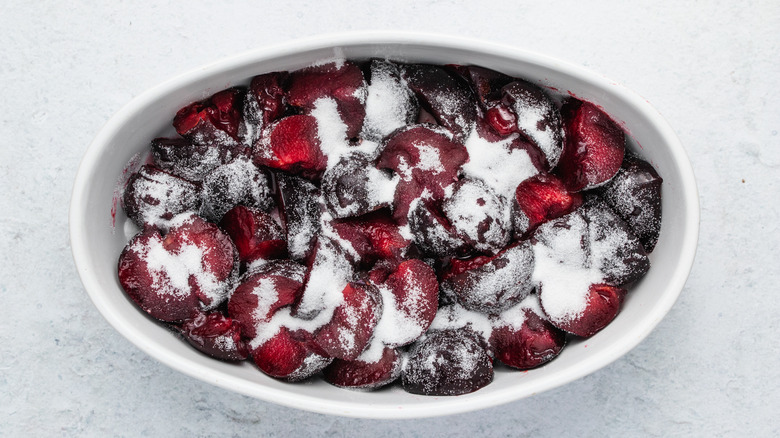 Catherine Brookes/Mashed
Once you have created the perfect crumble, get excited, because it's finally time to combine your ingredients. You're going to pour the sugar-coated, de-stoned plums into your favorite greased baking dish. Then, spoon the crumble on top. Try to create an even layer of the crumble to ensure that your creation will bake evenly, and so that every guest gets their fair share of topping.
As a bonus tip, don't leave too much time between creating your crumble and compiling the dish. Otherwise, the butter inside the flour topping could melt and change the texture.
Bake the plum crumble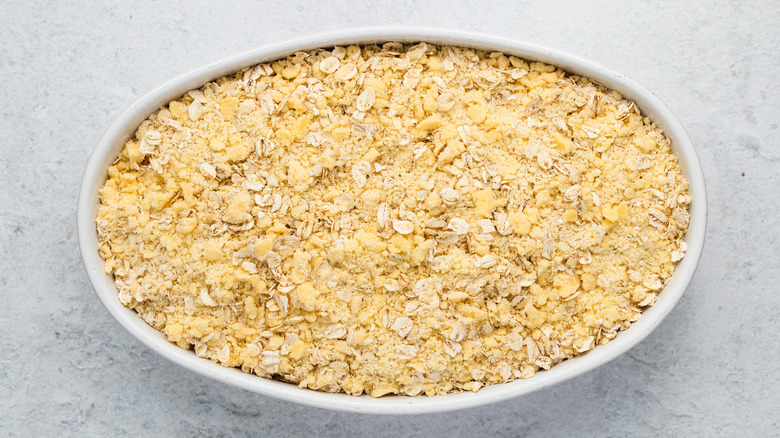 Catherine Brookes/Mashed
With your ingredients finally combined in the baking dish, it's time to pop the plum crumble into the oven, and relax for about 45 minutes. Just keep in mind that the baking temperature for Brookes' recipe is not 350 F, as it is normal for most baked goods, but 390 F. The slightly elevated temperature should help the plums become quite soft and give the topping a crispier texture.
To know when your dish is done, look for a golden-brown color. The crumble shouldn't cook more quickly than the plum, but if you notice your topping getting a little burned, try carefully covering the edges of the baking dish with aluminum foil, leaving the center exposed. Then, continue to bake until your crumble is well cooked. Serve this dessert with a scoop of vanilla ice cream, a fresh dollop of whipped cream, or just as it is for the perfect, post-dinner pick-me-up. Your family or guests will absolutely love it!
Fresh Plum Crumble Recipe
The plums in this fresh plum crumble recipe will give your dessert a unique, tangy twist as opposed to using traditional apples.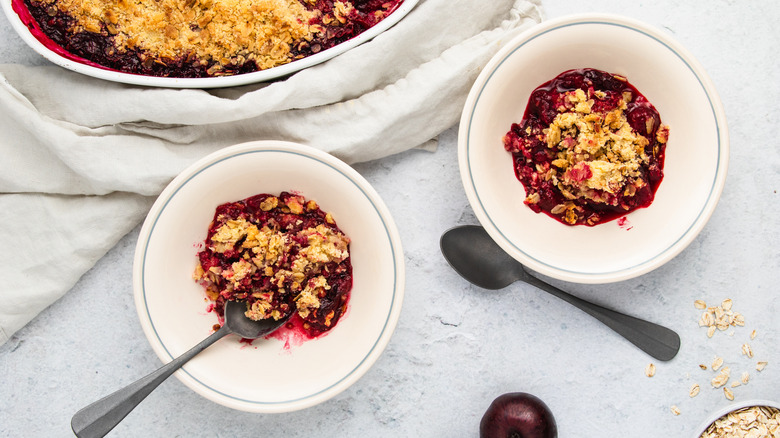 Ingredients
10 ripe plums (approximately 27 ounces), stones removed and quartered
½ cup + 3 tablespoons granulated sugar, divided
½ cup + 1 tablespoon butter, cut into small cubes
1 cup + 2 tablespoons all-purpose flour
1 cup rolled oats
Directions
Preheat the oven to 390 F.
Add the chopped plums in an even layer to the bottom of an ovenproof dish (7x11-inch baking dish).
Sprinkle 3 tablespoons of the sugar over the plums.
In a large mixing bowl, rub together the cubed butter and flour with your hands until the mixture resembles breadcrumbs.
Stir through the remaining ½ cup of sugar and the oats until well combined.
Spoon the crumble topping in an even layer over the plums, completely covering the fruit.
Bake for 40 to 45 minutes, or until golden brown on the top.
Nutrition
| | |
| --- | --- |
| Calories per Serving | 512 |
| Total Fat | 22.5 g |
| Saturated Fat | 13.4 g |
| Trans Fat | 0.8 g |
| Cholesterol | 54.9 mg |
| | |
| --- | --- |
| Total Carbohydrates | 75.0 g |
| Dietary Fiber | 4.1 g |
| Total Sugars | 40.9 g |
| Sodium | 4.1 mg |
| Protein | 6.2 g |