Martha Stewart Just Shared A Post-Surgery Update With Fans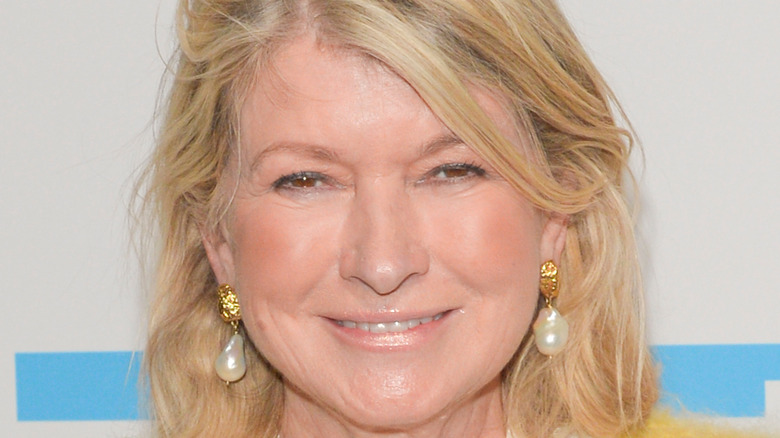 Shutterstock
Martha Stewart is on the move once again. The chef and personality took to her Instagram this week to share with fans that she was finally able to head back into the office nearly one month after undergoing surgery to repair a ruptured Achilles tendon that left her bedridden for two weeks. "My first visit to my office in NYC since the two tendon transplant in my Achilles' tendon," the homemaker captioned a series of photos shared to her page. The trio of snaps captured Stewart smiling wide, as she posed in what appeared to be the lobby of her office building with one leg propped up on a blue Knee Rover scooter. 
Like any good hostess, the 79-year-old also gave credit to her surgeon, Dr. John Kennedy, and his staff as well for "putting [her] back together!" Friends and fans of the homemaker seemed just as happy to see her out and about again, with many taking to the comments section to express their excitement for the star. One user wrote, "You're absolutely amazing! Speedy recovery to you. Thank you so much for being such an awesome inspiration in so many ways." Another fan added, "Feel better! You make that @kneerover look so CHIC!!" 
Martha Stewart's surgery hasn't kept her from spending time in the kitchen
After sharing the news of her injury, which happened after she accidentally stepped into a hole, the chef returned a week later to reveal that she had been upgraded from an "uncomfortable splint" to a "very heavy inflexible uncomfortable BOOT" (via Instagram). Per WebMD, this step usually occurs around the two-week post-op mark with instructions to continue keeping weight off the leg. At four weeks post-op, which is about where Stewart is now, she can start the beginning stages of learning how to walk again in rehab, though she probably won't be able to fully put weight on her injured leg for at least another month.
However, even with being down an appendage, the businesswoman is staying busy in the kitchen. The frequent "Chopped" judge returned to her Instagram once again on July 24 to share a photo of a beautiful pie she had made using peaches from her orchard, and noted that she had whipped up a blueberry peach crumble from the bumper crop as well. "Good baking morning on one leg!!!!" she captioned the shot. We can't wait to see what Stewart will whip up once she's fully healed!