Refreshing Corn Salad Recipe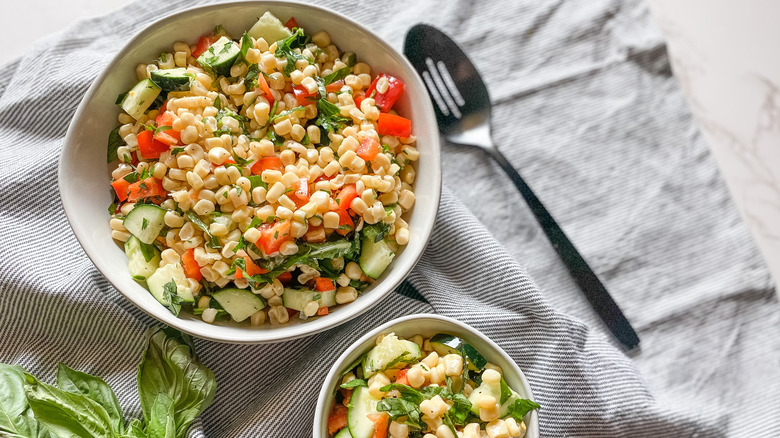 Kristen Carli/Mashed
Salads comes in a variety of sizes, and the ingredients used to make one can vary greatly. This corn salad recipe includes a melody of vegetables and various herbs that make it one of the most refreshing salads out there. There are so many benefits to this recipe — in fact, there are too many to list. But we will tell you that it's affordable, it doesn't take long to whip up, and it tastes absolutely incredible. Whether you're making it as a side for a picnic or to accompany a protein, this corn salad is perfect for any occasion where you're looking to wow a crowd.
Recipe developer and private practice registered dietician Kristen Carli came up with this spin on corn salad that is 100% worthy of a photo on your Instagram page, thanks to its fresh, vibrant colors. She says that she loves this recipe because of the main ingredient. "I love white corn so much," Carli exclaims. "This time of year, I am eating corn every day. [It's] so delicious!" She's absolutely right, because it's always a good time to have corn. 
Keep scrolling to find out how to make this delicious corn salad that will seriously impress your guests and be a favorite recipe.
What are the benefits of corn?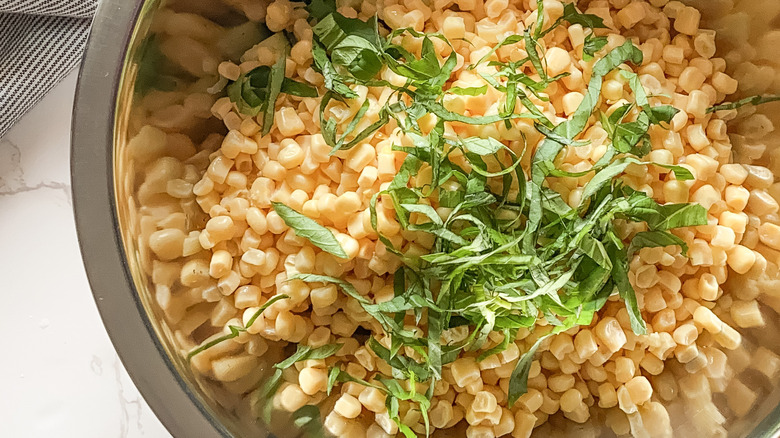 Kristen Carli/Mashed
The main ingredient in this recipe is white corn. Did you know that, like most other veggies, corn has a lot of health benefits? According to Healthline, corn is packed with fiber, which is good for your body. It can also help with digestion, contains plenty of antioxidants, and might enhance the health of your eyes. Who knew?
Additionally, corn contains a variety of vitamins, including vitamin B, which is just good for your health in general. In addition, Health Benefit Times noted that corn can help prevent several things, including anemia and hemorrhoids, while helping with growth and weight loss.
Gather the ingredients to prepare this refreshing corn salad recipe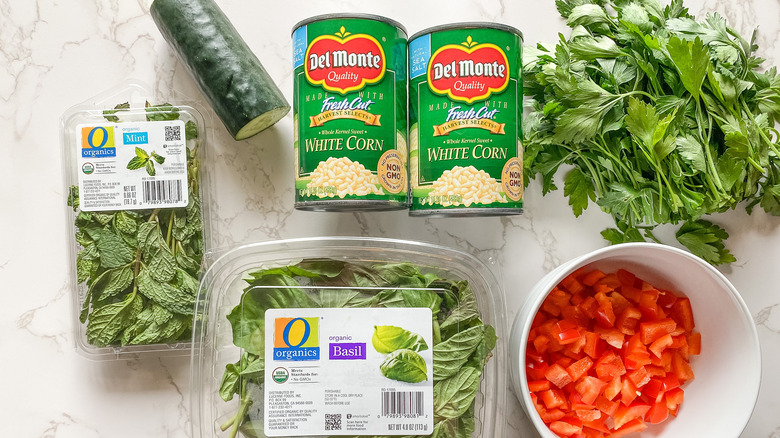 Kristen Carli/Mashed
First things first. You'll want to gather all of the ingredients necessary to throw together this delightful corn salad. Of course, you will need corn. Specifically, you will need two 15-ounce cans of white corn. Be sure to drain and rinse the corn before using it. You will also need a red bell pepper and a cucumber. Ah, it sounds so refreshing already, are we right?
In addition, you will need to pick up a few herbs, including mint leaves, basil leaves, and chopped parsley. If you're lucky, you may have them fresh in your garden! To complete your shopping list, add olive oil, red wine vinegar, salt, and pepper. Once you have gathered everything together, you may begin putting your salad together.
Mix the ingredients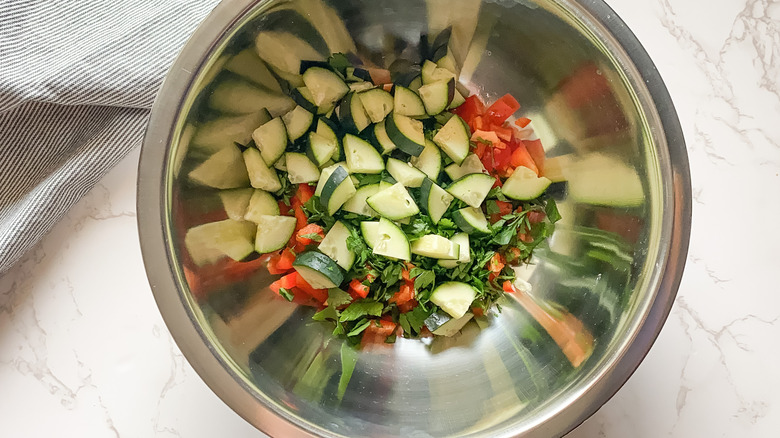 Kristen Carli/Mashed
Take out a large bowl that is big enough to fit all of the ingredients. Add in the corn first, and it should already be drained and rinsed. Next you'll add in the diced bell peppers, which you also should have cut prior to this step. The chopped cucumber is the last veggie that goes into the bowl. 
Next, you need to add in all the herbs, including the mint, basil, and parsley. Once you have everything in the bowl, give it a few good stirs so that everything is well-mixed. Now it's shaping up and looking more like a salad.
Dress the veggies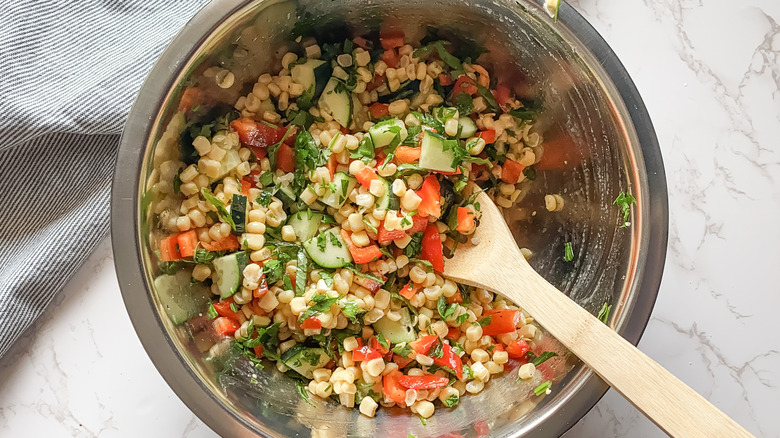 Kristen Carli/Mashed
Once you have mixed all of the veggies and herbs together, it's time to dress them up properly. Put in the olive oil and vinegar first, followed by a few turns of salt and pepper. Stir everything and combine the mixture, ensuring that each veggie has a little bit of dressing on it. The veggies would be good by themselves, but this dressing gives it that extra bit of flavor that takes this corn salad to a whole new level. Besides, what's a salad without dressing?
"You can easily substitute white wine vinegar or champagne vinegar if you don't have red wine vinegar," Carli notes. "Alternatively, you could easily use a store-bought dressing instead." Choose what you'd like best, and make it your own.
Serving suggestions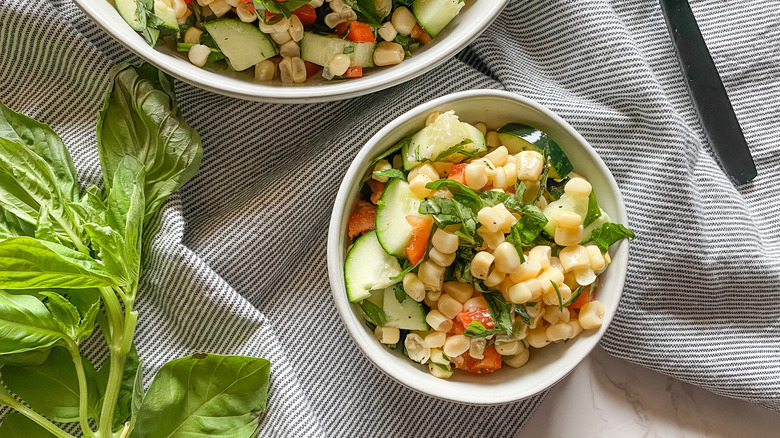 Kristen Carli/Mashed
This salad is one you will love to make for so many occasions. Of course, you can serve it by itself, and it's plenty good on its own, but there are a variety of other ways to enjoy this salad. "This would be delicious as a dip with chips," Carli shares. "I've also served this with rotisserie chicken for an easy lunch or over broiled salmon for dinner." 
If you happen to have anything left, Carli notes that "leftovers store in an airtight container in the fridge for up to five days." This corn salad recipe will be one of your favorites, and you will make it again and again!
Refreshing Corn Salad Recipe
This corn salad recipe includes a melody of vegetables and various herbs that make it one of the most refreshing salads out there.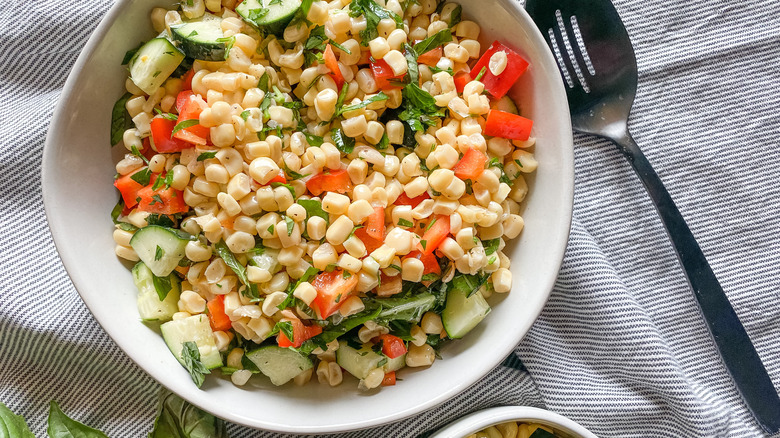 Ingredients
2 (15-ounce) cans white corn, drained and rinsed
1 red bell pepper, diced
½ cup chopped cucumber
10 mint leaves, chiffonaded
10 basil leaves, chiffonaded
¼ cup chopped parsley
¼ cup olive oil
¼ cup red wine vinegar
½ teaspoon salt
¼ teaspoon pepper
Directions
Place the white corn, diced red bell pepper, chopped cucumber, mint, basil, and parsley in a large bowl.
Dress veggies with olive oil, red wine vinegar, salt, and pepper.
Stir to combine.
Nutrition
| | |
| --- | --- |
| Calories per Serving | 191 |
| Total Fat | 11.0 g |
| Saturated Fat | 1.5 g |
| Trans Fat | 0.0 g |
| Cholesterol | 0.0 mg |
| | |
| --- | --- |
| Total Carbohydrates | 23.2 g |
| Dietary Fiber | 3.9 g |
| Total Sugars | 4.4 g |
| Sodium | 448.6 mg |
| Protein | 3.7 g |