What Makes Top Chef Hosea Rosenberg's Black Forest Cake Unique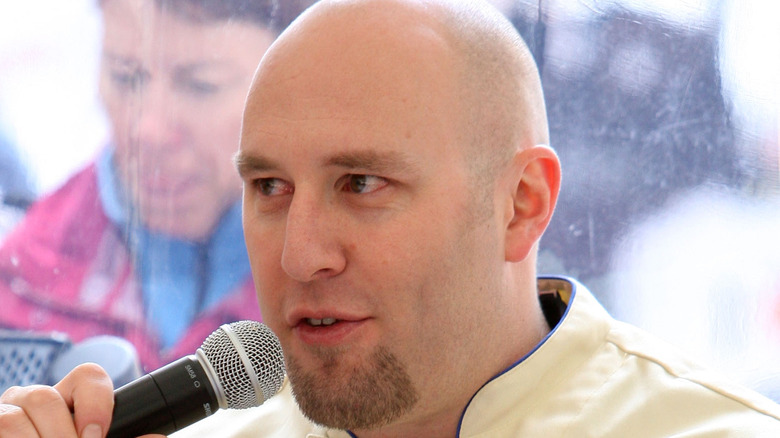 Bryan Bedder/Getty Images
Step into any bakery or open any dessert cookbook, and you'll likely be overwhelmed by the endless options of cake flavors. There are the basics: chocolate, vanilla, red velvet, and even Funfetti. Then there are unique cakes with interesting flavors such as German chocolate, pineapple upside-down, and angel food cake. No matter what flavor combination satisfies your sweet tooth, chances are there's a decadent dessert out there to tickle your taste buds. 
When it comes to preferred flavor, though, the former "Top Chef" contestant Hosea Rosenberg has a clear favorite: Black Forest cake, per Food & Wine. The New York Times describes Black Forest cake as a chocolate sponge cake layered with tart cherry filling and whipped cream. But the Season 5 "Top Chef" champ doesn't dig into just any Black Forest cake — he has a few hacks to elevating this classic cake to a new level. And if you're itching to indulge in Rosenberg's sweet, cherry-filled creation, here's how you can make one for yourself. 
Hosea Rosenberg switches up the toppings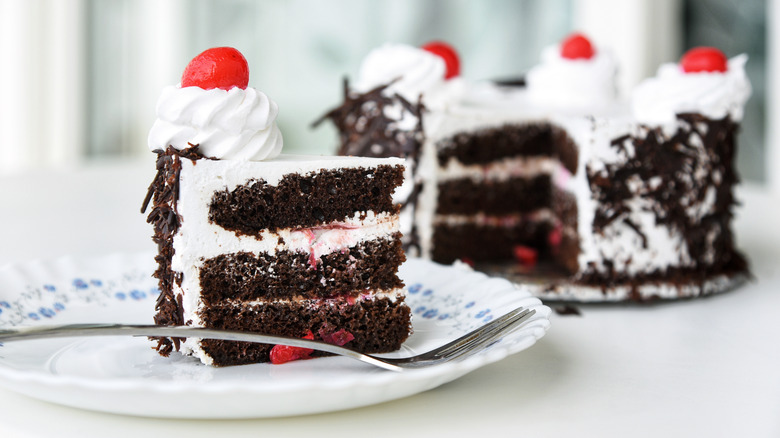 Shutterstock
According to Food & Wine, Black Forest cake has an even sweeter meaning to Rosenberg. The cake was, reportedly, a favorite of Rosenberg's father. But what makes Rosenberg's Black Forest cake different than most fluffy, chocolatey varieties? Well, it's all in the toppings. It seems the "Top Chef" star doesn't settle for whipped cream or cherries from a jar. Instead, as Food & Wine reports, Rosenberg opts for soft and velvety mascarpone cream. In addition to swapping whipped cream for mascarpone, Rosenberg also upgrades jarred cherries for luscious cherries soaked in syrup and brandy
If you've never used mascarpone before in your recipes, it's a cheese that's typically made with heavy cream and citric acid, per Allrecipes. Mascarpone is often used in tiramisu, due to its silky texture, and it tastes similar to cream cheese or ricotta cheese — just with a slightly sweeter taste. The great thing is that Rosenberg's version of Black Forest cake is easy to make from scratch, or you can purchase different varieties from the grocery store. Either way, as evidenced by Rosenberg's love for the cake, it's a must-try if you love chocolate, cherries, cream, and a little booze.