Easy Tofu Fried Rice Recipe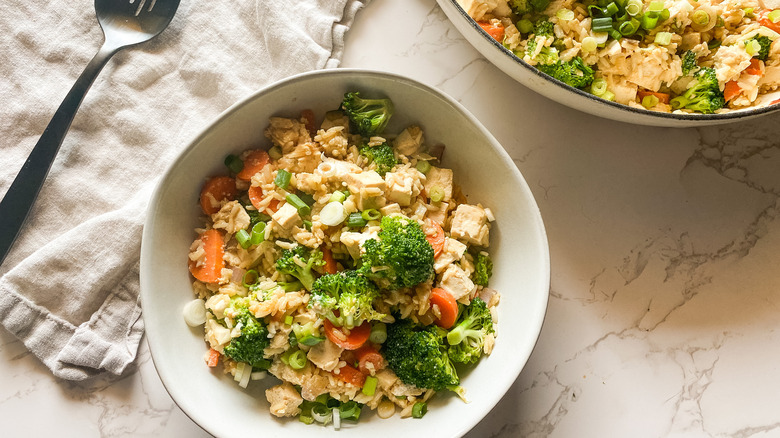 Kristen Carli/Mashed
Preparing the same meat-free meals can become quite mundane, but we here at Mashed have an undeniably scrumptious way to step up your weekly menu game. Private practice registered dietician and recipe developer Kristen Carli offers a great spin on tofu fried rice that you'll undoubtedly be obsessed with. Did anyone say extra soy sauce? Plus, there's no takeout wait time, and the prep work for this recipe takes less than 10 minutes. "This is a weeknight meal favorite in my house," Carli says. "We don't eat a lot of meat, and this is a great veggie and protein-packed meal. Not to mention, it's delicious!"
In case you are new to phytonutrients, tofu is a plant-based food made from curdled soy milk. According to Healthline, it's nutrient-dense and jam-packed with protein. Tofu has gained such popularity in meatless cuisines, and it's clear as to why. Adding this deliciously smooth ingredient to rice and veggies gives you a complete meal. No hassle — a one-stop-shop, if you will. Doesn't that make you hungry? We can relate. So, let's get into the details and see how seamlessly you can pull this tasty recipe together just in time for dinner!
Gather the ingredients to prepare this easy tofu fried rice recipe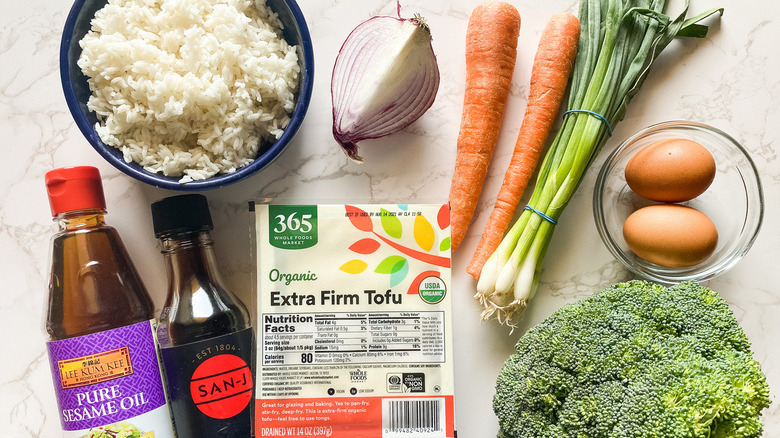 Kristen Carli/Mashed
We'll breeze over the ingredients since it is fairly simple to get started. To cook up this easy tofu fried rice, you'll need to round up any type of olive oil, frozen crushed ginger, minced garlic, red onion, carrots, and broccoli. Carli recommends using leftover cooked white rice to add texture to this dish. Additionally, bring in a few eggs, grab some soy sauce (any brand), sesame oil, and green onions. And just like that, you're ready to get cooking.
Sautée the onions in olive oil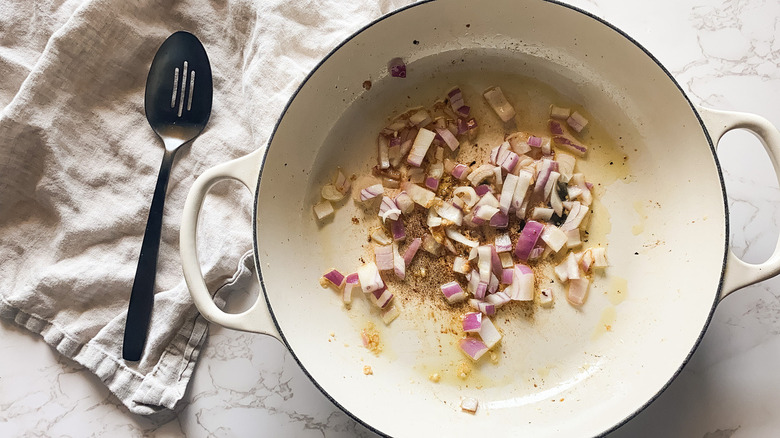 Kristen Carli/Mashed
To begin, set a large skillet over medium heat. Add in 1 tablespoon of olive oil once the pan gets hot. When the oil starts to crackle, you'll then add 1 teaspoon of frozen crushed ginger and 1 teaspoon of minced garlic. Dice ¼ red onion, and toss that into the frying pan as well. Allow the ingredients to cook for a few minutes, until you see the onions have softened.
Add the carrots and broccoli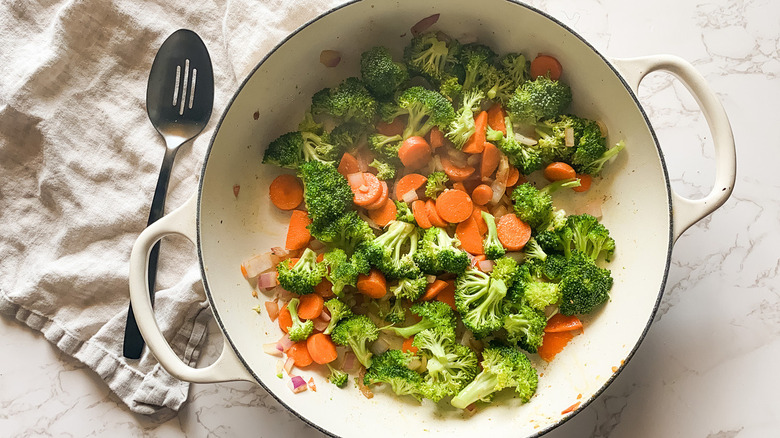 Kristen Carli/Mashed
Now that you're cooking, it's time to add some color! Peel and chop two large carrots, and toss them into your pan. Follow that with 1 ½ cups of broccoli crowns cut and tossed in as well. Combine and cook the veggie medley for about five minutes.
Charged with vitamin C, broccoli has antioxidants to protect your immune system. The earmark fiber and inflammation reductive qualities also make this veggie an impeccably healthy choice. Carrots are low-cal and high in fiber as well. With a plethora of beta carotenes (that cause the vibrant orange color), nutrients from carrots transform into immune-boosting vitamin A as you digest them.
Add the cooked rice, tofu, and sesame oil, then break the eggs over the mixture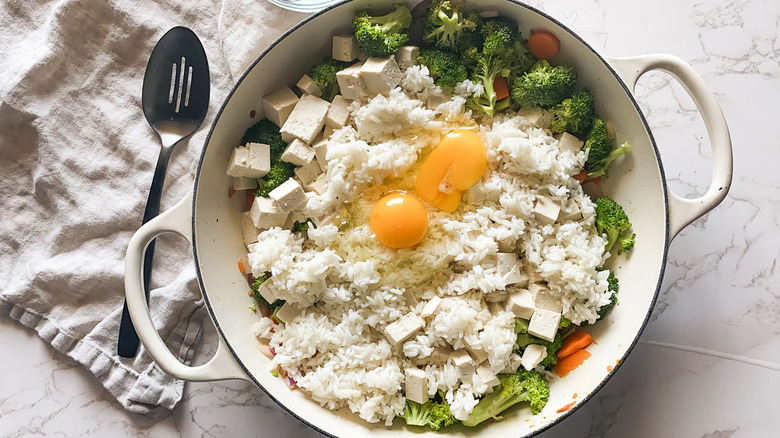 Kristen Carli/Mashed
Carli notes that the best part about this recipe is that "[it's] pretty straightforward and super easy!" We'll see to it that the next directions are concise.
For this step, start by adding in 2 cups of cooked white rice to the pot. Dice 14 ounces of extra firm organic tofu, and sprinkle in 1 tablespoon of sesame oil. Crack two eggs over the top. Break each yoke, and mix the ingredients together very well. According to Carli, you'll want to give this about eight minutes to mingle as the eggs cook all the way through.
Top with fresh scallions and soy sauce, and enjoy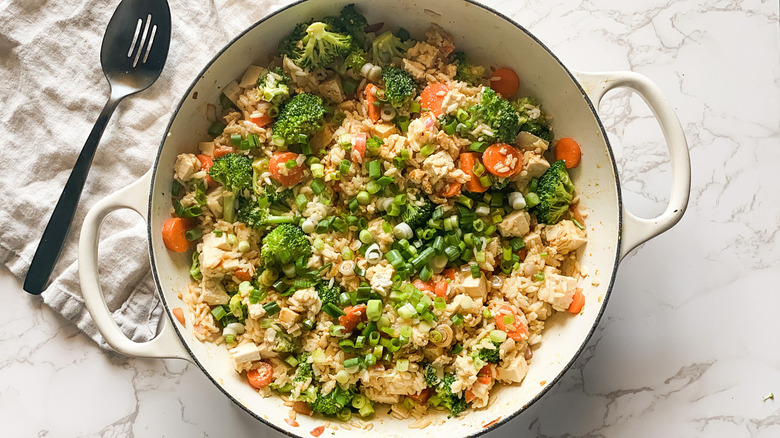 Kristen Carli/Mashed
Lastly, slice four green onions, sprinkle them on top along with 3 tablespoons of soy sauce, and serve hot. Your guests will be beyond content. This dish is perfect to prepare for a cozy family dinner or a larger at-home gathering. Keep in mind that this recipe yields four servings, but Carli says, "You could easily double the recipe for larger gatherings, if needed." She also mentions the clean-up is quick, saying, "It's nice to only have one pan to clean!"
If you have enough leftovers — which may very well be unlikely — they can be refrigerated for up to five days in an airtight container and heated up nicely in the microwave. Surely your family and friends will enjoy the time around the table as you plate and enjoy this mouthwatering dish.
Easy Tofu Fried Rice Recipe
This easy tofu fried rice is an undeniably scrumptious way to step up your weekly menu game.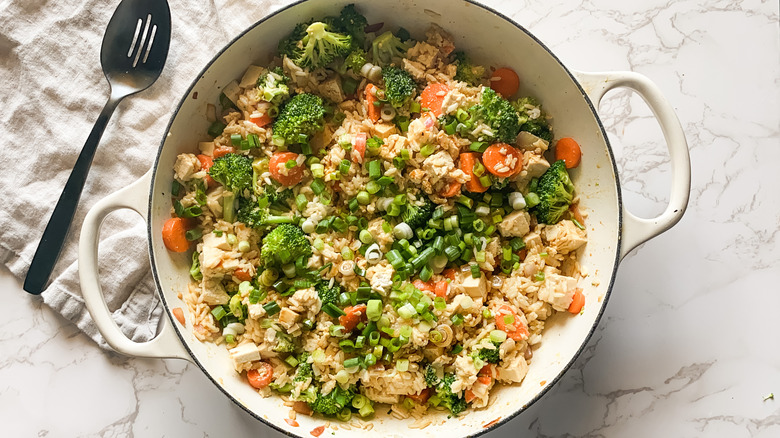 Ingredients
1 tablespoon olive oil
1 teaspoon frozen crushed ginger
1 teaspoon minced garlic
¼ red onion, diced
2 carrots, sliced
1 ½ cups broccoli florets
2 cups cooked white rice (preferably day-old rice)
2 eggs
3 tablespoons soy sauce
1 tablespoon sesame oil
4 green onions, sliced
Directions
In a large skillet over medium heat, add the olive oil. Once hot, add the crushed ginger, minced garlic, and diced red onion. Sauté until the onion is softened.
Add the sliced carrots and broccoli florets. Cook for 5 minutes.
Add the cubed tofu, cooked rice, eggs, soy sauce, and sesame oil. Mix to combine, making sure to break up the eggs well.
Continue to cook to allow the eggs to cook through, about 8 minutes.
Sprinkle with freshly sliced green onions, and serve with an extra dash of soy sauce.
Nutrition
| | |
| --- | --- |
| Calories per Serving | 247 |
| Total Fat | 9.3 g |
| Saturated Fat | 1.7 g |
| Trans Fat | 0.0 g |
| Cholesterol | 80.0 mg |
| | |
| --- | --- |
| Total Carbohydrates | 33.8 g |
| Dietary Fiber | 1.8 g |
| Total Sugars | 2.3 g |
| Sodium | 720.9 mg |
| Protein | 7.4 g |