Classic Cuban Sandwich Recipe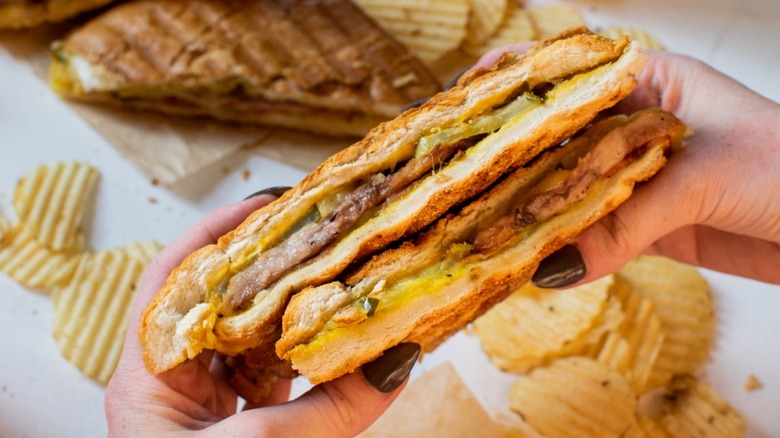 Michelle McGlinn/Mashed
The Cuban sandwich isn't one of those foods like French fries where the name has nothing to do with the country of origin (nearly all countries seem to have some version of fried potatoes to call their own), nor is it like American cheese, a product which, while undoubtedly American, may not qualify as actual cheese. The Cuban sandwich is most definitely a sandwich, and it has its roots in Cuba.
The indigenous Taíno people of Cuba came up with the first iteration of this iconic sandwich, but they used yucca along with fish and bird meat (via Thrillist). However, when the Spanish arrived in Cuba, they added bread and pork to the mix. That sandwich eventually made its way to Tampa, Florida, when it became formally known as a Cuban sandwich.

Recipe developer Michelle McGlinn tells us how she came up with her inspiration for this sandwich, which is as authentic as you can make it outside of the state of Florida: "Cuban sandwiches are my boyfriend's favorite food. After he showed me the movie Chef, I decided to start making them for him!" She adds, "I took a lot of inspiration from Chef in making my own: mojo pork, mustard sauce, pressed flat on a press."
The ingredients for this sandwich can be purchased in any supermarket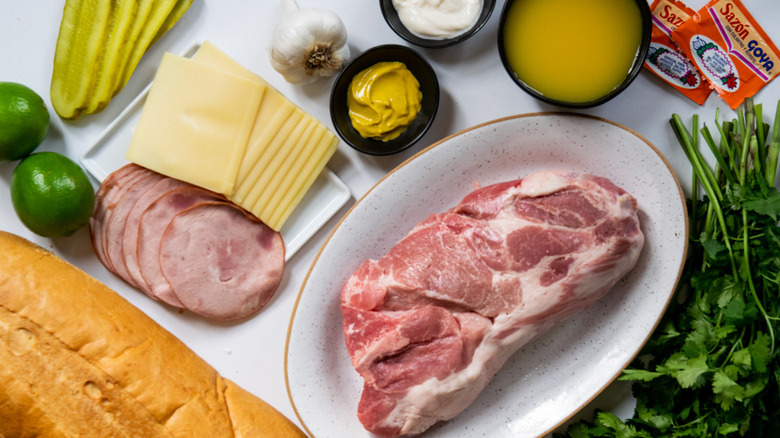 Michelle McGlinn/Mashed
Even though this Cuban sandwich has a flavor unlike anything you may have ever tasted before, none of the ingredients themselves are too unusual. The most exotic of the ingredients is Sazon Goya, but most mainstream grocery stores now carry this seasoning mix in their spice aisles. You will also need orange juice (McGlinn prefers fresh-squeezed), cilantro, olive oil, a lime, fresh garlic cloves, mayo, yellow mustard, sliced black forest ham, sliced Swiss cheese, sliced dill pickles, and of course, some pork. McGlinn used a bone-in pork shoulder and says you can get one anywhere from three to five pounds in weight, though you're likely to have leftovers. As she tells us, "I used a little more than half. With the other half, I cut into one-inch pieces and made into a breakfast hash!"
While a true Cuban sandwich should be made with Cuban bread — which requires a fresh palmetto leaf to give the bread its unique flavor — we don't all live in the land where palmettos grow. McGlinn tells us she makes her Cuban sandwich with Italian bread since it's easier to find, though she says that French bread would work as well. 
The pork gets its flavor from mojo sauce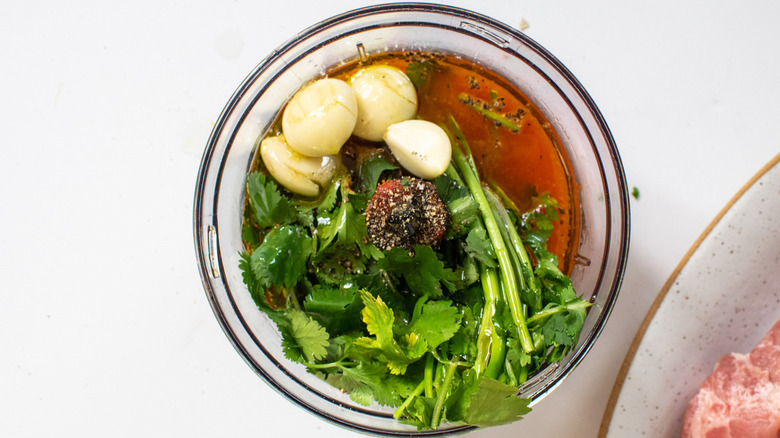 Michelle McGlinn/Mashed
This Cuban sandwich is a multi-step process, but as McGlinn says, "It's worth the effort!" The first step on your long journey toward sandwich satisfaction begins with building something called mojo sauce. To make this sauce, you'll mix the orange juice with the Sazon Goya, cilantro, olive oil, lime juice, and garlic in a blender or a food processor. Blend them until the cilantro and the garlic are all chopped up.
Now place the pork in a big Ziploc-type bag (you'll probably need a gallon-sized one) or a large bowl and cover it with the mojo sauce you've just made. Let the pork marinate for at least 30 minutes, although for even better flavor, you can let it sit overnight.
Roast the pork until it's fork-tender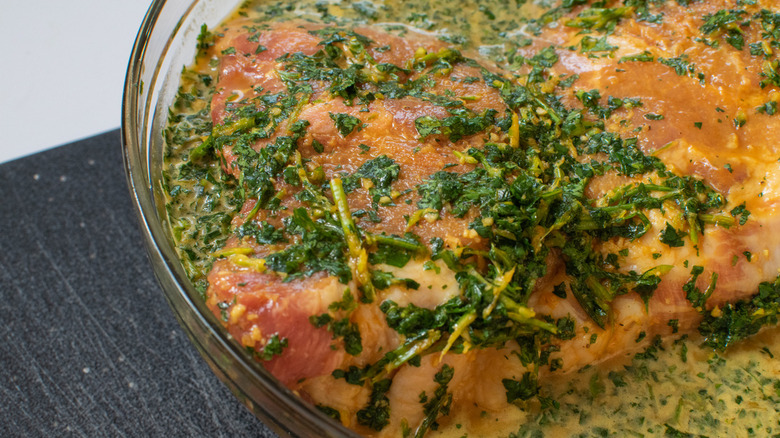 Michelle McGlinn/Mashed
Shortly before you're ready to roast the pork, preheat the oven to 425 degrees Fahrenheit. Place the pork in a large roasting pan or casserole dish, but don't throw out the marinade! You're going to be needing it later. Cook the pork for 30 minutes, then lower the oven temperature to 375 and cook it for 90 minutes longer until it's tender. Take the pork out of the oven and save the drippings.
McGlinn says you can roast the pork ahead of time, but if you do so, allow the pork to cool in its drippings. Cover the pan with foil, then put it in the fridge. It should be good for up to three days. You could also serve the roast pork for dinner the first night, then save the leftovers to make Cuban sandwiches the next day. Just make sure you save about one to one and a half pounds of leftover pork. When you want to make the sandwiches, reheat the pork in the drippings at 375 degrees for 20 minutes.
Add some sauce to the pork before slicing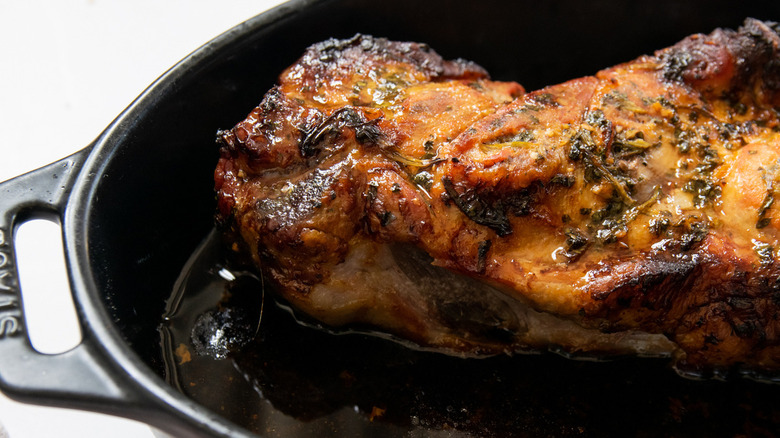 Michelle McGlinn/Mashed
Let the pork sit and cool for a few minutes while you make yet another sauce. To make this second sauce, measure a quarter-cup of the reserved drippings and mix them with half a cup of reserved marinade. Whisk these two ingredients together in a small saucepan over medium heat until they are well-combined, then turn off the stove and pour the panful of sauce over the roast pork before carving it into thin slices.
While it might seem as if the sauce would slide right off the pork, McGlinn explains, "A lot of the sauce will stay on the pork and absorb, so it is worth taking the extra step to glaze the pork in the mojo drippings." She does say, though, that "if the sauce drizzles off, you can spoon it on the pork after slicing it, too."
Assemble the sandwich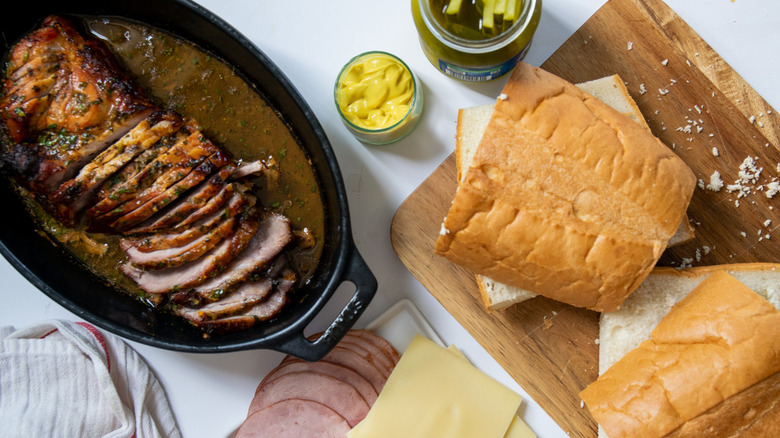 Michelle McGlinn/Mashed
At long last, it's time to start putting that sandwich together! Slice each loaf of bread into two long rectangles, then slice each of these rectangles in half through the center. Mix the mayo and the mustard together, then spread the mixture on each sandwich half. McGlinn does say that some Cuban sandwiches make do with mustard alone, but tells us, "I like the mellowness of the mayonnaise in mine." Layer each bottom half with two slices of Swiss cheese, two slices of ham, three or four slices of pork, and two pickle slices. Finish off with two more slices of Swiss, then cover with the top half of the bread.
If you like, you can use more or less of each ingredient listed here. As McGlinn puts it, "There's such nuance in sandwich-building." She notes that the amounts here are what she used, but you can feel free to vary them to suit your own taste. She also notes that while her sandwich makes use of a slow-roasted pork, "If you wanted a fast weekday lunch, you can always make it without the roasted pork or with pre-made shredded pork." As she tells us, "It's not the same, but it's much faster. "
Flatten and heat the Cuban sandwich prior to serving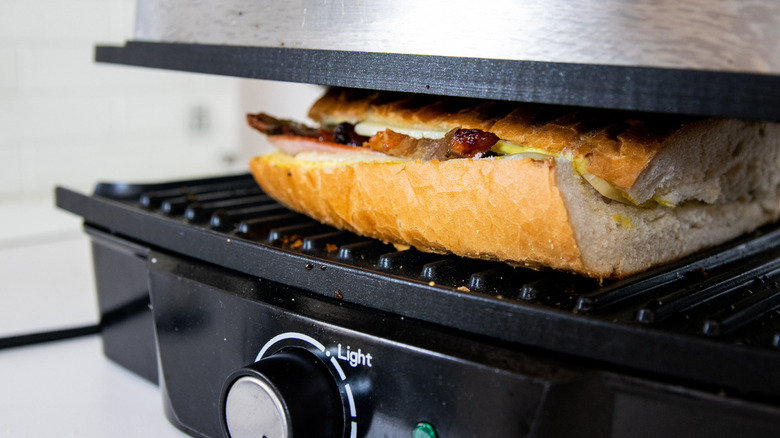 Michelle McGlinn/Mashed
All that sandwich-building, and you're still not done! Soon, though. The last step involved in Cuban sandwich-making involves either a panini press or two heavy skillets. Put each sandwich in the press or, if you have no press, on the larger of the two skillets. If you're using the skillet method, use the smaller one to press down on the sandwich to flatten it. Heat the sandwich in the press or skillet as you continue to press down on it. You'll know you're done when the cheese is all melted and the sandwich is as flat as it's going to get.
McGlinn says she was skeptical when she first heard about Cuban sandwiches, wondering how all the different flavors could work together, but says, "I'm totally hooked now!" As she describes the Cuban sandwich, "It's not just a ham and cheese sandwich: It's a lot of amazing flavors, pressed into a gooey panini. All the flavors really just work together so well." She says that since these sandwiches were first made as lunches for Cuban workers, "I always think to serve mine with lunch snacks like potato chips and ice-cold Jarritos." If you want some more authentically Cuban side dish suggestions, she suggests plantain chips, rice and beans, or yucca fries.
Classic Cuban Sandwich Recipe
Want to dig into a sandwich that's super hearty and filling? You have to give this Cuban sandwich recipe a try. Your family is going to love it.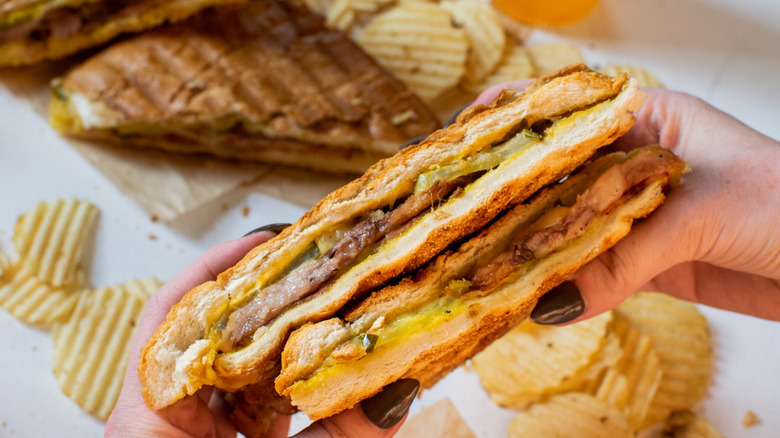 Ingredients
1 cup fresh orange juice
2 packets Sazon Goya
1 cup fresh cilantro, packed
¼ cup olive oil
Juice from 1 lime
5 to 6 garlic cloves, peeled and crushed
1 bone-in pork shoulder butt roast, about 3 to 5 pounds
1 teaspoon salt
1 teaspoon pepper
2 loaves Italian bread
½ cup mayonnaise
½ cup yellow mustard
8 slices black forest ham
16 slices Swiss cheese
8 dill pickle slices
Directions
Combine orange juice, Sazon Goya, cilantro, olive oil, lime juice, and garlic in a blender or food processor and blend until garlic is minced and cilantro is finely chopped.
Place pork into a resealable bag or large bowl and cover with blended sauce. Marinate for 30 minutes or overnight.
When you're almost ready to cook the pork, preheat the oven to 425 degrees F.
Place pork in a roasting pan or casserole dish and reserve the marinade.
Roast pork for 30 minutes, then turn the oven to 375 and roast for 90 minutes or until desired tenderness.
Remove pork from the oven and reserve the drippings.
Whisk together ¼ reserved drippings with ½ cup reserved marinade in a small saucepan over medium heat until combined.
Remove dripping mix from heat and pour over roast pork.
Carve the pork into thin slices.
Slice the bread into long rectangles and cut each rectangle in half.
Combine mustard and mayonnaise.
Spread the mustard mixture on each half-rectangle of bread, then layer with 2 slices of Swiss cheese, 2 slices of ham, 3 to 4 thin slices of roast pork, and 2 pickle slices.
Top the sandwich with two more slices of Swiss cheese before finishing off with the other half of the bread.
Press the sandwich down gently to compress, then flatten it even further using a panini press or cast-iron skillet.
Heat the sandwich in the panini press or another skillet as you continue to press down on it. Cook until the cheese is melted and the bread is flattened.
Remove sandwich from press or pan and slice in half diagonally before serving.