What Makes Andrew Zimmern's Walking Taco Recipe So Unique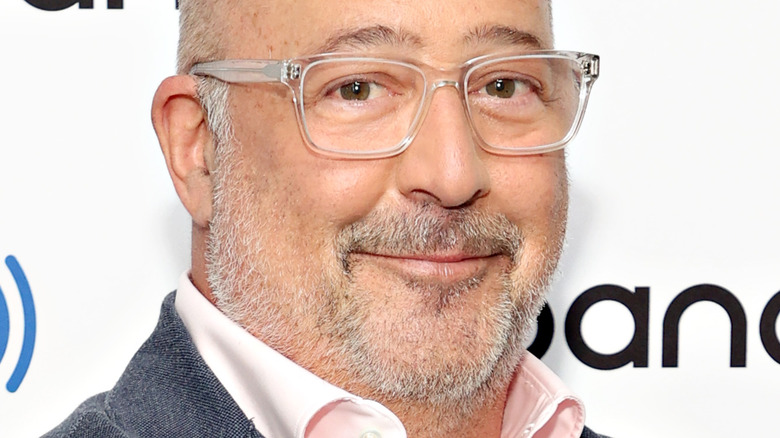 Cindy Ord/Getty Images
When you are Andrew Zimmern, you can make pretty much anything you want because you are simply that good when it comes to the culinary arts. The James Beard Award winning personality has shown us how to make the most delicious clam in the world, that we all giggle over in the process. Zimmern has shared tips and tricks of the trade, including his secret ingredient for making a savory vinaigrette. But sometimes even celebrity chefs get a hankering for sweet, savory, secretly coveted junk food — and the host of Travel Channel's "Bizarre Foods" is no different. 
In fact, Zimmern shared with Rachael Ray that he is a fan of the walking taco, also known as taco in a bag, which serves as a riff on everyone's favorite Frito pie. This concession stand food that many of us may remember eating during a high school football or baseball game is really all that and a bag of chips, literally. At it's most basic, this dish consists of Fritos corn chips, chili, and cheese. Of course, when it comes to Andrew Zimmern, nothing is basic, including his walking tacos recipe. In fact, he has taken this recipe and turned this childhood classic into an adult dish that is way too good not to try. What makes Zimmern's walking taco so unique?
Andrew Zimmern creates the 'walking tacos of your dreams'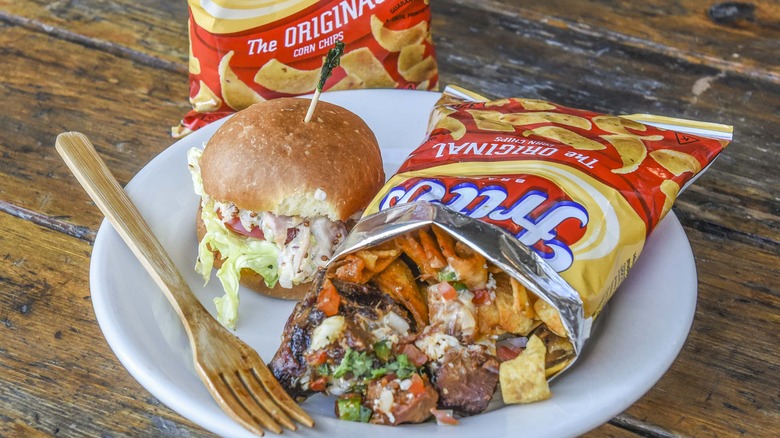 Michael Bezjian/Getty Images
Andrew Zimmern uses some really sophisticated and adult ingredients when making his version of Frito pie. To build his taco in a bag, he ladles into a one ounce bag of Fritos corn chips some yummy looking made-from-scratch black bean chili. His chili is made with black beans, pork shoulder, bacon, poblano chili, crushed tomatoes, beer ("for background bitterness"), and a host of seasonings that just set your mouth a-watering. Zimmern shares a pro tip when explaining that the only mistake you can make when adding chili to your bag of Fritos is adding too much. He shares that you'll want to add about the same amount of chili as there are chips in the bag. 
Zimmern then tops it off with all the trimmings — some sliced black olives, shredded lettuce, fresh cilantro, onion, and a dollop of sour cream. Zimmern likens it to "dirty taco night" on Tuesdays, to which Rachael Ray offers an enthusiastic, "Yes!" in approval. But what makes these walking tacos so unique is the fresh tomatillo salsa Zimmern makes to top off his piece de resistance. While he tries to keep it family friendly, he still adds a poblano pepper and some jalapeño to the salsa where the flavors or lime, cilantro, and mint have a starring role along side the tomatillos. As Zimmern says at the conclusion of the video, these are really the "walking taco of your dreams."