Instagram Is Loving This 'Gorgeous' Photo Of The Pioneer Woman's Daughter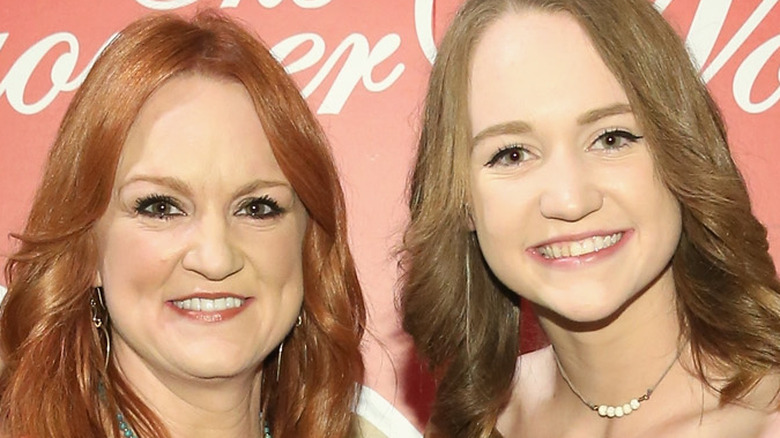 Monica Schipper/Getty Images
Paige Drummond may be the daughter of world-famous food celebrity Ree Drummond, aka "The Pioneer Woman," but she's also the daughter of locally famous rancher Ladd Drummond. The Drummonds have been business leaders and big-time ranchers in northeast Oklahoma since the 1800s, according to the Oklahoma Historical Society. So, while Ree has been known to recruit daughters Paige and Alex both as models for her Walmart clothing line (via The Pioneer Woman blog), the young women are no strangers to real ranch work. Paige especially appears drawn to the Drummond family business. She came home from college on Valentine's Day this year to help with the extra work needed to get the Drummonds' cattle through a terrible cold spell (via People). Paige's Valentine's Day look, on her own Instagram page, was a dusty work jacket and cowboy hat. "I'm my dad's favorite son," Paige joked in the caption of the social media post.
Much more recently, on August 5, Paige was back to work on Instagram, with a series of photos showing a herd of cattle in the pasture and herself on horseback. "This week's highlight reel: Punchin' cows!" she wrote. Ree Drummond posted her own photo of Paige on her horse during this workday at the ranch. Ree's caption rewrote the lyrics to an old Western song: "Paige, Paige on the range ... (That wasn't as catchy as I thought it was gonna be.)"
'Pioneer Woman' daughter Paige Drummond is more than just a gorgeous cowgirl
In "Pioneer Woman" Ree Drummond's Instagram ranch photo of her daughter, Paige wears a cowboy hat, jeans, and an oversized gray top. Her long, blonde hair is in a ponytail. Dozens of commenters, mostly women, lined up under Ree's post to compliment Paige's appearance. "Gorgeous girl!" wrote @kristenstrong. "What a pretty cowgirl!" @eileensharkey commented. You get the idea. If Paige found all these comments about her appearance while she was in "favorite son" mode to be jarring, she didn't let on. She "liked" a few of the compliments on her mom's post and on her own Instagram photos of that workday.
It's worth keeping in mind that ranch work is a real job that has been in the Drummond family for generations. Paige may even decide to carry on the family business, maybe with help from her brothers. We're not sure how much weight this opinion might have in Pawhuska, Oklahoma, but Sarah Gervais, a psychology Ph.D. writing for Psychology Today, said that complimenting a woman's appearance while she's on the job only makes it more difficult for women to achieve workplace equality. Research cited by Psychology Today even showed that focusing attention on a woman's appearance leads people to believe she is less competent at her job. But as Paige Drummond proved on a bitterly cold Valentine's Day, and again this past week, she's one of the best ranch hands her father has.