3 New Fall-Inspired Drinks Are Coming To Dunkin'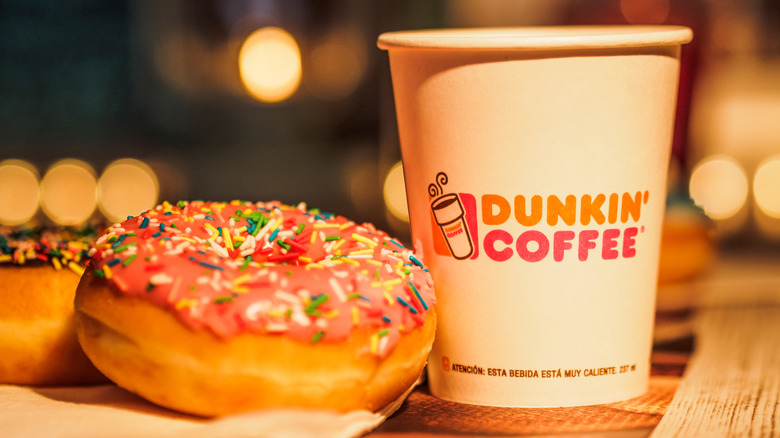 Shutterstock
Pumpkin lovers, rejoice! Dunkin' is looking ahead to cooler temperatures with a new lineup of fall-themed drinks perfect for sweater weather sipping. In a press release sent to Mashed, the East coast institution unveiled this year's limited-time fall lineup, including some new offerings that are sure to pique the interest of apple cider aficionados and pumpkin devotees alike.
For years, Dunkin' has delighted both coffee and pastry lovers with popular fall offerings such as their Pumpkin Spice Signature Latte, apple cider donut, pumpkin Munchkins, and pumpkin flavor swirl — which can be added to a variety of hot and iced drinks for an autumnal twist.
While the Massachusetts-based company's popular PSL has its fair share of devout fans, a new pumpkin-flavored drink angled at cold brew lovers will be making its menu debut this autumn. Meanwhile, Dunkin' customers who aren't big pumpkin fans will also have a duo of refreshing fruity fall beverages to look forward to.
Dunkin's new fall offerings include a refreshing pumpkin drink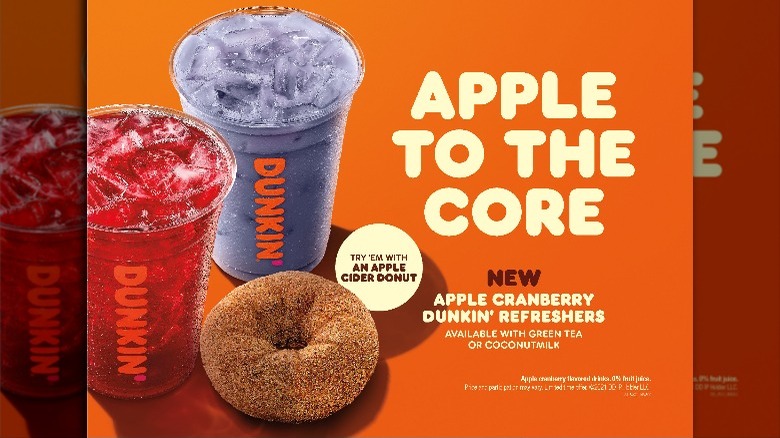 Dunkin'
For pumpkin lovers who prefer cold beverages over hot, Dunkin' will be introducing Pumpkin Cream Cold Brew: Cold brew coffee with a pumpkin flavor swirl, topped with a new Pumpkin Cream Cold Foam, and sprinkled with cinnamon sugar. According to the company, the drink pairs the "sweet notes of pumpkin and hints of warm spices such as cinnamon, clove, and nutmeg," for the ultimate cool fall treat. Customers can snag both the Pumpkin Cream Cold Brew and Pumpkin Spice Signature Latte for a special lowered price of $3 through September 14, at participating locations.
For those who prefer fruitier beverages, the chain has also unveiled two new fall-friendly Refreshers: an Apple Cranberry Dunkin' Refresher and Apple Cranberry Dunkin' Coconut Refresher. Both of these coffee-free iced beverage options are made with "Honeycrisp apple and cranberry fruit flavors." While the Apple Cranberry Refresher is made with green tea, the coconut Refresher is a creamier option made with subtly sweet coconut milk.
Dunkin' also announced the addition of a new 100% Guatemalan coffee to its menu, which has rich chocolatey notes and "less acidity and sharpness than other roasts," according to the company. In addition to being a delicious new option for coffee lovers, 10 cents of every purchase of the Guatemalan coffee made from September 15 through October 12 will benefit One Tree Planted.
Although autumn doesn't technically start until mid-September, Dunkin' will be getting a jump on the fall fun, releasing its lineup of seasonal drinks a month early. All of the chain's fall menu items will be available at participating Dunkin' locations across the country by August 18, for a limited time.