Who Is Richer: Bobby Flay Or Wolfgang Puck?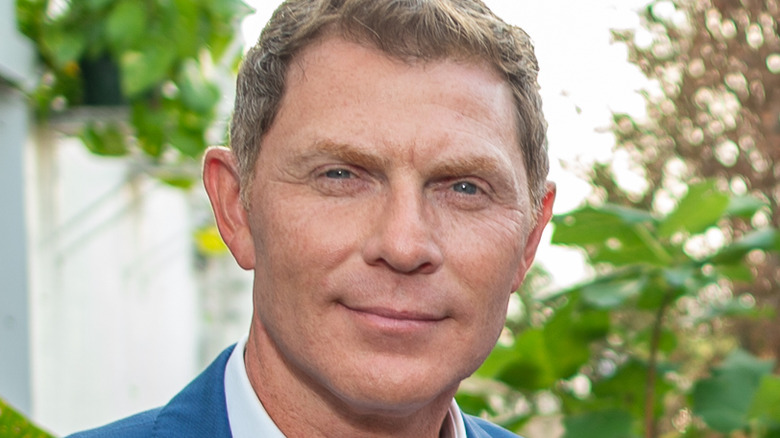 Mark Sagliocco/Getty Images
Bobby Flay and Wolfgang Puck have made waves as celebrity chefs. Flay and Puck both run successful restaurant empires, have helped define modern cuisine, and have truly made names for themselves. According to Food Network, Bobby Flay started his culinary career at the tender age of 17 when he started working at the New York restaurant Joe Allen's. The restaurant was Flay's proving ground. He left the owner of the eatery so impressed, that Joe Allen himself paid Flay's tuition to the French Culinary Institute so the budding talent could further his studies in the culinary arts. The young chef went on to open his own restaurants, write a number of cookbooks, and star on a wide variety of Food Network television shows. 
Wolfgang Puck, on the other hand, became a household name by feeding the rich and famous. In 1982, Puck opened Spago in Beverly Hills, California (via CNBC). The restaurant quickly became an instant hit with celebrities that visited by the droves thanks to the chef's culinary skills. The restaurant currently offers à la carte lunch and dinner options and a chef's multi-course California tasting menu (via Wolfgang Puck). 
While both chefs have accumulated fortunes through their various restaurants, books, and licensing deals, only one has garnered a larger net worth.
Flay's fortune is built on a food empire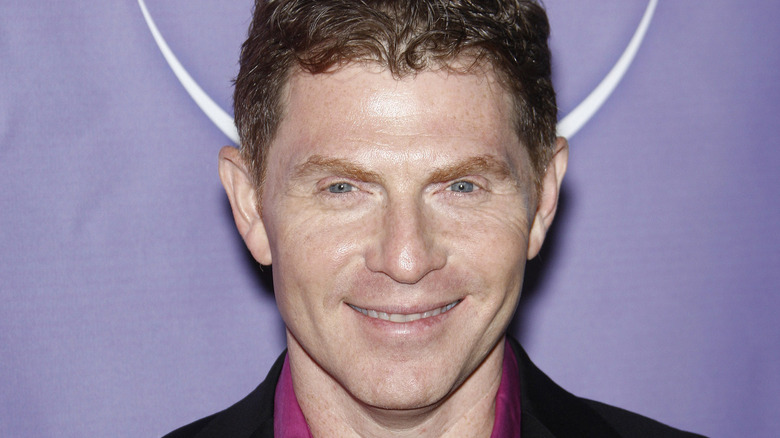 Shutterstock
As noted above, Bobby Flay's career started when he was a teenager. Since then, he has gone on to open a host of restaurants, and the New York City-based chef made his name thanks to his interest in Southwestern cuisine. Flay learned about the particular flavor profiles and techniques from chef Jonathan Waxman. According to Don Rauf's biography "Bobby Flay," it's said the chef's first foray into the restaurant business — a spot called Mesa Grill — proved to be a success, with New York Magazine food critic Gael Greene naming it New York's best restaurant in 1992 (via Google Books).
Flay went on to open several other successful restaurants, including Bar Americain, Bolo (later becoming Gato), Bobby Flay Steak, Shark, and the fast-casual burger and shake joint, Bobby's Burger Palace (via Bobby Flay). The restaurateur didn't stop there, though, and ended up as the host on various Food Network shows, including "Grillin' & Chillin'," "Hot Off the Grill," and "Bobby Flay's Barbecue Addiction" (via Food Network). Currently, he stars in "Beat Bobby Flay," a competition show in which professional chefs try to out-cook him.
Flay has also written over a dozen cookbooks, including "Bobby Flay Fit," and holds the distinction of being the first chef to have his own star on the Hollywood Walk of Fame. Flay's extensive career has proved incredibly lucrative. Celebrity Net Worth estimates his valuation at $60 million, making Flay one of the 20 richest chefs (via Wealthy Gorilla).
Wolfgang Puck's success story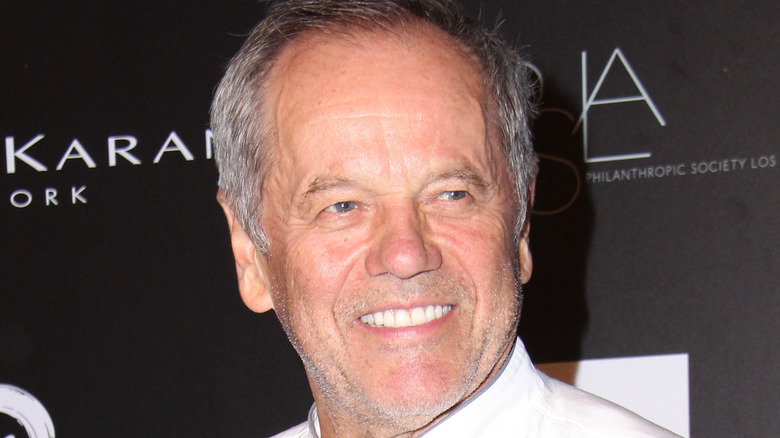 Shutterstock
Wolfgang Puck serves as the chef to the stars. According to an exclusive interview with Mashed, Puck discovered his love of cooking by helping his mother in the kitchen when she worked as a cook at summer resorts. The chef opened his iconic restaurant Spago in 1982 and this Beverly Hills restaurant catapulted him into stardom as Spago became the place for celebrities to dine. 
Puck's restaurant empire has expanded with multiple Spago locations in Dubai, Budapest, Istanbul, Las Vegas, Maui, and Singapore. In addition, the chef has additional restaurants that range from formal to casual in all parts of the world (via Wolfgang Puck). According to Wolfgang Puck Home, the chef also sells a number of kitchen products ranging from cookware and appliances, all the way to kitchen essentials. 
The chef's hard work has truly paid off. Wealthy Persons lists Wolfgang Puck's net worth at $100 million, while Wealthy Gorilla places Puck's fortune at $90 million.
Though both chefs have made great names for themselves, it appears Wolfgang Puck has the financial advantage over Bobby Flay.