Easy Sopa De Fideo Recipe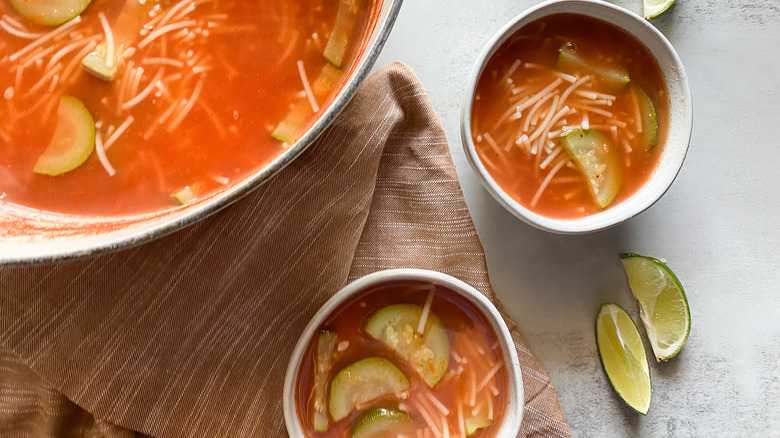 Kristen Carli/Mashed
Sometimes, you just need a nice, comforting soup to help you get through the day: one with veggies, some carbs, and a delicious broth that you can sip on when you're done eating. Luckily, that's just what Kristen Carli has come up with in this recipe for sopa de fideo.
In about 20 minutes after you first set foot in the kitchen, you will be garnishing bowls of this traditional Mexican noodle soup with lime wedges and serving them to some very happy diners. Frankly, you'll spend half as much time just reading about this soup as you will making it! But it's all time well spent, and once you've prepared it one time, you'll be ready to try your own variations too. Add some beans for protein? Go for it. Some corn kernels for added texture? Sure. Some red pepper flakes for heat? Give it a try!
As for how and when to enjoy it? Any time. "I love this as a substitute for chicken noodle soup when I am sick," says Carli. "It is a great option for a Mexican vegetarian soup."
Gather your ingredients for sopa de fideo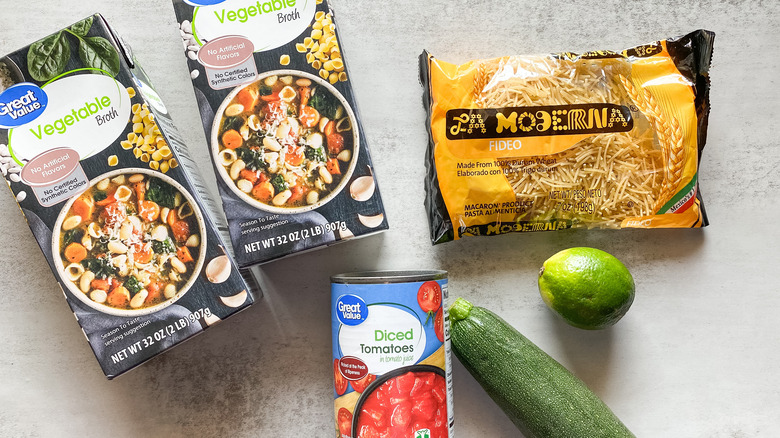 Kristen Carli/Mashed
First, a bit of explanation. Technically, "fideo" is a general term in Spanish that means "noodles," but in practice, fideo noodles are almost always a specific type of quick-cooking and delicious noodle that is short, slender, and usually a yellowish-golden color. They can be found in most supermarkets or in specialty grocery shops, and you can get them online as well. If you must, sub in angel hair pasta — just break the long noodles into sections a couple of inches long at most.
Aside from said noodles, you need veggie broth, canned diced tomatoes, a zucchini cut into half-moons, salt and pepper, and lime wedges for serving the soup. Then you'll have everything you need for a dish Carli says "is common in Mexico and in the Southwest US. It's often available on Mexican restaurant menus here in Arizona [where I live]."
Blend the tomato broth, then heat it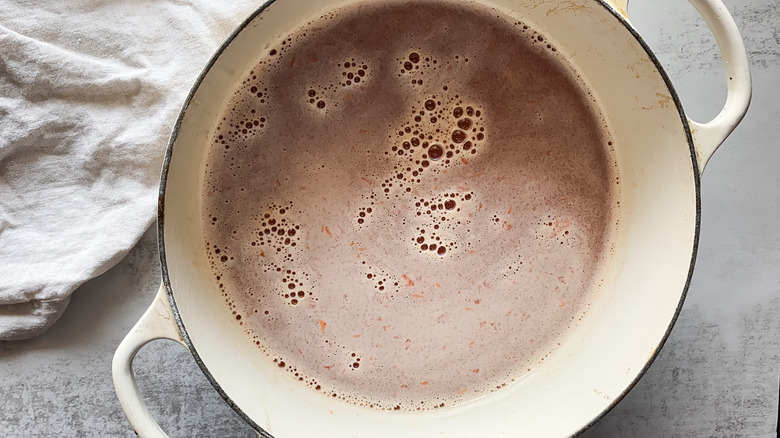 Kristen Carli/Mashed
In a blender, add the eight cups of veggie broth and the can of diced tomatoes, pouring in the liquid from the can of tomatoes as well. (If you are dicing fresh tomatoes, try to reserve their liquid, and add a bit more broth. Now blend the broth and tomatoes together until they form an even and smooth mixture.
Next, pour this tomato broth mixture into a large pot and put it on the stove over medium heat.
Add in the noodles, then the zucchini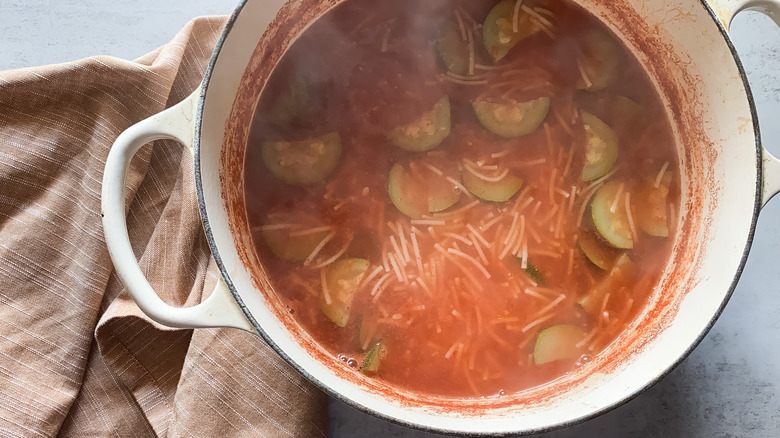 Kristen Carli/Mashed
Bring the tomato broth to a boil, then add the fideo noodles into the pot. Stir the noodles well, and then reduce the heat to a steady simmer and let the noodles cook for seven minutes. Meanwhile, you can halve and then chop the zucchini into half-moon shapes, if you have not done so already.
When the seven minutes are up, add the zucchini, salt, and pepper into the simmering pot. Stir to combine everything, and then cook the soup for eight more minutes.
Serve the soup and garnish with limes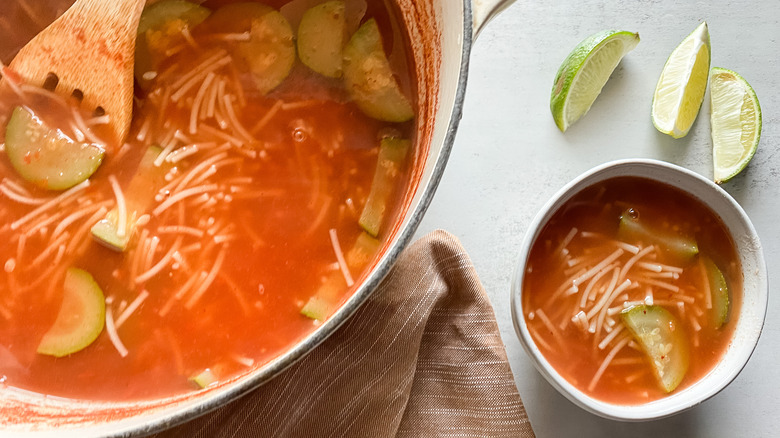 Kristen Carli/Mashed
After eight more minutes of cooking have passed, you're done! Ladle out servings into bowls and drop two or three lime wedges into each serving. You can either squeeze the limes for a more intense citrus-y taste or leave them intact if you don't want as much acidity.
Sopa de fideo is a great starter or side at brunch, lunch, or dinner, or you can eat a double portion as a lighter meal, too. It will keep well in the fridge in an airtight container for up to four days, and it reheats well back on the stove or in the microwave.
Easy Sopa De Fideo Recipe
Sometimes, you just need a nice, comforting soup to help you get through the day. Luckily, that's just what you'll get with this recipe for sopa de fideo.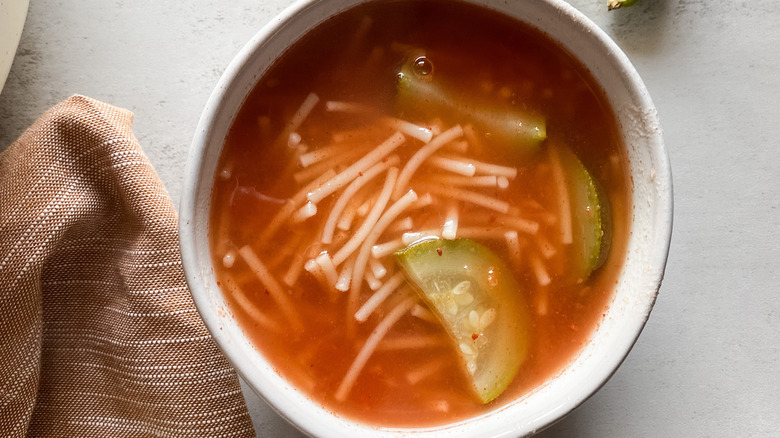 Ingredients
8 cups veggie broth
1 15-ounce can diced tomatoes
8 ounces fideo or angel hair pasta
1 zucchini, cut into half-moons
1 teaspoon salt
½ teaspoon pepper
Lime wedges, for serving
Directions
In a blender, add veggie broth and diced tomatoes and blend until smooth.
Add tomato broth into a large pot over medium heat and bring to a boil.
Add fideo noodles, and cook for 7 minutes.
Add zucchini, salt, and pepper, and stir to combine, then cook for 8 more minutes.
Serve with lime wedges.
Nutrition
| | |
| --- | --- |
| Calories per Serving | 121 |
| Total Fat | 0.7 g |
| Saturated Fat | 0.1 g |
| Trans Fat | 0.0 g |
| Cholesterol | 0.0 mg |
| | |
| --- | --- |
| Total Carbohydrates | 24.3 g |
| Dietary Fiber | 2.3 g |
| Total Sugars | 2.9 g |
| Sodium | 335.7 mg |
| Protein | 4.5 g |