Chrissy Teigen Shared A Candid Message About Loss With Emotional Instagram Post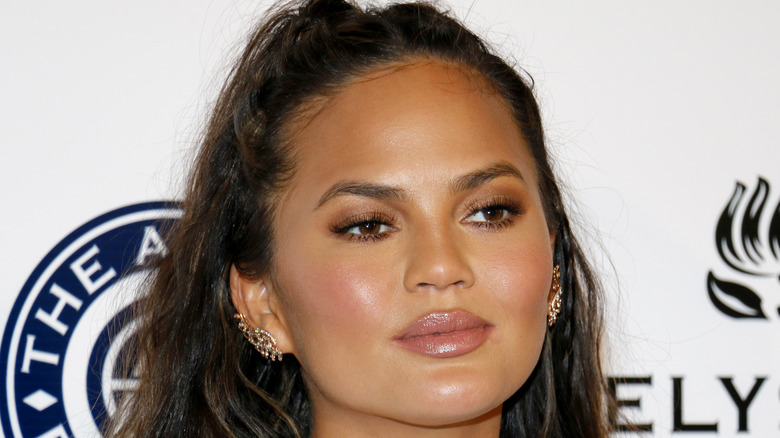 Tinseltown/Shutterstock
Chrissy Teigen's Instagram presence has been mostly lighthearted lately. The star posts about topics like her kids, her recent haircut, and a rescue mission for her pet hamster Peanut Butter, who was trapped inside a wall! There was one post from Teigen this week, however, that was much more somber and raw, reminding her followers that the outspoken cookbook author and model continues to struggle with the trauma of the last year. 
In the post, Teigen begins that she has been "reminiscing about New York a lot lately, when things were simple." Specifically, she writes about time spent in the city with her husband, musician John Legend, and her favorite neighborhood restaurant Frank, which The Infatuation describes as a "classic East Village establishment." Teigen shares that she was often there with her dog on the patio, hanging out at the bar, and that she would "never ever miss a Thursday. Thursday was lasagna verde day." (In the photo Teigen and Legend are happy and cozy together at one of the tiny, brightly-patterned tables at Frank.)
Teigen goes on to talk about working on her upcoming cookbook, "Cravings: All Together, Recipes To Love", due out this fall according to Yahoo. However, the subject of her cookbook brings her to the painful reason she decided to dive into the project: the heartbreaking loss of her baby.
Last year was a difficult one for Teigen
We can't blame Teigen for recalling happier days in her Instagram post this week. She's been dealing with the fallout of bullying allegations after years-old tweets were revealed, writing on Instagram that she still feels the "crushing weight of regret for the things I've said in the past." The biggest trauma, of course, was the loss of Teigen's third child when she miscarried in the fall of 2020. In her post this week, she shares how she has immersed herself in her upcoming cookbook as a distraction, but that the grief still remains. "I was thinking of my book caption and typed out 'my third baby is here!!', as in cookbook," she writes, "then realized my third baby will never be here."
Sadly, Teigen seems almost apologetic for the emotions expressed in her post, ending with, "wow this was a rollercoaster!!!!!" However, her emotions are very normal. Self reminds readers that a miscarriage is a devastating loss that can lead to guilt and even post-traumatic stress disorder, and it's important for women to "cut themselves some serious slack." Her fans clearly recognize that Teigen needs their shoulders to lean on, with one reassuring her to "take it easy on yourself...you've been through a lot." 
If you or someone you know is struggling with mental health, please contact the Crisis Text Line by texting HOME to 741741, call the National Alliance on Mental Illness helpline at 1-800-950-NAMI (6264), or visit the National Institute of Mental Health website.