Peanut Butter Fruit Dip Recipe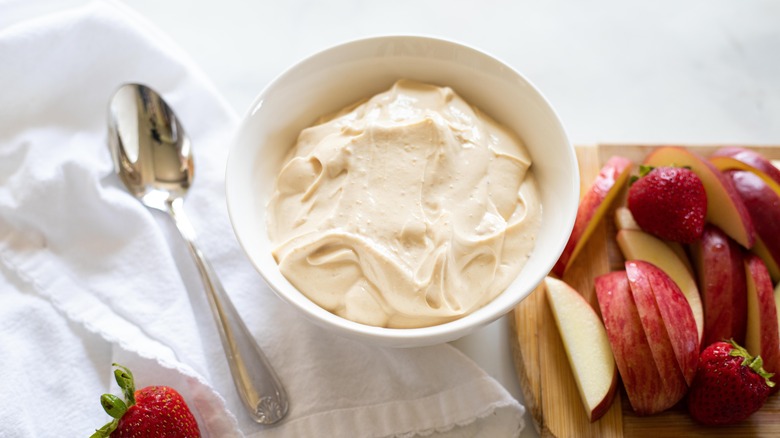 Kit Hondrum/Mashed
When it comes to fruit, there's no doubt that it's delicious on its own. Whether you have a soft spot for strawberries, apples, or blackberries, fruit is always a nutritious and sweet alternative to cookies or other decadent snacks that aren't so healthy for you. This recipe for peanut butter fruit dip is the perfect side to accompany just about any fruit, and it also helps that it's pretty healthy. Not only is the peanut butter dip a hit with kids, but it also hits the spot for adults and everyone else in between. There are not enough good things to say about this recipe, and once you try it, we know you'll be a major fan.
Recipe developer Kit Hondrum of Kit's Kitchen came up with this tasty fruit dip that will make your taste buds happy. She shares that she loves the health factor. "It's a fun dip for snacks and really satisfies that peanut butter craving without too many calories," Hondrum raves. We also love that the dip requires just three minutes to whip up. Making a great snack doesn't get much easier than that! Keep scrolling to find out how you can prepare this delightful fruit dip for your next snack. 
The benefits of Greek yogurt and peanut butter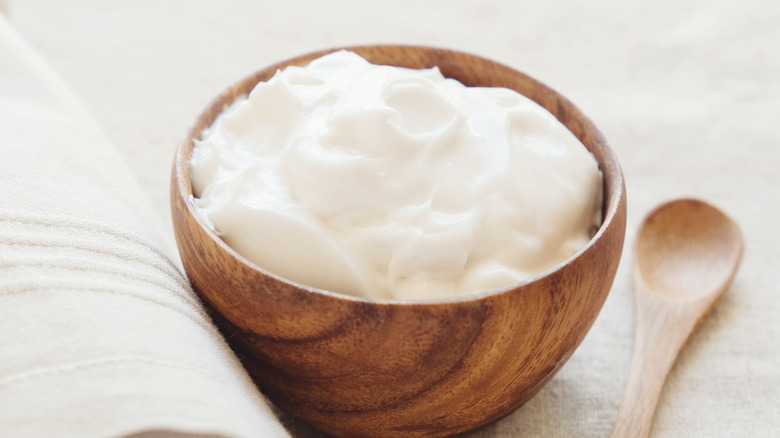 SewCream/Shutterstock
Greek yogurt and peanut butter both have excellent qualities. Healthline reported that Greek yogurt is filled with protein, and protein helps bone and muscle growth. It's also gets digested better than regular yogurt, and who doesn't love something that's easy on the GI tract?
In turn, WebMD reported that peanut butter is a great source of Vitamin E, Vitamin B6, Manganese, and Magnesium. It also contains copper, which may sound kind of strange, but copper actually aids healthy bones and your immune function, among many other things. The bottom line? This dip has plenty of amazing health benefits!
Gather the ingredients to prepare this peanut butter fruit dip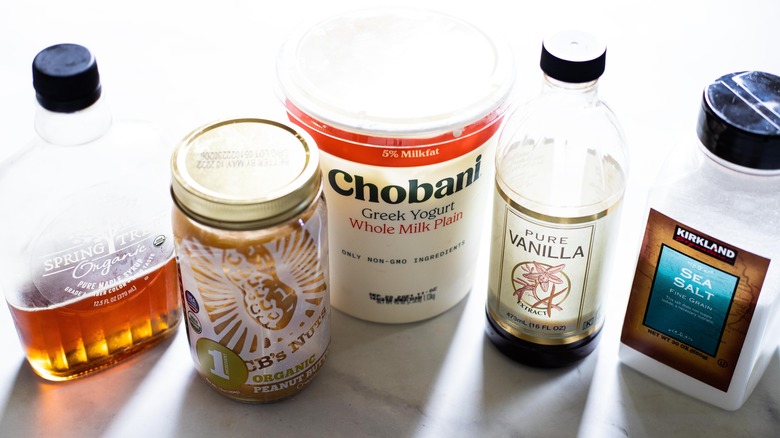 Kit Hondrum/Mashed
The first item on your agenda should be gathering all of the ingredients necessary to whip up this tasty dish. For starters, you will of course need some Greek yogurt and creamy peanut butter. Both of these items provide an excellent base for your dip. In addition, you will need a few other items to bring another hint of sweetness to the dip. One of those items is maple syrup, and the other is vanilla extract. The last item on your list should be fine sea salt. Now, let's get this cooking party started!
Get out a stand mixer, and start mixing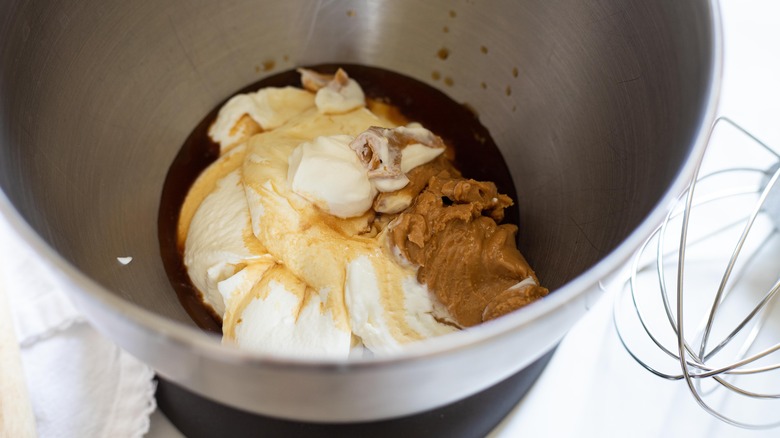 Kit Hondrum/Mashed
For this recipe, you will need a stand mixer. Alternatively, Hondrum says that you can mix this dip by hand, but it just won't come out as fluffy as it would if you use the stand mixer. 
First, grab the bowl, and add in the Greek yogurt and peanut butter. Next, pour in the maple syrup, vanilla, and salt. Yep, you'll be adding all of your ingredients together in the first step. This makes the mixing process super easy since it's a one-and-done kind of situation.
Whisk the mixture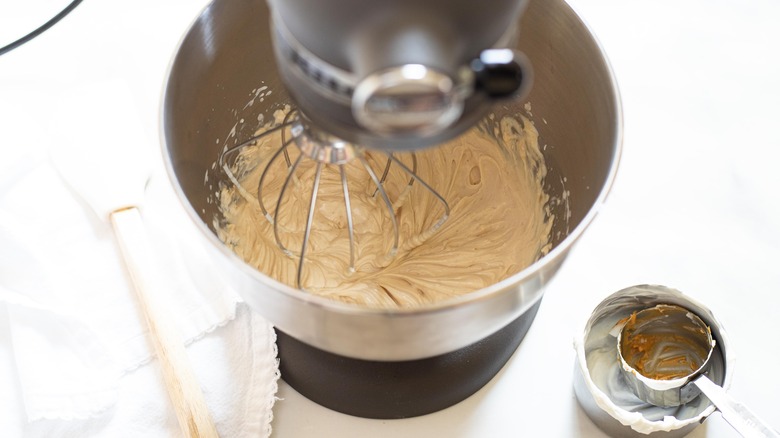 Kit Hondrum/Mashed
Now, add the whisk attachment to the stand mixer. If you don't have a stand mixer, you can use a hand mixer instead. Then, kick up the speed to medium-high, and set your timer for one minute. You can also keep an eye out for when the dip begins to look well-combined and fluffy, as that's another good indicator it's done.
After you finish mixing, take the bowl off of the stand, and transfer the dip into another bowl to serve. Of course, you can also keep the dip in the mixing bowl, if you'd prefer to keep things simple and serve it out of there.
Serving and storing leftovers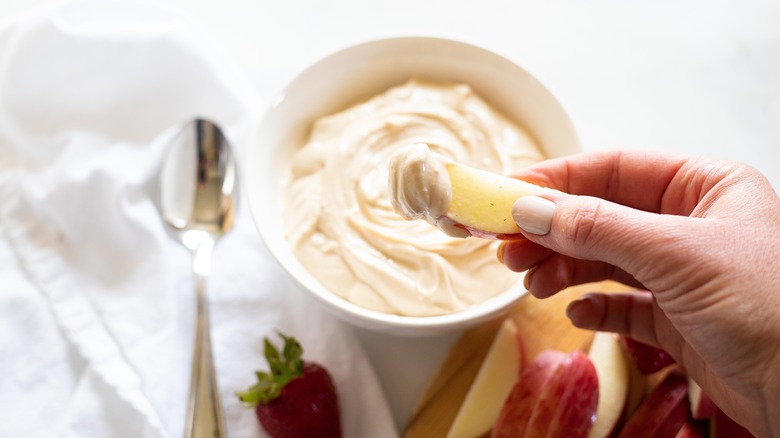 Kit Hondrum/Mashed
This dip is perfect for a variety of fruits, but Hondrum specifically mentions that it pairs very well with apple slices and strawberries. If you'd like, Hondrum also says that you can "top with crushed peanuts or use crunchy peanut butter for some crunch." That sounds pretty amazing, right? "I'm actually thinking of using this on top of some muffins as a frosting," Hondrum exclaims. "Or even on a healthier cake!" 
This is such a great recipe to whip up for a snack or even a fresh appetizer on a summer afternoon. Once you serve it, you'll want to make it again, because everyone is sure to enjoy it! And if you have any leftovers, Hondrum recommends storing them in a sealed container, and keeping them in the refrigerator for a week at max.
Peanut Butter Fruit Dip Recipe
This recipe for peanut butter fruit dip is the perfect side to accompany just about any fruit, and it also helps that it's pretty healthy.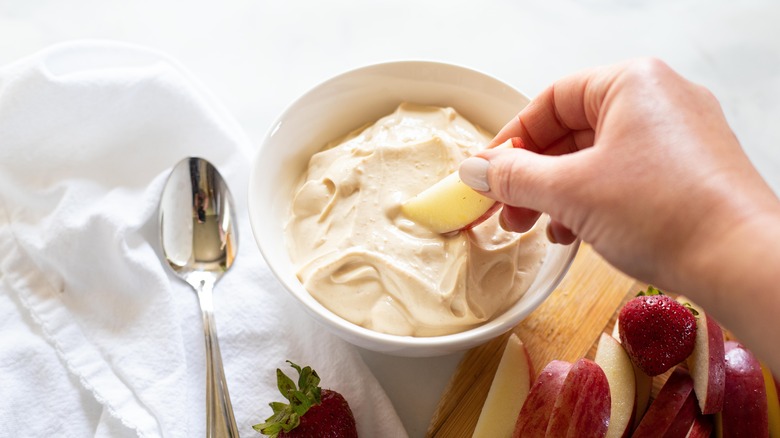 Ingredients
1 ½ cups Greek yogurt
¼ cup (about 5 tablespoons) creamy peanut butter
2 tablespoons pure maple syrup
1 teaspoon vanilla extract
1 pinch fine sea salt
Directions
Add the Greek yogurt, creamy peanut butter, maple syrup, vanilla extract, and sea salt to a stand mixer.
Whisk the ingredients with the whisk attachment on medium-high speed for about 1 minute, or until well-combined and fluffy.
Transfer to a serving dish.
Serve with apple slices and strawberries.
Nutrition
| | |
| --- | --- |
| Calories per Serving | 219 |
| Total Fat | 14.0 g |
| Saturated Fat | 5.2 g |
| Trans Fat | 0.0 g |
| Cholesterol | 14.4 mg |
| | |
| --- | --- |
| Total Carbohydrates | 14.0 g |
| Dietary Fiber | 0.8 g |
| Total Sugars | 11.4 g |
| Sodium | 91.3 mg |
| Protein | 11.5 g |