The Bizarre Tattoo Michael Symon Has On His Chest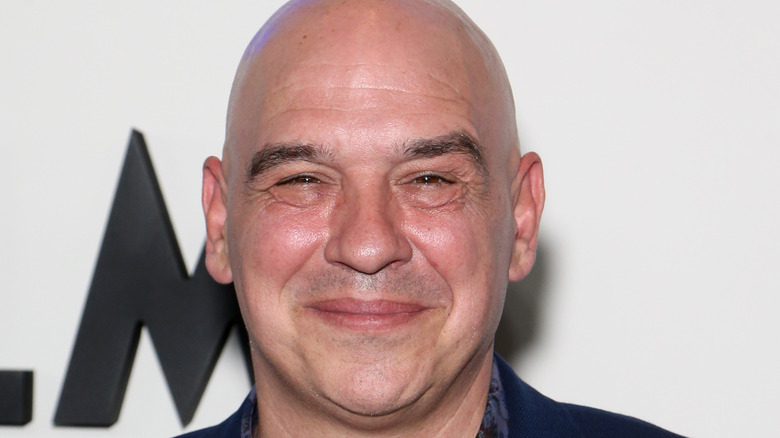 Gabe Ginsberg/Getty Images
These days, chefs and tattoos seem to be a pairing as classic as peanut butter and jelly. As tattoo artist Dillon Eaves explained to Mel Magazine, the fact that chefs are typically out of restaurant-goers' eyes makes the job "one of the only professions, besides tattooing, where you could get away with being heavily tattooed." But it's not just the ability to get inked without repercussions that appeals to those working in a kitchen. Tattoos became a statement of your dedication to being a chef, according to Culinary News. It was as if the more ink you had, especially tats that were food-related, the more passionate you were about your art.
Taking all of that into consideration, it should hardly come as a shock to find out that some of your favorite celebrity chefs are heavily tatted underneath their chef's coat. Some, like Guy Fieri and Kristen Kish, sport tattoos that are extremely significant to them, while other chefs, like Michael Voltaggio, took a more whimsical approach to their ink. Chef Michael Symon appeared to have taken both routes with at least one of the tattoos in his collection, coming up with a meaningful yet bizarre design that you probably won't find on anybody else.
Michael Symon has two cherub pigs tatted on his body to represent his favorite type of meat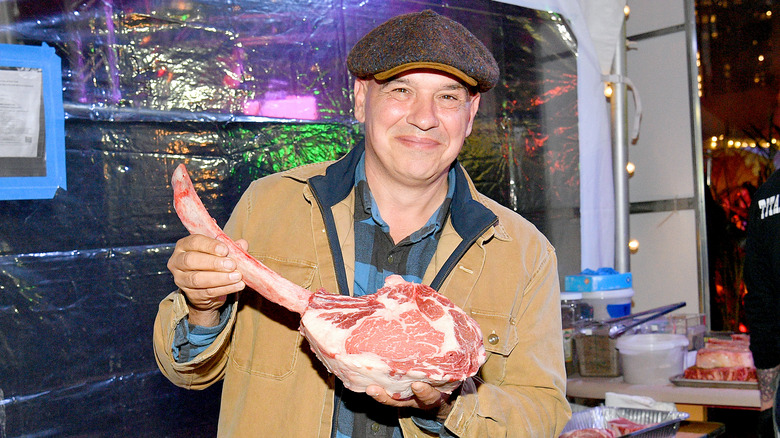 Dia Dipasupil/Getty Images
Chef and BBQ Brawl team captain Michael Symon has "about 200 hours' worth of tattoos" on his body (via Philly Mag), but the one inked on his chest stands out a bit more than the rest. According to KQED, the 51-year-old sports a set of cherub pigs on the left side of his pectoral muscles, which are sitting on a yellow banner that reads "GOT PORK" in bold lettering. Have you ever heard of anybody else with a tattoo like that?
While Symon's angelic swine may induce a few laughs, the art is actually symbolic of the chef's favorite protein with which to cook. "It's just so versatile," he told KQED about his love for pork, which he also noted would be his desert island animal. "There are so many parts you can cure and make last. You can make things for immediate results and versatility." The winged critters aren't Symon's only inked homage to meat. According to Food Network, the Cleveland native also has three diagrams of primal cuts, which he saw in a cookbook from the 1800s, that he has tattooed on the back of his right calf. There's likely more to come, too, as the chef writes on his website that a lot of his time out of the kitchen is spent "thinking about his next tattoo." Considering all the unique ink he already has on his body, we can't wait to see what he decides to get next.