Disney's Magic Bake-Off: Release Date, Episodes, And More - What We Know So Far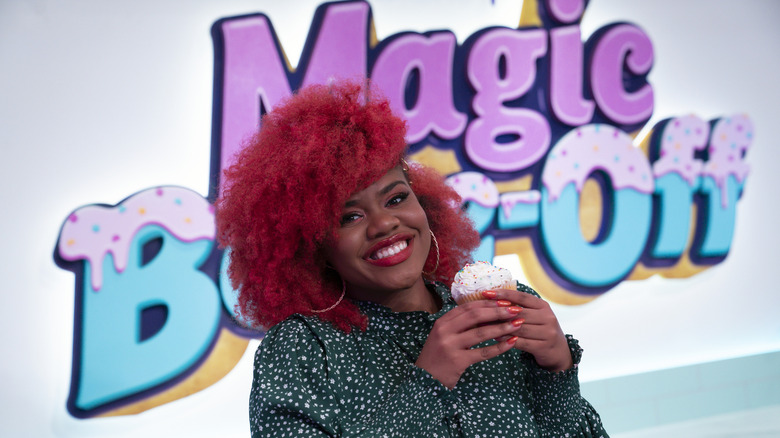 Aaron Epstein/Disney
Kids, baking, and Disney? Sounds like the recipe for a great show to us. A super sweet combination that will certainly appeal our cravings for culinary competitions, the new television show "Disney's Magic Bake-Off" is coming to the Disney channel and we are excited to share all the details we know so far.
Since Disney announced the show in a press release, we have been checking in for any new information. The show is a collaboration between Disney and Tastemade, and will be a 13-episode competition between three teams of two kids aged 6-14. The teams will use ingredients from an enchanted pantry, receive guidance and tips from Tastemade videos, and enjoy mentorship from professional pastry chef Graciela Gomez in a series of magical baking challenges. (Here's everything you need to know about the hosts of "Disney's Magic Bake-Off," Disney Channel stars Dara Reneé and Issac Ryan Brown.)
There's now more a bit information about the show, including details about the release date and episodes. (Hint: You don't have to wait for some far-off premiere because this show has already begun to work its magic!) Read on to find out everything you need to know about the new show!
When will Disney's Magic Bake-Off premiere?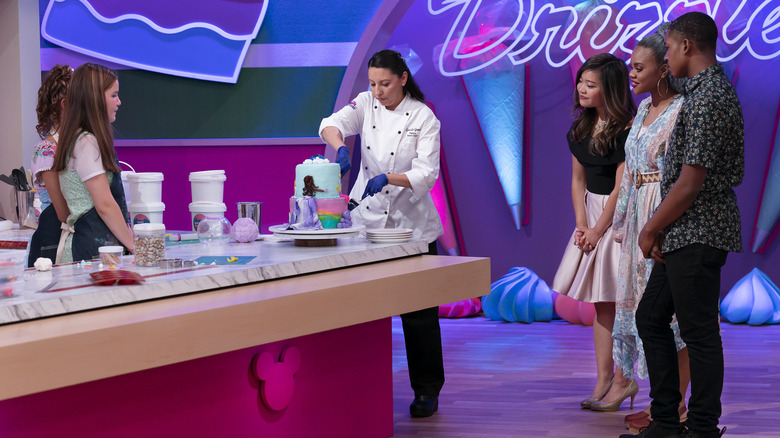 Aaron Epstein/Disney
"Disney's Magic Bake-Off" premiered as a part of an evening-long lineup of new movies and shows on the Disney Channel. As reported by Vital Thrills, the show premiered on Friday, August 13 after a build-up of special programming including the network television debut of "Toy Story 4," the release of Disney Channel Original Movie "Spin," and the new animated special "The Descendants: Royal Wedding." This night of exciting TV led right into the world premiere of "Disney's Magic Bake-Off."
Episode 2 aired the following week, on Friday, August 20. The competition baking show will continue to air a new episode every Friday at 8 p.m. ET/7 p.m. CT on the Disney Channel. Fans can also watch on the Disney Now platform. It also appears to be available on Hulu, Sling TV, and fuboTV platforms. If binge-watching is more your style, the first seven episodes of the show will be available on Disney+ on Wednesday, September 29 (via Parade).
What we know about the upcoming episodes of Disney's Magic Bake-Off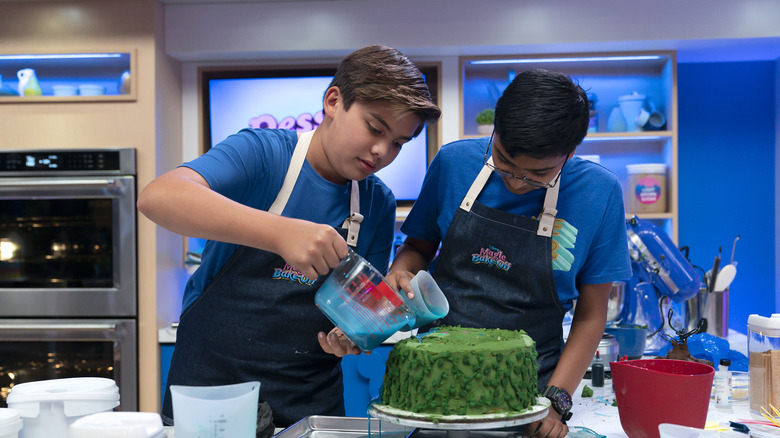 Aaron Epstein/Disney
With the first two episodes already aired, the format for "Disney's Magic Bake-Off" is clear: Every episode, a different set of teams compete through several challenges for the title of Disney Baking Champion, and the winning cake will be used in a Tastemade video (via Disney). Each episode has a different theme upon which the challenges are based. Per Disney's press release, pastry chef Graciela Gomez will "guide the kid bakers through a series of challenges, fun games, and unexpected twists, all designed to elevate the contestants' baking abilities, techniques and creativity to new culinary heights." The final results are judged by a panel of judges who consider the creativity, taste, and visual presentation of the kid's cakes.
The premiere episode's theme was the Disney movie franchise "The Descendants," with competitors baking royal wedding cakes in honor of the latest installment in that series (via TV Insider). The second episode was all about the Disney theme parks, with the kid chefs molding their cakes to look like their favorite rides at the parks (via Foodsided). There will be 13 episodes in the first season, and some themes for the first nine episodes have been released on the show's official press website. The upcoming episode themes that have been announced are Princesses, Bunk'd, Lion King, Toy Story, and Frozen.
With such an exciting lineup of themes and so much joy surrounding the magic baking show, we cannot wait to see how the new episodes unfold.