Robert Irvine Just Shared Some Big News Fans Will Love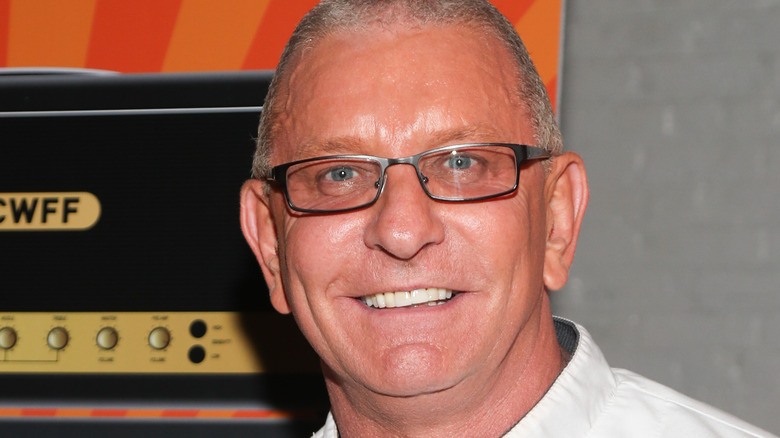 Bennett Raglin/Getty Images
What the world needs now is another daytime talk show. Okay, maybe not.
Ready or not, the world might be getting another talk show, from the host who begs the question, "Can a camera add 10 pounds to a bicep?" Everyone's favorite British chef on the Food Network (only because Gordon Ramsay is on Fox) went on Twitter August 26 to tease fans with the notion that "The Robert Irvine Show" may be coming back.
Thursday nights are "Restaurant: Impossible" nights, and Irvine hopped onto Twitter to ask his fans to check in as the show started. Twitter user @AJGarcia86 took the opportunity to show appreciation for "The Robert Irvine Show," which aired from 2016 to 2018, per IMDb. "I miss his daytime talk show!!!" @AJGarcia86 commented. Irvine then hit his fans with the tease, tweeting, "Working on that now lol."
It doesn't look like Irvine is promising anything, and that "lol" makes it sound like he's already laughing off the idea, in case it falls through. Interestingly, Irvine tagged Food Network and its sister streaming service Discovery+ in the message, so maybe negotiations on a new Robert Irvine show began with that tweet.
The Robert Irvine Show was canceled after two seasons
If "The Robert Irvine Show" gets a revival on Food Network or, more likely, Discovery+ (since the talk show wasn't about food), then it would be relocating from its original home on CW (via Variety). When the show was announced for fall 2016, it was described as similar to "Dr. Phil." The thinking was that Irvine would be a suitable host for a conflict-resolution talk show because of his work on "Restaurant: Impossible." That show combines restaurant makeovers and Irvine's counseling sessions with restaurateurs.
"Half the battle is making people understand what they're doing wrong and how they can change their lives," Irvine told Variety in 2016, describing the work he would be doing on "The Robert Irvine Show." The CW show was promoted as tough love with a lot of heart. "We can be entertaining without being demeaning," Irvine said. "We want people to embrace the idea that these are not solutions to be jammed down their throat but that this is content that can help them change their lives."
"The Robert Irvine Show," featuring episode titles such as "I Slept With My Daughter's Fiance" and "My Sister Tried to Poison Me & Mom Doesn't Care" (via IMDb), was canceled after two seasons, per TV Series Finale. CW replaced it with reruns of "The Jerry Springer Show."