What Serena Williams Really Eats In A Day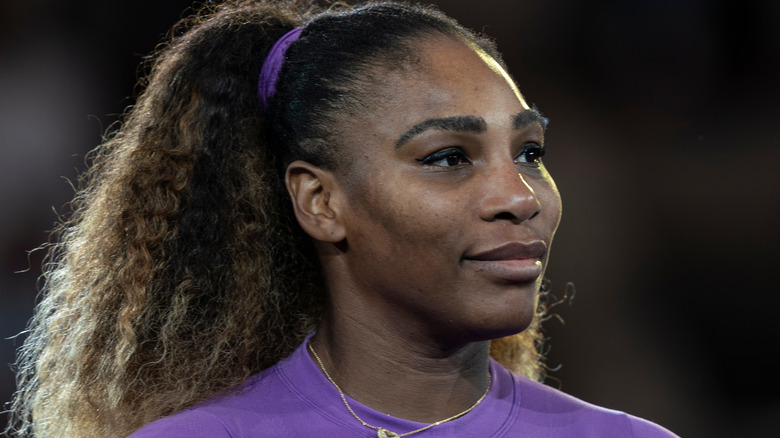 lev radin/Shutterstock
In a figurative sense, Serena Williams has a lot on her plate — in addition to being an internationally ranked tennis superstar with countless titles under her belt, she's also a busy mom to daughter Olympia, a wife, and an entrepreneur. Food impacts the way we feel and function no matter what, so it only makes sense that Williams would pay close attention to the things that fuel her so that she's able to put her best foot forward, no matter what.
While some consider breakfast to be the most important meal of the day, Williams doesn't fall into that camp — her routine means she's often far too busy to stop and have breakfast, and she typically isn't hungry right when she wakes up anyway, as she's admitted to Women's Health. Occasionally, despite her largely plant-based style of eating, she'll have eggs, a protein-packed breakfast staple for many.
When lunch rolls around, Williams tends to reach for some plant-based favorites, citing examples like bean burgers or bean burritos as items that top her list, according to Women's Health. There are just two things you won't find on her plate at any time of the day, if she can help it. The first, perhaps not a surprise given her plant-focused lifestyle, is beef; it simply isn't her protein of choice. The second, a staple for many plant-based diners, is avocados — she just doesn't like the texture (via Bon Appetit).
Insta-inspiration and her culinary vices of choice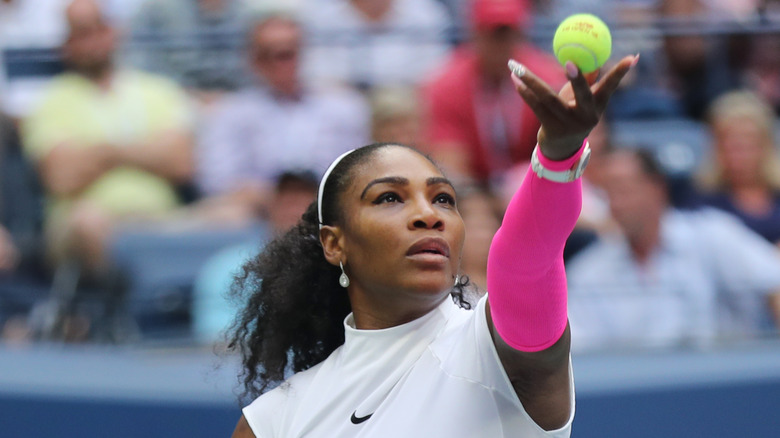 Leonard Zhukovsky/Shutterstock
As her lunch selections may suggest, Williams tends to keep a fairly balanced diet incorporating different plant-based proteins and greens. While many may assume she carbo-loads for a busy day of training or on game day, she still keeps a balanced mentality, incorporating greens, fruit and protein in addition to carb-packed dishes like pasta (which she really only eats when she's spending some serious time on the court, as she told Women's Health).
When dinner time in the Williams-Ohanian household rolls around, the tennis star often turns to Instagram for some inspiration on what to create, like so many of us do. Who knows — maybe one day, one of your own culinary creations will inspire Williams! Tacos are always a win in her book, but she also loves comfort food staples, telling Bon Appetit her mother's home-cooked chicken and biscuits is her go-to celebration meal.
As for her culinary vices, Williams has a bit of a sweet tooth, and a soft spot for decadent desserts like chocolate lava cakes. She also loves to indulge in the occasional glass of wine, with Cabernets and French wines being her favorite picks. However, she's no culinary snob — in her Bon Appetit interview, Williams proclaims she isn't afraid to go for a budget bottle of vino, and says the one food she absolutely can't get enough of, ever, is Moon Pies.