Spicy Mac And Cheese Recipe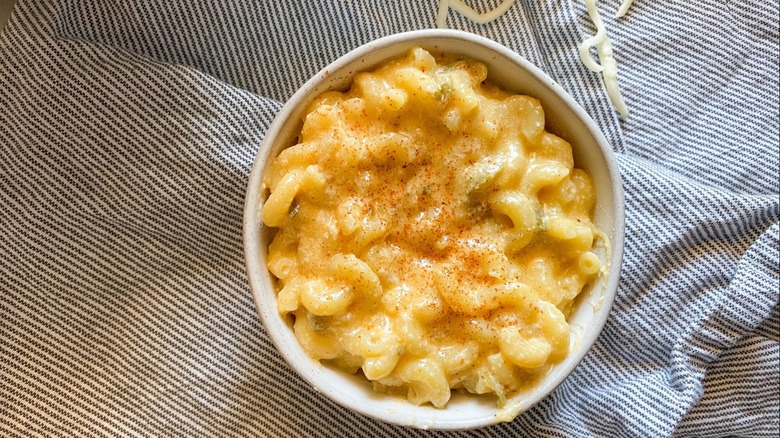 Kristen Carli/Mashed
Who doesn't love mac and cheese? Whether you're a fan of the kind that comes from a box or you make a gourmet baked mac and cheese with three different kinds of fancy cheeses, mac and cheese is a reliably delicious crowd-pleaser. But what if this comfort food favorite had a little bit of a kick? If you've ever wanted to take your mac and cheese game to the next level, try this delicious and easy recipe from registered dietitian Kristen Carli. "I love spicy foods," Carli says, adding, "Because mac and cheese is so creamy, spice complements it really well."
This recipe is not only a delicious twist on a comfort food favorite — it's also fast and easy. You need less than half an hour from start to finish plus some simple ingredients, and the most intense cooking technique that is required of you is stirring. If you are ready to graduate from Kraft's Easy Mac, this is the recipe for you. Come on, let's go!
Gather your ingredients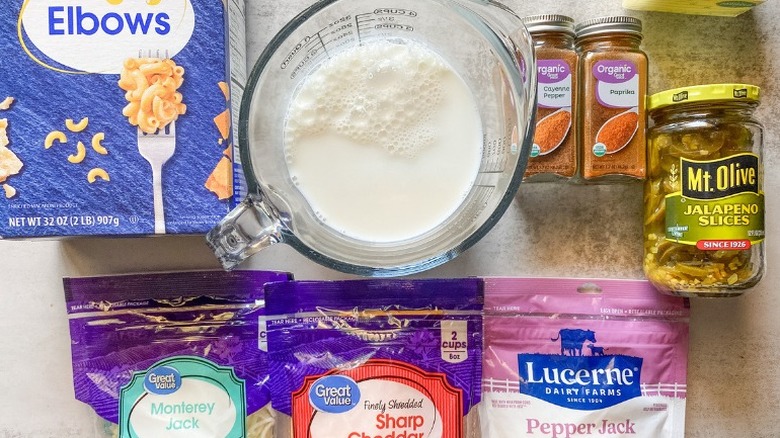 Kristen Carli/Mashed
Unsurprisingly, you're going to need a lot of cheese. You'll need 1 cup of shredded pepper jack cheese, 1 cup of Monterey Jack cheese, and 2 cups of shredded sharp cheddar cheese. If you happen to have a block of cheddar or jack cheese or just would rather shred your own cheese, try putting the cheese in the freezer for a few minutes before grating it – it's easier to grate cheese if it's cold. To round out the dairy ingredients, you'll also need 2 cups of whole milk and 4 tablespoons of unsalted butter.
To add the spicy kick in this spicy mac and cheese, you'll need 1 teaspoon of paprika, 1 teaspoon of cayenne pepper, and 2 tablespoons of jarred jalapeño slices. While the pepper jack cheese definitely adds some spice to this recipe, the cayenne and jalapeños are where most of the spiciness comes from. "This dish has a kick," Carli says. "If you don't want the heat, I would omit the cayenne pepper and the jalapeños." If you want to amp up the spice level, just make sure to taste as you go and proceed with caution.
You'll also need 1 pound of elbow macaroni noodles, salt, and pepper.
Start cooking the macaroni and sauce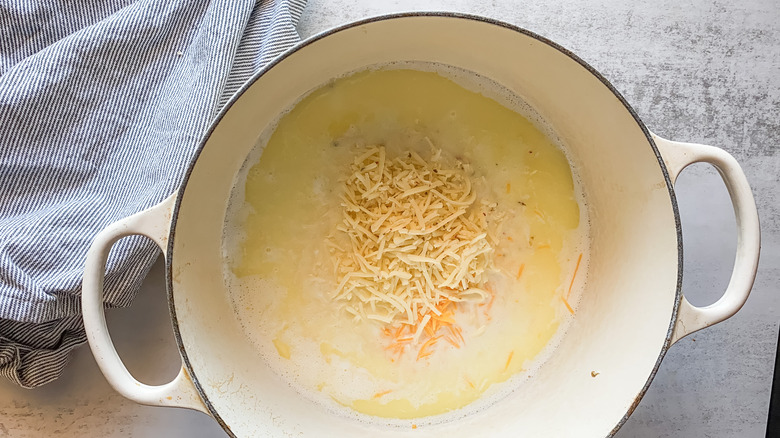 Kristen Carli/Mashed
Boil a large pot of water and cook the elbow macaroni according to the directions on the label. While the macaroni is cooking, it's time to get started on the sauce. If you've ever made mac and cheese from scratch before, you might be bracing yourself for making a roux to thicken the sauce — a fussy, often frustrating process of combining fat and flour — but this recipe forgoes that entirely and just relies on the thickness of the cheese. "I decided to not use a roux with this one because the large amount of cheeses helps to thicken it up plenty," Carli explains. 
To make the sauce, add the butter and milk to another large pot over medium heat. Once the butter has melted, add all of the grated cheeses. Stir to combine, and allow the cheese to melt, which should take about 5 minutes.
Mix it all together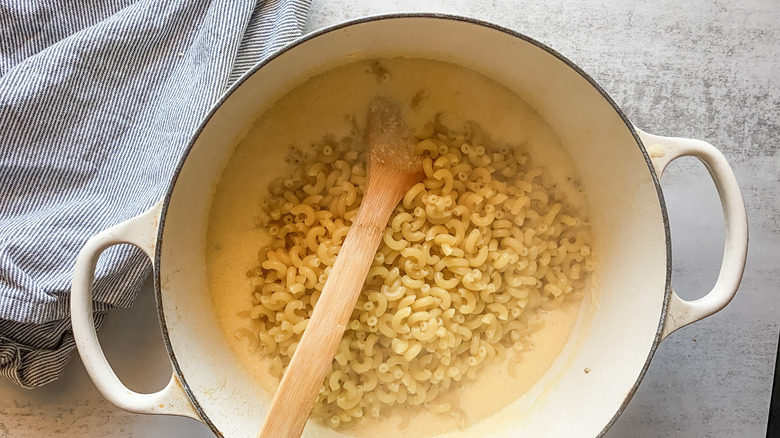 Kristen Carli/Mashed
When the pasta is cooked, drain it and pour it into the cheesy sauce. Now that you have your basic mac and cheese, it's time to make it spicy! Add the paprika, cayenne pepper, jalapeños, salt, and pepper and mix well. How easy is that?
This is a simple recipe that comes together in such a short amount of time that it would make a great weeknight dinner when schedules are full and you don't have a lot of time to cook. Serve it with a side of steamed vegetables or a salad to make a well-rounded meal that everyone will love.
Spicy Mac And Cheese Recipe
Ready to take your mac and cheese to the next level? A bit of cayenne and some jalapeños give this dish a spicy kick -- and it's ready in under 20 minutes!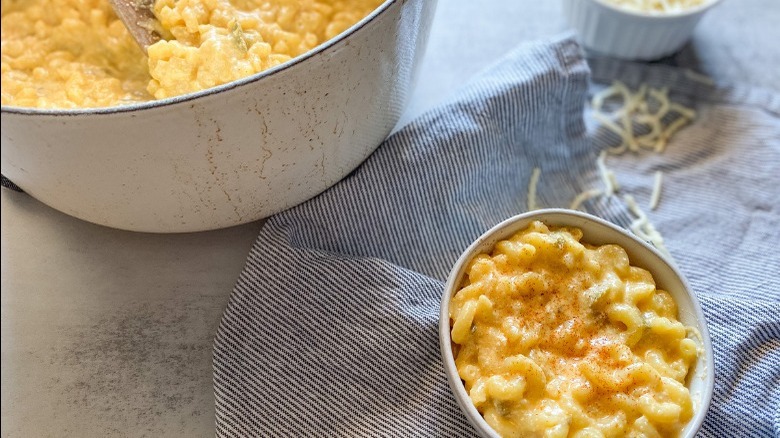 Ingredients
1 pound elbow macaroni noodles, uncooked
4 tablespoons unsalted butter
2 cups whole milk
1 cup shredded pepper jack cheese
1 cup shredded Monterey Jack cheese
2 cups shredded sharp cheddar cheese
1 teaspoon paprika
1 teaspoon cayenne pepper
1 teaspoon salt
½ teaspoon pepper
2 tablespoons jarred sliced jalapeños
Directions
Bring a large pot of water to a boil. Add the macaroni and cook according to the package directions.
Add the butter and milk to a large stock pot and melt over medium heat.
Add the cheeses to the melted butter and milk. Stir to combine. Cook until the cheese melts, about 5 minutes.
Drain the macaroni and pour it into cheese mixture.
Add the paprika, cayenne pepper, salt, pepper, and jalapeños. Stir to combine.
Serve immediately.