McDonald's Dining Rooms May Close Again. Here's What We Know So Far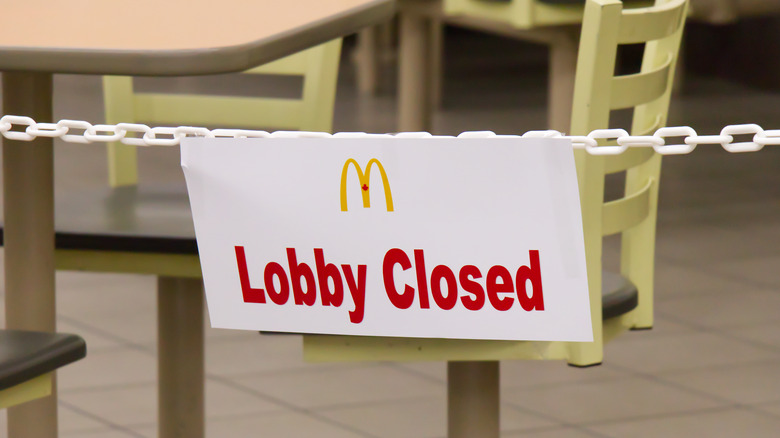 Margarita Young/Shutterstock
The restaurant industry continues to feel the impact of the COVID-19 pandemic, which has caused even the largest global food service companies to scale back operations significantly. This week, fast food juggernaut McDonald's revealed a wave of potential new shutdowns across their U.S. locations as the virus and its variants continues to spread.
At the onset of the worldwide pandemic in early 2020, McDonald's temporarily closed dining rooms at nearly all of its U.S. locations. However, by July 2021, 70% of locations had reopened their indoor dining areas, with a goal of opening up dining rooms at 100% of locations by Labor Day.
McDonald's had previously announced a variety of new safety procedures, taking steps to close self-serve soda stations, shutter play areas, and install protective panels throughout its locations. Now, Reuters reports that in response to the highly contagious Delta variant of COVID-19, the chain is considering re-closing dining rooms in order to curb transmission rates in regions where the virus is spreading most rapidly.
According to Reuters, McDonald's executives had a conference call with franchisees earlier this week, where they recommended the temporary shuttering of indoor seating in areas where COVID cases exceed 250 per 100,000 people.
McDonald's is poised to close some indoor dining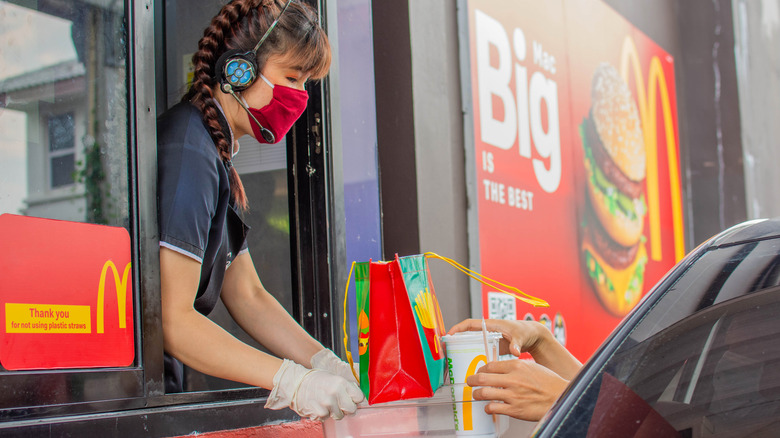 FREELY ART/Shutterstock
McDonald's USA President Joe Erlinger noted that the company's initial foray into COVID protocols helped shape safety measures moving forward. "We have a much deeper sense of what actions make a difference for the safety of our restaurant teams and crew," Erlinger said in the meeting covered by Reuters. 
The step to close indoor dining could be an important move for the health and safety of McDonald's workers and customers alike, as the Delta variant has driven nationwide COVID-19 deaths and confirmed cases up by 11% and 3% respectively over the past week, resulting in an eight-month high in hospitalizations.  
In a statement to Reuters regarding the indoor dining shutdowns, McDonald's said "We're monitoring the impact of the Delta variant closely and recently convened together with our franchisees to underscore existing safety protocols, reinforce our people first approach and provide updates on the rise in cases in the country." 
The chain managed to maintain sales throughout earlier closures thanks to robust drive-thru and delivery operations, offering hope to franchisees that they can continue to turn a profit while still prioritizing safety.