15-Minute Sausage And White Bean Cassoulet Recipe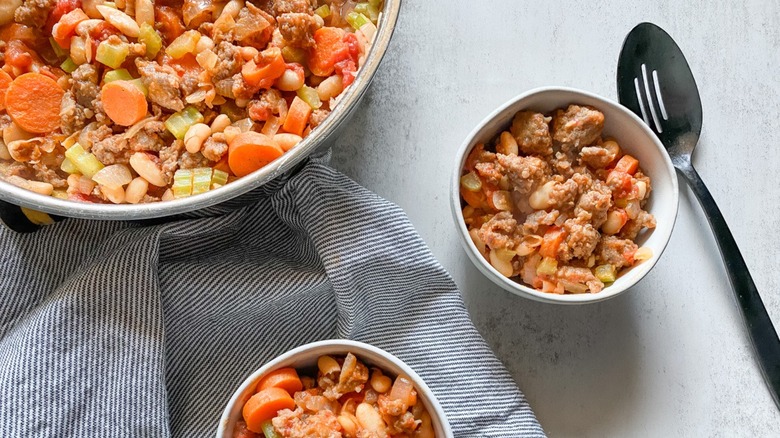 Kristen Carli/Mashed
Cassoulet is a traditional dish from France's Languedoc province, and it takes its name from the earthenware pot in which it is typically cooked. The dish usually contains sausage along with beans, although more elaborate regional versions have included such add-ins as lamb, goose, and even partridges.
While a good cassoulet takes a long time to cook, what this recipe lacks in tradition, it more than makes up for in convenience. Although our quick cassoulet takes just a few minutes to prepare, thanks to a few shortcuts like using canned beans, it tastes almost like something you'd be served in a homey French bistro. As recipe developer Kristen Carli tells us, "There is nothing better than flavorful sausage, veggies, beans, and tomatoes cooked together." Even with just a few minutes of cook time, she says, "The garlic and fennel of the sausage really come through," adding, "I love these flavors together."
Are you ready to try to make a cassoulet at home? Follow this recipe, and you'll see that it comes together easily in a pinch.
Gather the ingredients to make this quick cassoulet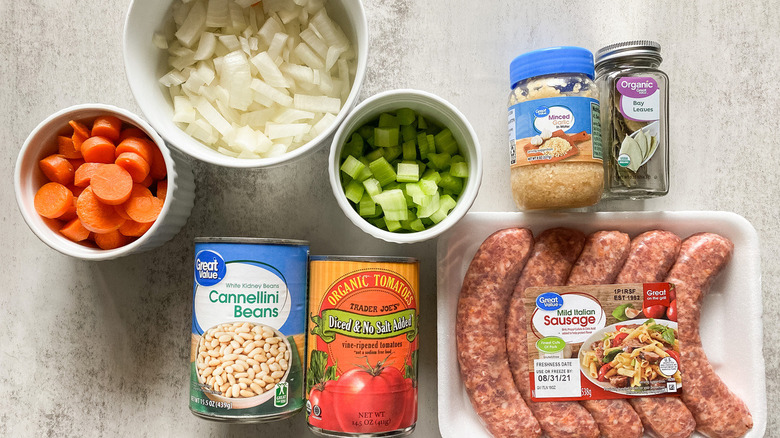 Kristen Carli/Mashed
A few of the items you'll need to make this cassoulet are typical pantry staples: olive oil (it does not need to be extra virgin), a dried bay leaf, and pepper. You'll also need a can of diced tomatoes and a can of cannellini beans as well as a few fresh veggies: a yellow onion, some fresh garlic, a couple of carrots, and a few stalks of celery. Finally, the star of the show here is the Italian sausage. If you want something a little bit lighter and lower in fat, though, Carli says, "I think chicken sausage would be a great sub here."
Some of the ingredients will need prepping before you start cooking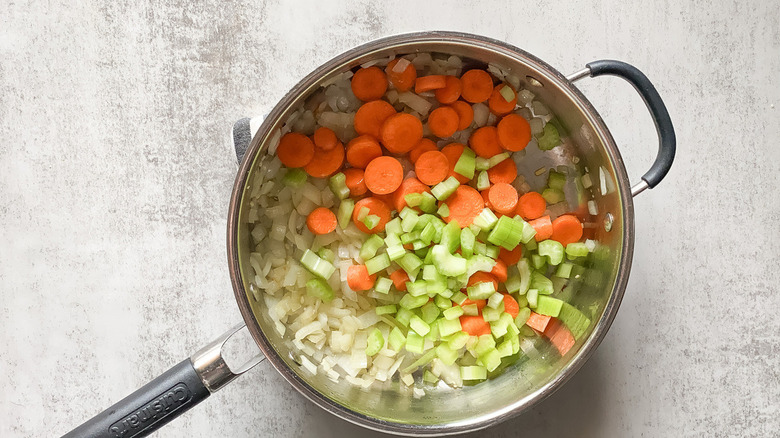 Kristen Carli/Mashed
The Italian sausage in this recipe won't be used in its link form. Instead, you'll want the sausage meat loose, so you'll need to remove the casings before cooking. You should also drain and rinse the beans (be sure to save that aquafaba!), and the veggies will need some prepping, too. Peel and dice the onion, ditto for the garlic, then peel and slice up the carrots and dice the celery. Once you're done with these quick tasks, you'll be ready to start cooking.
Begin cooking the veggies and sausage in separate skillets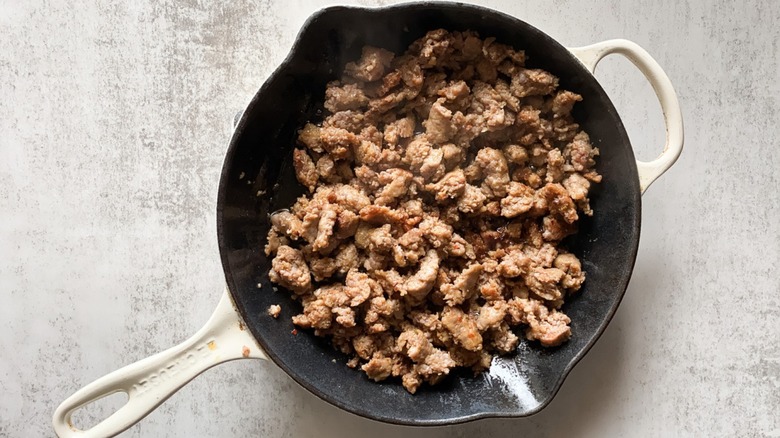 Kristen Carli/Mashed
Get out two large skillets or pots since you'll be using both at once. In the first (and larger) one, pour a tablespoon of olive oil. Set the stove burner to medium, and slide the onions and garlic into the pan. Saute them for about five minutes, at which point they should be translucent.
Meanwhile, back at the other pan, set that burner to medium, too, and add the rest of the oil along with the sausage meat. Use a wooden spoon to break up the meat and cook it, stirring, until there's no more pink left. This, too, should take about five minutes.
Mix all the ingredients together and let them simmer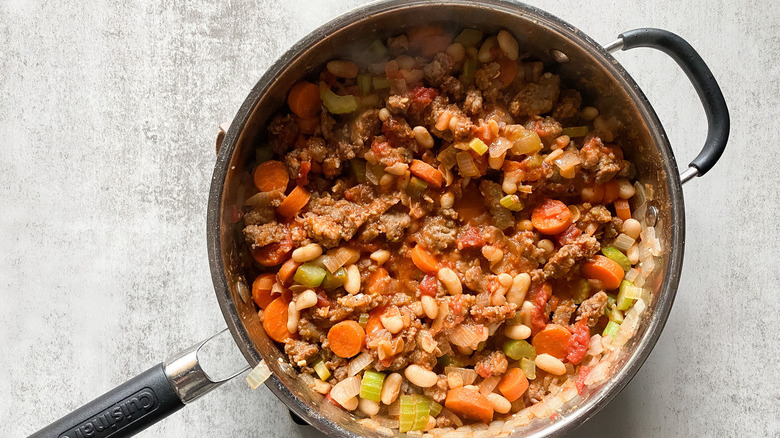 Kristen Carli/Mashed
Now turn your attention back to the first pan, where your onions and garlic should be looking good and smelling even better. Add the rest of the fresh veggies along with the canned ones, then add the bay leaf and peppers along with a teaspoon of salt. Stir everything together, then turn the heat up to medium-high.
Once the sausage is done cooking, scoop the meat into the skillet with the veggies and give the pot another good stir. Let the meat and veggies cook together for 10 more minutes, at which point the cassoulet will be ready to serve.
Enjoy this cassoulet as part of a delicious meal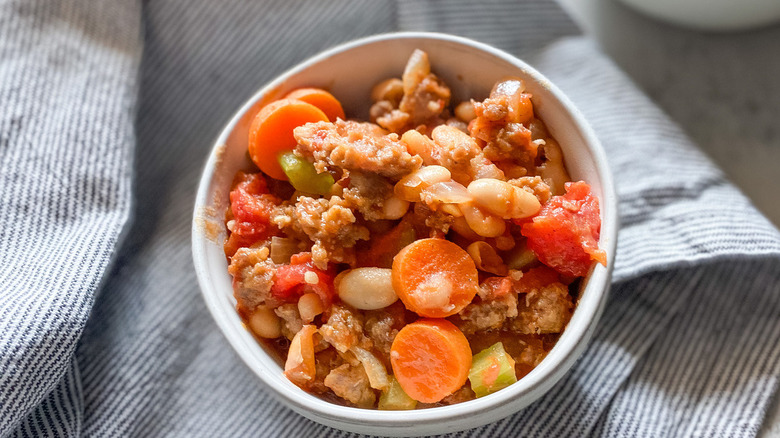 Kristen Carli/Mashed
While Carli says of this cassoulet, "This dish is nutritionally complete on its own," she adds that it "goes great with a side of a fresh salad." A glass of wine would make a nice accompaniment, as well, but don't forget dessert! As Carli tells us, "My favorite meal ever includes this for dinner and then tiramisu for dessert." In fact, if you're looking for a great recipe for the latter, you couldn't do better than Carli's own tiramisu, something she describes as "pretty delightful" (a statement with which we heartily concur).
15-Minute Sausage And White Bean Cassoulet Recipe
While a good cassoulet takes a long time to cook, what this recipe lacks in tradition, it more than makes up for in convenience.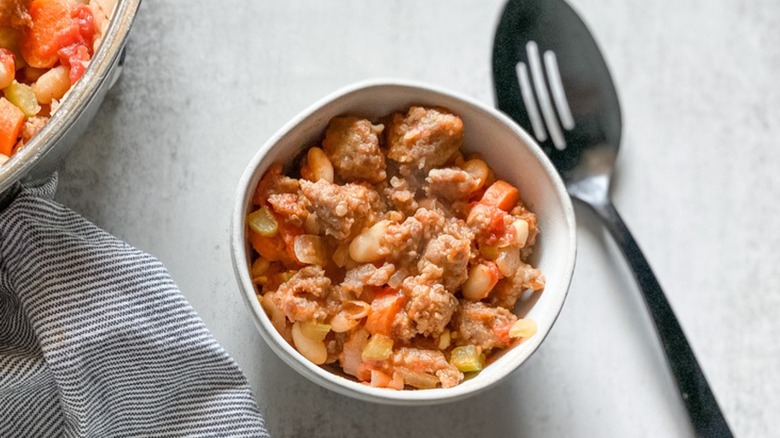 Ingredients
2 tablespoon olive oil, divided
1 yellow onion, diced
1 tablespoon garlic, minced
1 pound Italian sausage, casings removed
2 carrots, sliced
2 celery stalks, diced
1 (15-ounce) can cannellini beans, drained and rinsed
1 (15-ounce) can diced tomatoes
1 bay leaf
½ teaspoon pepper
1 teaspoon salt
Directions
Pour 1 tablespoon olive oil into a large deep skillet or stockpot and set the stove burner to medium.
Add the onion and garlic to the skillet and sauté until translucent, about 5 minutes.
In the meantime, heat another skillet over medium heat. Add the remaining olive oil and the sausage, breaking up the meat with a wooden spoon. Cook until the sausage is no longer pink, about 5 minutes.
Add carrots, celery, beans, diced tomatoes, bay leaf, pepper, and 1 teaspoon salt to the skillet with the onions and stir well. Turn the heat up to medium-high.
Once the sausage is cooked, add to the skillet with the veggies and stir well.
Cook the cassoulet for 10 minutes, stirring frequently.
Serve and enjoy.
Nutrition
| | |
| --- | --- |
| Calories per Serving | 415 |
| Total Fat | 28.7 g |
| Saturated Fat | 9.2 g |
| Trans Fat | 0.0 g |
| Cholesterol | 57.5 mg |
| | |
| --- | --- |
| Total Carbohydrates | 23.0 g |
| Dietary Fiber | 6.0 g |
| Total Sugars | 4.1 g |
| Sodium | 646.7 mg |
| Protein | 17.1 g |