Slow Cooker Pulled Pork Sandwiches Recipe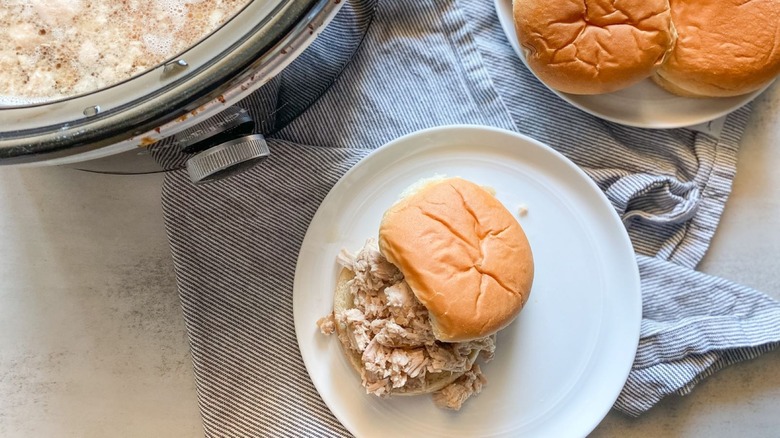 Kristen Carli/Mashed
Through extra-slow braising in onion soup mix-infused beef broth, this recipe from registered dietician and recipe developer Kristen Carli of Camelback Nutrition & Wellness transforms a nice lean cut of pork loin into tender and flavorful pulled pork that's perfect for sandwiches and that the whole family will love. "The texture of this dish is moist and tender," Carli promises, and it requires a mere three ingredients and five minutes of prep.
Once upon a time, pork was much maligned as a protein. Its reputation for being "fatty" (via Pork Checkoff) was only slightly less problematic than the fact that pork was almost invariably cooked to well-done, regardless of the cut, due to concerns that if your pork didn't resemble leather, you might get food poisoning (via Home Family). Thankfully, those days are long gone. With his particular recipe for slow cooker pulled pork sandwiches, you won't have to think about any of that. Let's get to it, shall we?
Gather the ingredients to prepare slow cooker pulled pork sandwiches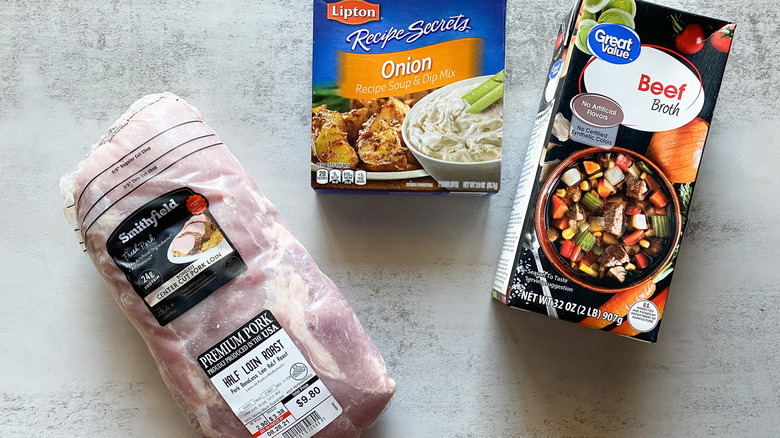 Kristen Carli/Mashed
To make Carli's recipe for slow cooked pork roast, you'll need just three ingredients: boneless pork loin, beef broth, and onion soup mix, which Carli says is her favorite recipe hack ever because "it's delicious and works well in so many dishes."  
You'll also need a slow cooker and some sandwich buns. You can personalize your sandwiches with whatever condiments you might enjoy with pulled pork, including barbecue sauce, ketchup, and pickles. To make this a well-rounded meal, you can pop whole peeled carrots into the slow cooker with the pork, and they'll be ready when the pork is.
Prep your pork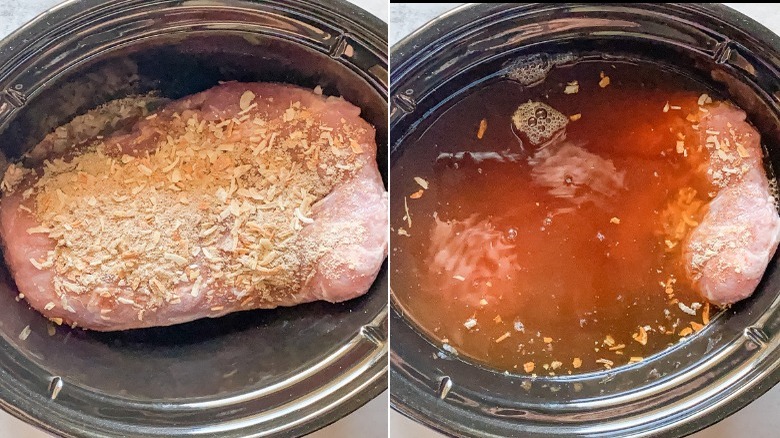 Kristen Carli/Mashed
The prep step in Carli's recipe for slow cooker pork sandwiches is so simple and can be accomplished so quickly that anyone who happens to be in the kitchen with you might swear you didn't actually do anything. So go ahead and tell them it's magic because in truth, it pretty much is. Just unwrap the pork loin, place it in your slow cooker, add the onion soup mix, and pour in the beef broth. You're officially done with prep.
Set it and forget it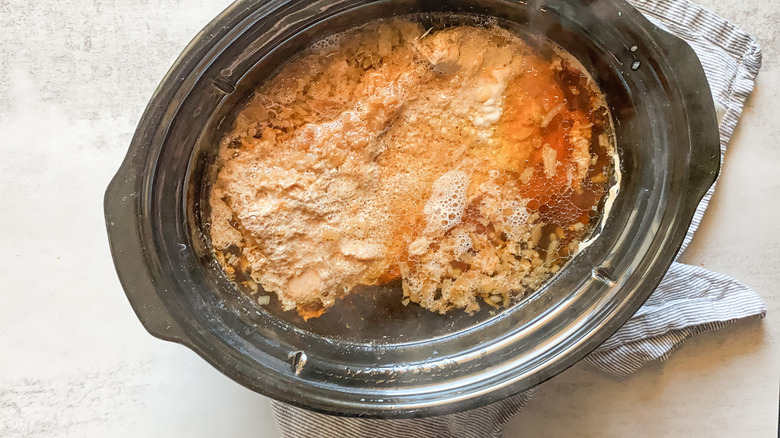 Kristen Carli/Mashed
Cover your slow cooker, and cook for four hours on high. Alternately, if you want to leave your pork cooking for the entire day, Carli says that you should feel free to do so. Just set the timer for eight hours and cook on low. Now, what you do for the next four to eight hours is "your business," as TikTok star Tabitha Brown might say, but might we suggest reading up on all of the fabulous pork recipes you'll want to try now that you see how easy it is to cook with this savory and surprisingly lean protein?
When your timer goes off, transfer the pork to a cutting board, and use a fork to shred it. Alternately, you can shred the pork using a paddle attachment on a stand mixer. "Works every time," Carli said. Serve on buns and with your choice of condiments. Pro tip: use the left over cooking liquid if you want to go "French dip" with your pulled pork sammies.

Slow Cooker Pulled Pork Sandwiches Recipe
These pulled pork sandwiches are super tender and couldn't be any easier to make. Plus, the addition of onion soup mix makes this recipe incredibly flavorful.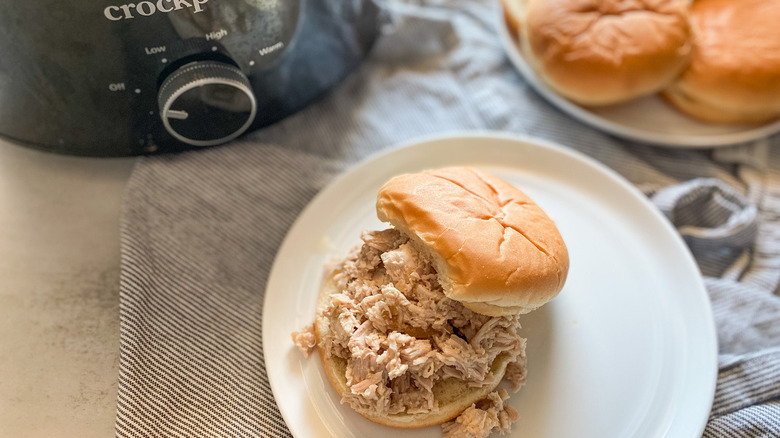 Ingredients
3 pound boneless pork shoulder loin
4 cups beef broth
1 (1-ounce) packet onion soup mix
8 buns, for serving
Optional Ingredients
condiments such as barbecue sauce, ketchup, and pickles, for serving
whole peeled carrots, to cook with the pork
Directions
Place pork loin into slow cooker.
Add onion soup mix and beef broth.
Cover and cook on high for 4 hours (or on low for 8 hours).
Remove pork from slow cooker and shred with fork.
Place shredded pork on buns, top with your condiment of choice.
Serve and enjoy.
Nutrition
| | |
| --- | --- |
| Calories per Serving | 544 |
| Total Fat | 32.3 g |
| Saturated Fat | 11.0 g |
| Trans Fat | 0.0 |
| Cholesterol | 120.8 mg |
| | |
| --- | --- |
| Total Carbohydrates | 24.8 g |
| Dietary Fiber | 1.1 g |
| Total Sugars | 3.5 g |
| Sodium | 842.8 mg |
| Protein | 36.0 g |