Duff Goldman Wows Instagram With This Roller Skate Cake Photo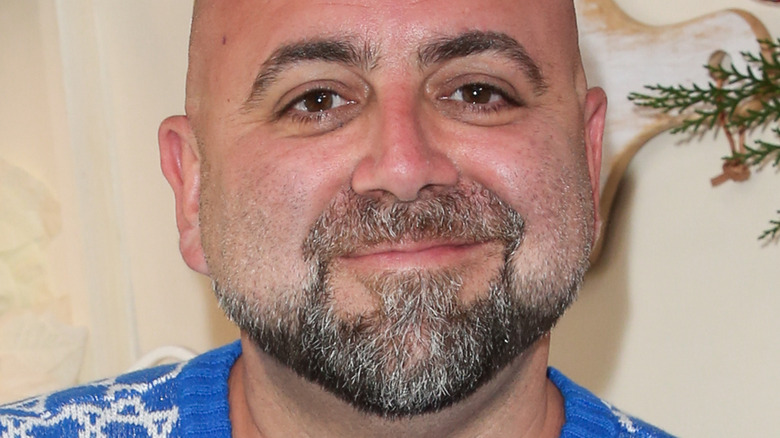 Paul Archuleta/Getty Images
Duff Goldman has stirred up more than cake batter, as one of his latest Instagram posts has fans commenting like crazy. In the past, the talented pastry chef has conjured up cakes that resemble many un-cake like items, including slot machines and aliens!
Goldman is well known for his show "Ace of Cakes," which aired for 10 successful seasons on the Food Network (via IMDb). You might also know the famous chef from his more recent TV stints as a judge on the Food Network's shows "Holiday Baking Championship," "Spring Baking Championship," and "Kids Baking Championship," where he hosts and judges along with Valerie Bertinelli.
We enjoy seeing the incredible, edible creations Goldman brings to life, whether it's on TV or via his social media accounts, and clearly, his fans do, too. In an Instagram post from September 4, Goldman showed off a cake resembling an old school golden roller skate, and we are loving it just as much as his followers are.
Duff Goldman's golden creation ignited a nostalgic feel
Duff Goldman's '70s style roller skate cake appears to be atop a tile, with the words, "ROLL WITH IT Happy Birthday Liberty" written along the edge. The Instagram post itself is simply labeled "#CakeoftheWeek." Duff Goldman currently has a whopping 700,000 followers and this days-old cake post already has 2,680 likes. 
Fans commented on the masterpiece with emojis including heart eyes, fire, wow faces, and raise the roof symbols, and some people couldn't contain their amazement (and we can't blame them!). "This is so dope," "That's remarkable," and "Wow!!!! It looks so real!!" flooded the comment section, not surprisingly, though, as the roller skate cake is just so darn realistic! 
The post also garnered a bit of a nostalgia from the folks on Instagram who commented, "Remember when we go roller-skating" and "ahhhh roller derby!" No doubt, this golden creation has us salivating — and now we are jonesing to go roller skating and eat cake, too.