Instagram Is Loving This Video Of Jamie Oliver Doing 'Bee Work' With His Son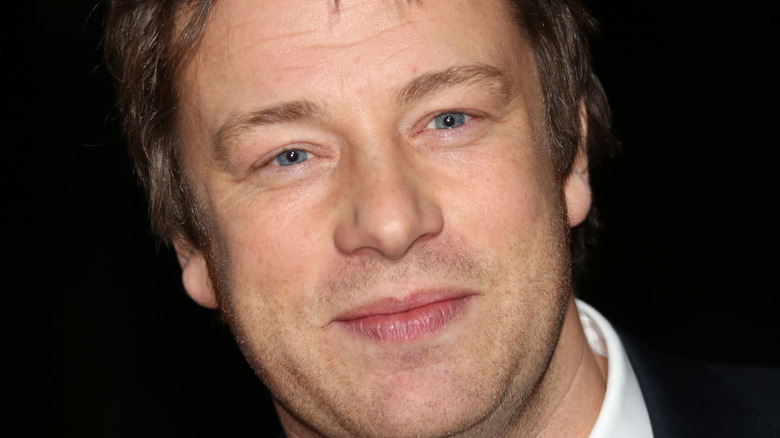 Featureflash Photo Agency/Shutterstock
Jamie Oliver definitely seems like that adoring dad who loves to share all his fun kid moments with his fans and social media followers, especially when it comes to his youngest son, River. Per Hello! magazine, Oliver made an appearance on the British show "This Morning" where he revealed, "River is phenomenal, keeps me on my toes. He breaks a lot of stuff I'm telling you, there's stuff broken everywhere!" So relatable if you have young kids, right? Well, recently the celebrity chef took to Instagram to share a video of him and his son at work in his bee garden, and Oliver's followers are loving it.
It's no secret that Oliver is a friend to the bee population. Back in 2018, the "Jamie and Jimmy's Friday Night Feast" host dedicated an episode of his show to British bees and the essential role they play in producing the food people eat (via Jamie Oliver's website). What we love is Oliver walks the talk. He has been chronicling collecting honey from his beehive and posting videos and photos on social media. But it's this video of River at the bee house that has hearts melting.
'Bee work' makes the dream work
In an Instagram video post Oliver captioned, "OMG hahah River cracks me up. Happy Sunday folks here's to the Last of the summers honey delicious! Tunes by me and @tobietripp," River shows us he is as cute as can be, explaining that he and his dad are doing "bee work" and are "going to see some bees and collect some honey." And Instagrammers are in agreement, helping the video rack up more than 650,000 views as of this writing. It is so endearing that when dad asks River if he would like to taste the honey, River drinks it straight from the honey spigot. There is something really tranquil about the meadow of flowers surround the bee house and the music Oliver has paired with the video.
One follower who received 70 likes for the response wrote, "There is something so calming watching that video." We definitely get those vibes. It is almost hypnotic to watch the bees buzz around and then to see those beautiful jars of fresh golden honey. It only gets better when Oliver cuts up what appears to be piping hot bread and toasts it and spreads a little butter on the toast before drizzling some of that fresh sweetness all over it. Another fan wrote, "River, you are the cutest! And that honey...I'm drooling over here." Same.