Cajun Shrimp Salad Recipe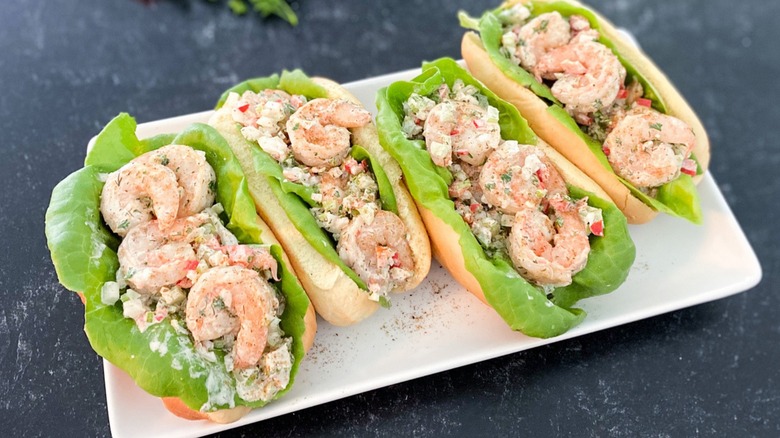 Erin Johnson/Mashed
Cajun cuisine certainly has a broad range of influences, partly dictated by the abundance of local seafood (via The Culture Trip). Since Cajun seasoning is fairly common in the average spice collection, we're always on the lookout for new ways to include it in a dish. Recipe developer and food blogger Erin Johnson created a delicious Cajun shrimp salad that lets the seasoning fully shine for maximum flavor. 
There's nothing complicated about this tasty dish, and Johnson adds that "This recipe can easily be doubled or tripled for a crowd." If you're looking for a simple idea for entertaining that will leave your guests impressed and satiated, here it is. This recipe is great for using up extra ingredients and Johnson notes that it is the "perfect way to use leftover shrimp or even crab!" Once you get a taste it's sure to become a part of your regular rotation. Johnson tells us, "This is a household favorite," and soon, your family can love it too! 
Get the ingredients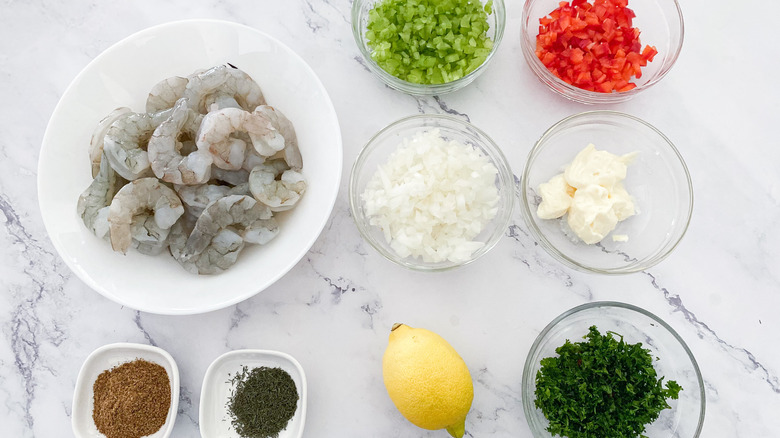 Erin Johnson/Mashed
To start off you'll need large shrimp that have been peeled and deveined. Since the shrimp will be combined with a creamy sauce, they're more enjoyable without the shells. Likewise, if you always skip over deveining your shrimp, then you might not care either way, but it does improve the flavor. Keep in mind that some shrimp is sold already peeled and deveined, which is a good option to eliminate these additional steps. 
Next, you'll need some olive oil to cook the shrimp and Cajun or Old Bay seasoning to add plenty of flavor. Both options are blends of numerous spices, including paprika and black pepper. Johnson suggests, "For a spicy kick, use a hot Cajun seasoning or sprinkle in cayenne." Once you're ready to assemble the ingredients for the salad, you'll need mayonnaise to bind everything together. Johnson notes, "For a lower calorie opinion, substitute Greek yogurt." Fresh parsley adds an herbal touch that is complemented by dried dill. Lemon juice keeps the flavors bright and makes a great pairing with shrimp. Finally, to add more color and crunch, mix in some diced celery, onion, and bell pepper. If you're undecided about which bell pepper to use, Johnson says any will do but she adds, "I prefer red for color variation."
Season the shrimp and cook it in a skillet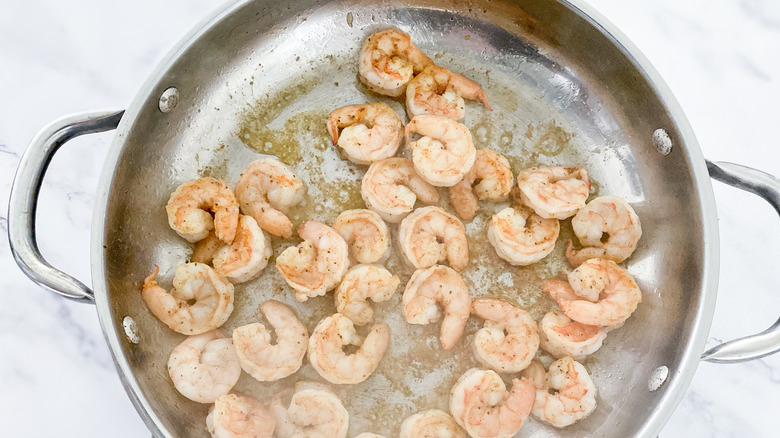 Erin Johnson/Mashed
Start off by placing a large skillet on the stovetop and setting the burner to medium-high heat. In a small bowl, coat the shrimp with 1 tablespoon of olive oil and 1 teaspoon of either Cajun spice or Old Bay seasoning. Once the shrimp are seasoned, toss them into the hot skillet and cook them for 3 minutes on each side. When the shrimp turn pink and opaque, they are done cooking — remove them from the heat and set them aside.
Prepare the mayonnaise mixture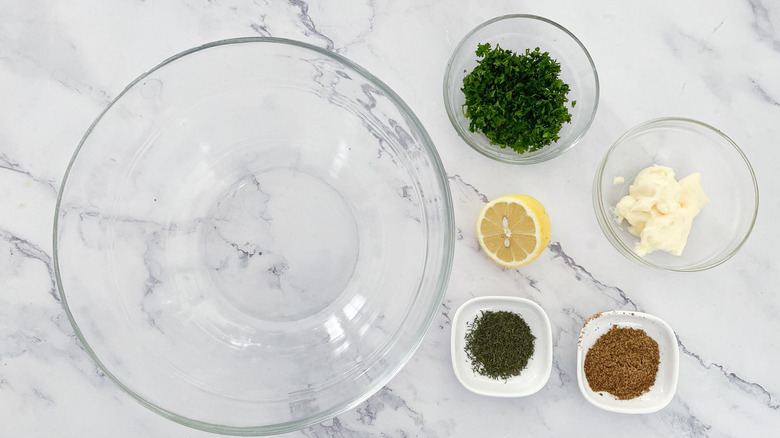 Erin Johnson/Mashed
Now, set out a large bowl – you will be mixing all of the ingredients into this bowl so make sure that the size is suitably big. Add 3 tablespoons of mayonnaise, 2 tablespoons of fresh parsley, half a teaspoon of dried dill, another teaspoon of Cajun spice or Old Bay seasoning, and 1 teaspoon of lemon juice. With a spoon, mix the contents together thoroughly until the spices appear evenly distributed in the mayonnaise. 
Add in the diced vegetables and the shrimp
Erin Johnson/Mashed
Next, make sure that the celery, onion, and bell pepper are finely diced before adding them to the bowl. Toss them into the sauce and stir everything together until the diced vegetables are properly mixed in with the mayonnaise. Finally, throw the cooked shrimp into the bowl and make sure to combine them well with the rest of the ingredients so that they are evenly coated in mayonnaise.  
Serve this tasty salad at room temperature or chilled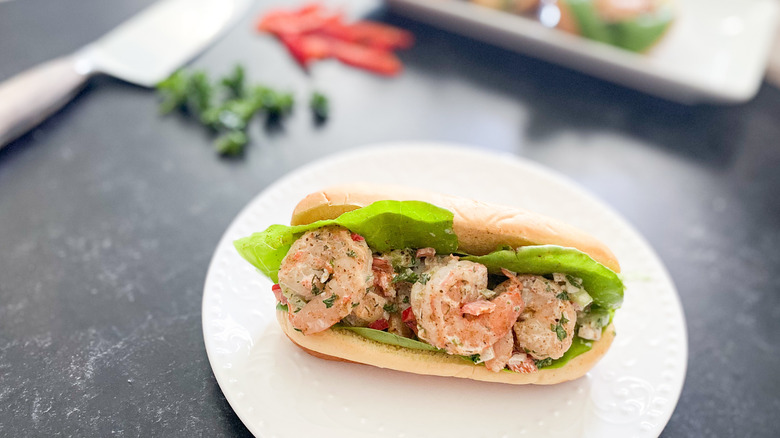 Erin Johnson/Mashed
Once you have assembled the Cajun shrimp salad, choose whether you want to serve it immediately as a room temperature salad or alternatively, chilled. If you prefer the latter, cover the salad and chill it in the refrigerator for at least 30 minutes. Johnson recommends serving it on rolls if it's chilled, or otherwise she says, "I also serve this on top of a garden salad or just on its own." She describes the dish as "flavorful and light – perfect for lunch," which makes it great for any day of the week. If you have leftovers, Johnson says that they can be stored for up to three days in the refrigerator.
Cajun Shrimp Salad Recipe
This Cajun shrimp salad makes for a light, refreshing, and tasty meal -- cut the calories by serving it over a bed of green, or indulge by having it in a roll.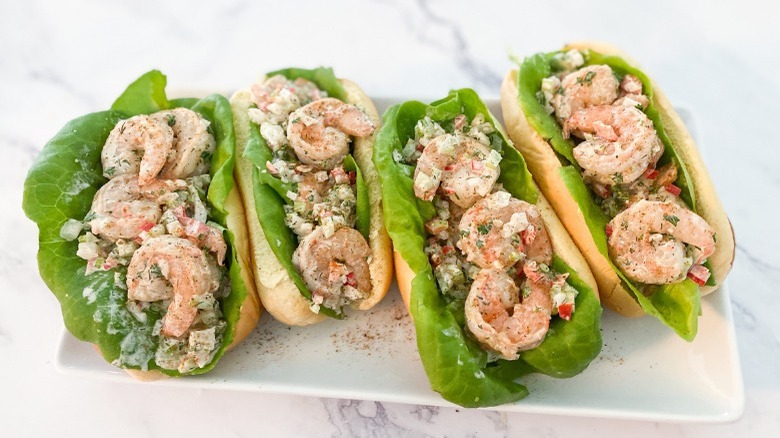 Ingredients
1 pound large shrimp, peeled and deveined
1 tablespoon olive oil
2 teaspoons Cajun or Old Bay seasoning, divided
3 tablespoons mayonnaise
2 tablespoons fresh parsley, chopped
½ teaspoon dried dill
1 teaspoon lemon juice
1 stalk celery, finely diced
¼ cup onion, finely diced
¼ cup bell pepper, finely diced
Optional Ingredients
Directions
Heat a large skillet over medium-high heat.
In a small bowl, coat the shrimp with olive oil and 1 teaspoon of the Cajun or Old Bay seasoning.
Cook the seasoned shrimp in the skillet for 3 minutes on each side or until the shrimp are pink and opaque, then set them aside.
In a large bowl, mix the mayonnaise, parsley, dill, lemon juice, and the remaining Cajun or Old Bay seasoning together until they are combined.
Mix in the diced celery, onion, bell pepper, and shrimp and stir everything until all the shrimp are coated in the mayonnaise mixture.
If desired, cover and chill in the refrigerator for at least 30 minutes.
Serve Cajun shrimp salad on its own or on rolls.
Nutrition
| | |
| --- | --- |
| Calories per Serving | 197 |
| Total Fat | 13.0 g |
| Saturated Fat | 2.0 g |
| Trans Fat | 0.0 g |
| Cholesterol | 147.1 mg |
| | |
| --- | --- |
| Total Carbohydrates | 3.6 g |
| Dietary Fiber | 0.7 g |
| Total Sugars | 1.0 g |
| Sodium | 714.7 mg |
| Protein | 15.9 g |