The Worst Soup At Panera Bread According To 22% Of People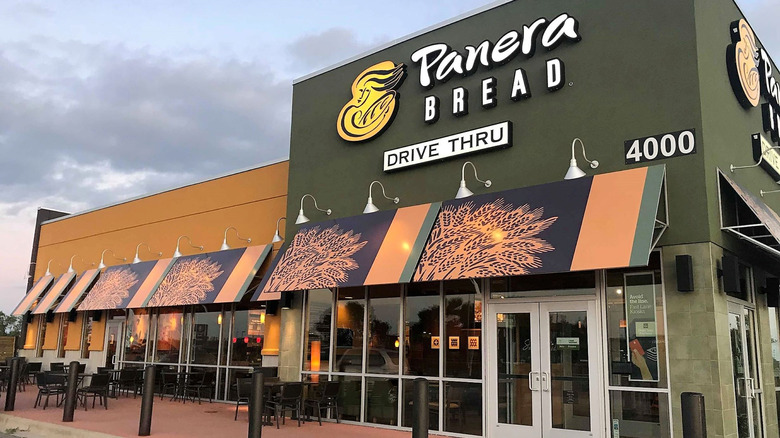 BWM Infinity/Shutterstock
With temperatures dropping, pumpkin spice returning to menus, and sweaters being pulled out of storage, peak soup season is officially upon us. And when it comes to offering an array of warm bowls in a fast casual setting, Panera Bread is at the top of the game. The chain, which has more than 2,000 locations across the U.S. and Canada, has become a popular spot for those seeking a quick sandwich, salad, or soup along with baked goods that are made fresh in-house daily. 
Unlike their baked goods, it has been revealed that the restaurant's popular soups are crafted in large batches at a processing plant, frozen in blocks, and shipped out to Panera locations across the country to be thawed in something called a thermalizer. This process allows the chain to maintain consistent flavor and quality of the menu item across all of its locations, regardless of where you're ordering Broccoli Cheddar or Potato Soup. 
However, as a recent Mashed poll indicates, not all Panera soups are created equal — and customer opinions are divided as to which one on the chain's ever-rotating menu falls to the bottom of the pack. 
Spicy isn't always better when it comes to Panera soup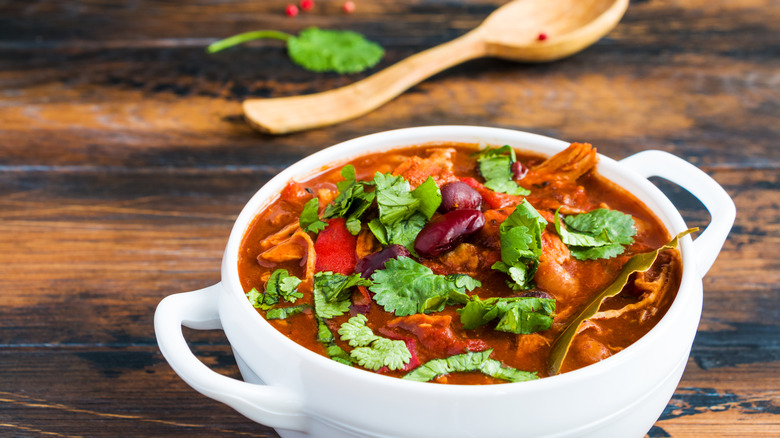 Magrig/Shutterstock
Recently, Mashed asked 643 U.S.-based respondents: "What's the worst soup at Panera Bread?" while providing voters with seven of the chain's most well-known and universally available soups to choose from, including Cream of Chicken & Wild Rice, Broccoli Cheddar, Bistro French Onion, Homestyle Chicken Noodle, Creamy Tomato, Turkey Chili, and Ten Vegetable.
Bringing in the lowest amount of votes — meaning they were the most popular soup flavors among respondents — were Cream of Chicken & Wild Rice and Homestyle Chicken Noodle with 8.09% and 8.71% of the votes, respectively. The popular Broccoli Cheddar and Bistro French Onion soups received the next lowest shares, with 12.91% and 13.69% of the votes, respectively.
Falling in the middle of the pack were Creamy Tomato (16.33%) and Ten Vegetable (17.73%). And taking the top spot as respondents' least favorite Panera soup was the Turkey Chili, with 22.55% of the total share of votes. While Mashed couldn't fit all of Panera's soups in the poll, the relatively wide spread of the responses indicate that even the least beloved items on Panera's soup menu still have their fair share of fans.