How Aarón Sánchez Is Celebrating Hispanic Heritage Month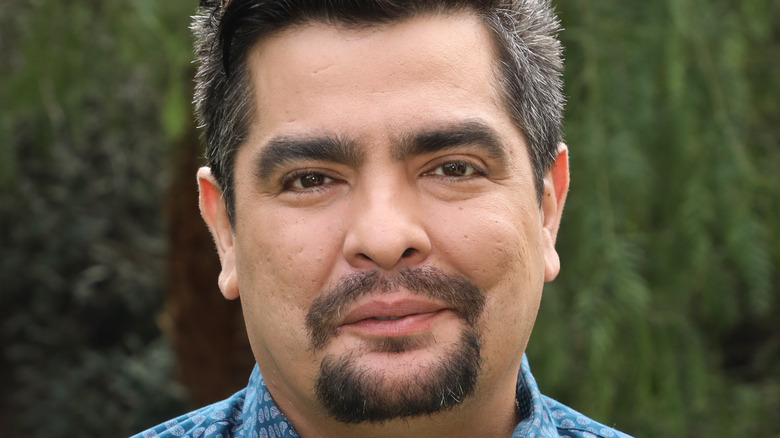 Paul Archuleta/Getty Images
September 15 through October 15 is National Hispanic Heritage Month (via Hispanic Heritage Month). It's a time to recognize and celebrate the generations of Hispanic Americans "who have positively influenced and enriched our nation and society," contributing cultural facets including art, food, and music, as well as being a part of civil and social change within the country and making America that much more diverse and rich in culture.
Latinx chefs might be even more excited to celebrate Hispanic Heritage Month than non-chefs — not only because it's important to recognize the contributions of Hispanic Americans, but also because Hispanic food, in all its varieties, is replete with tradition — as well as flavor. It's no surprise that celebrating delicious food and simultaneously recognizing its origins is always a win-win. Celebrity chef and author Aarón Sánchez certainly agrees and is celebrating Hispanic Heritage Month in a special way.
Aarón Sánchez is celebrating Hispanic Heritage Month by supporting Latinx-owned businesses
While Aarón Sánchez may live permanently in New Orleans, we all know celebrity chefs are no strangers to traveling in order to sample food (and adventure) from around the world. But there's a different "LA" on Sánchez's mind when it comes to celebrating Hispanic Heritage Month.
Sánchez is kicking off Hispanic Heritage Month in Los Angeles, as depicted in one of his latest Instagram posts. The post shows the celeb chef in front of a bright pink and black building with a sign labeled "Sara's." Sánchez' post reads, "One of my favorite ways to celebrate this month is to spend time discovering and supporting incredible small Latinx-owned businesses." He then goes on to detail what we now know is Sara's Market in East Los Angeles and encourages fans and those on Instagram to comment with their favorite Latinx-owned businesses. 
We're certainly hoping to see more of what — or who — Aarón Sánchez will be posting on his own feed as part of his Hispanic Heritage Month mission. Maybe he'll even take some suggestions from his commenters, too!