Trisha Yearwood Fans Are Loving This Hailey Whitters Collab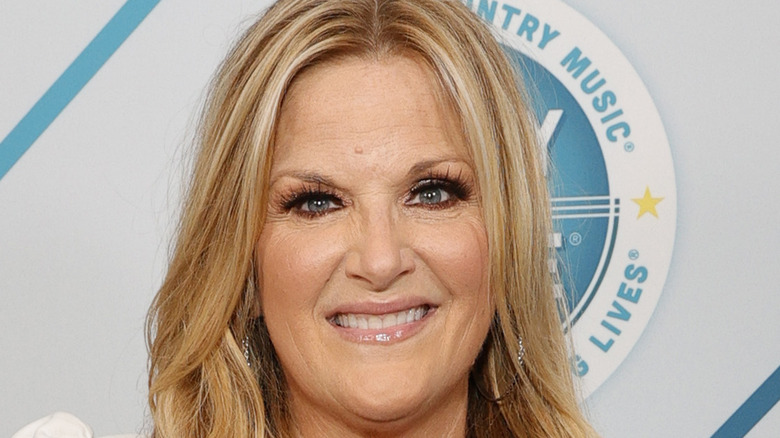 Jason Kempin/Getty Images
Trisha Yearwood has two groups of fans: those who discovered the charming television personality through her Food Network cooking and lifestyle show "Trisha's Southern Kitchen," and those who have been fans from back in the early '90s when the country singer first began to release music. (Of course, some of these fans fall into both categories.)
We wonder if the thought of a long-running and successful cooking show was even on Trisha's radar when the country singer rose to fame in 1991 with her self-titled album and the catchy #1 single on the country charts, "She's in Love with the Boy" (per Country Thang Daily).
However, after a dozen or so records (per Discogs), the avid home cook inked a deal with The Food Network in 2012 (per IMDB) for a new show called "Trisha's Southern Kitchen," which released its newest season last month. The show's production was paused in 2020 due to the COVID pandemic in which Yearwood herself caught the virus and lost her senses of taste and smell, a symptom that made it obviously difficult to host a cooking show (per ABC Audio).
As of August 2021, Yearwood still had not recovered these senses, she told the website Sounds Like Nashville. While this has made cooking difficult, her singing voice seems to have recovered — good news for fans of her music, for sure.
Yearwood and Whitters have chemistry
These talents were on display last February in the Hailey Whitters single "How Far Can it Go?" in which the superstar contributed to the track's vocals. The song was part of Whitters' "Living the Dream" album. In an interview with Top 40 Charts, Whitters explains the name of the album came from her duets with several of the country music artists she grew up idolizing, including Brent Cobb, Jordan Davis, Hillary Lindsey, Little Big Town, Lori McKenna, and, of course, the iconic Yearwood.
Fans of both Whitters and Yearwood loved both the song and Whitters' recent tweet: "If you want video evidence of me totally fangirling over @TrishaYearwood check this out:"
The post included a clip from the official "How Far Can it Go?" music video, which shows her clearly enjoying her time spent recording in the studio with the "Walkaway Joe" singer.
Fans responded positively Yearwood's retweet in which she responded to Whitters: "I'll sing with you anytime, @HaileyWhitters! xoxo"
One Twitter user commented: "Great blend and always a treasure when you can be with the Queen! I just added to my favorites!" Another Yearwood follower replied: "I love this song and video so much it sounds like something straight out of the 90's."
You can certainly feel the chemistry between the artists, and we wonder if anyone's pitched a cooking show collab for the two country crooners. Like Whitters, we're Yearwood fangirls and boys and certainly miss Yearwood's authentic style and delicious recipes on "Trisha's Southern Kitchen." So can Whitters cook as well as she can sing?