This Should Be Rhode Island's Official Food, According To Reddit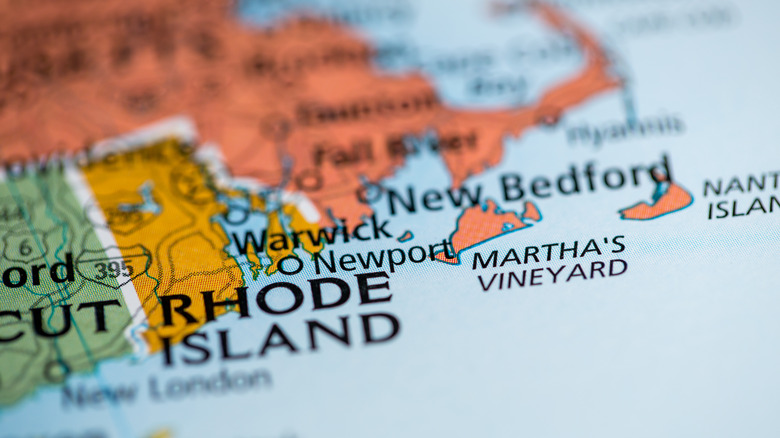 SevenMaps/Shutterstock
Here's a Reddit thread that's sure to leave your mouth watering: "I'm cooking one meal from every state in the United States," u/emilou09 begins. "What meal best represents your state?" The user received more than 24,000 comments and wrote that they were "completely overwhelmed and grateful with the amount of suggestions." Food & Wine gathered the most popular answers to the inquiry, finding that Americans have a strong passion for their regional specialties.
One state that stands out from the crowd is Rhode Island. The Ocean State, while often overlooked for its small size, has some of the best regional cuisine in the country, if the comments are any indication. We're talking pizza strips (saucy, cheeseless pizza cut into rectangles), johnnycakes (a pancake-like flatbread made with cornmeal), doughboys (fried dough covered in sugar or dipped in marinara sauce), and the list goes on (via Food Network). To say these original foods are delicious and worth a try would be a huge understatement.
Rhode Island's favorite foods star clams and coffee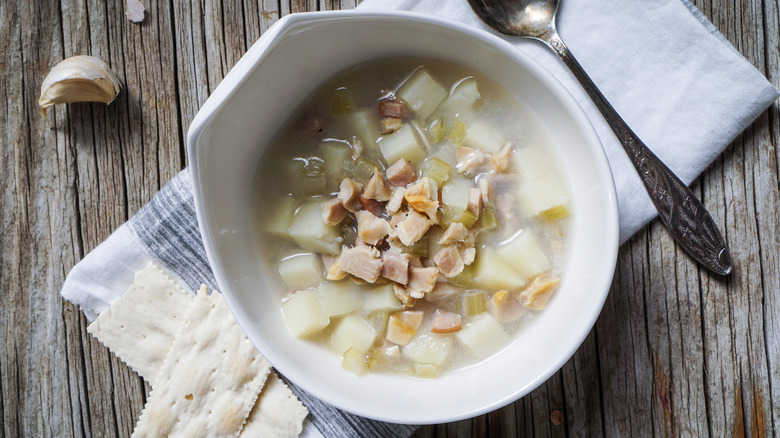 AnastasiaKopa/Shutterstock
According to Rhode Island law, calamari is the official state appetizer, confirms NPR. But many commenters on the Reddit thread disagree with the selection, arguing that Rhode Island's state dishes should include clear clam chowder and clam cakes instead.
Clear clam chowder, also known as Rhode Island clam chowder, is just what it sounds like: clam chowder that is clear due to the lack of added cream. While New England clam chowder and Manhattan clam chowder get their distinctive hues from cream and tomatoes, respectively, the Ocean State's version consists of a broth made from the quahog clam, according to the Food Network. This allows the flavor of the state's official shellfish to really shine. Clam cakes, on the other hand, are highly snackable fritters made of chopped clams, flour, water, and seasoning. The crispy, fluffy appetizer is often dipped in chowder.
The runner-up for the new official state food of Rhode Island, Food & Wine reports, is something called coffee milk. The concoction is similar to chocolate milk, says GBH, but has coffee syrup instead of chocolate syrup. Apparently, officials already recognize the beverage's importance to the area; it is Rhode Island's state drink (via RI Government).