Molly Yeh Reveals The Item She Never Leaves The Grocery Store Without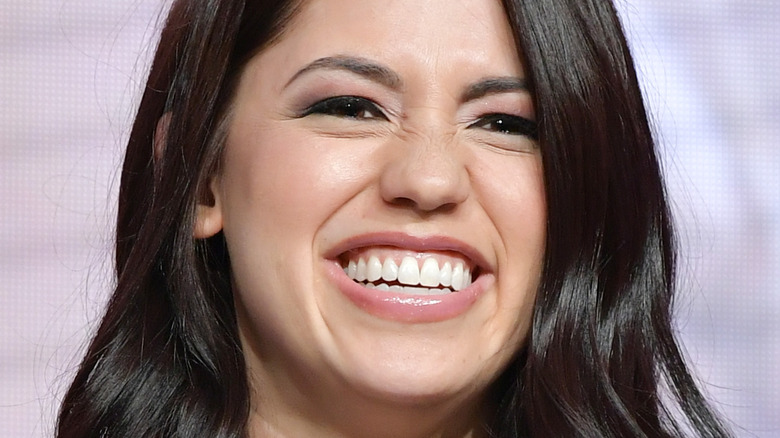 Amy Sussman/Getty Images
We love when celebrity chefs give us a glimpse into their refrigerators and pantries. How would we ever know about Andrew Zimmern's mustard collection if he had not allowed us to take a peek inside his fridge? Or what about the likes of Giada De Laurentiis, who was kind enough to share the three food staples she always has to have on hand, chocolate, arugula, and cheese? And then there's Martha Stewart, who always needs Ladurée croissants, ice cream, and a bottle of Zubrowka vodka in her refrigerator. It makes them so relatable. Well, now we can add food blogger and host of Food Network's "Girl Meets Farm" Molly Yeh to that list because Yeh is sharing the item she always picks up when she is at the grocery store.
Yeh may be the next generation of celebrity chefs, but she has developed a strong following and proven her culinary skills. Per Deadline, Yeh was named to Forbes' 2017 30 under 30 list, and since her short but stellar rise, already has a third cookbook slated to hit bookstore shelves in fall 2022. Yeh's cooking and baking draws inspiration from her Jewish and Chinese heritage and if you check out her My Name is Yeh blog, you will find some really tasty recipes. So, when she goes grocery shopping, what's the one thing that she can't help but put in her cart?
Molly Yeh can't resist buying kale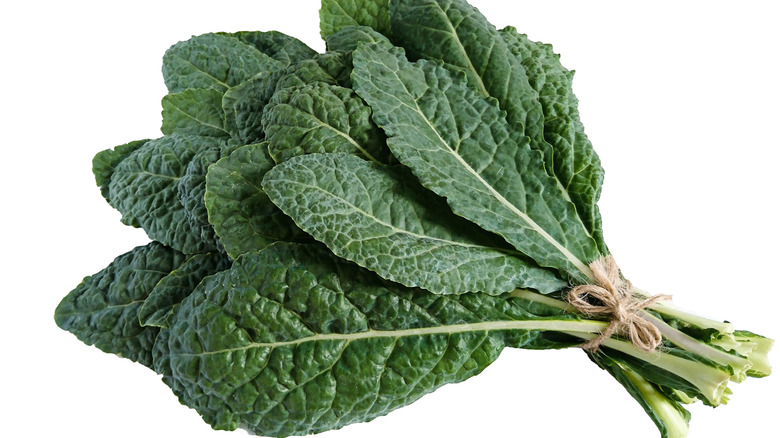 S.nilapan/Shutterstock
While you might think the item Molly Yeh always buys must be an ingredient that contributes to dishes, like her awesome fairy French toast casserole, which she suggests making to ring in the new year, or one of her incredible cakes, you might be surprised to learn that is not what she told Real Simple. In fact, the item that is always on Yeh's grocery list has nothing to do with the sweet treats she creates. Yeh shared that her grocery shopping siren actually comes from the produce section and is none other than kale. 
Yeh told the publication, "I get the big bags of kale that are pre-washed. I force myself to go through them before the expiration date by putting them into smoothies and making kale chips." Why kale? Yeh revealed, "It's how I feel less bad about eating so much cake all the time." We like Yeh's philosophy! It's so relatable, right? Yeh does incorporate kale into several of her recipes that we really enjoy, too. As Zest 4 Food points out, Yeh shared a version of Shakshuka that utilizes this leafy ingredient and it is central to Yeh's brunch favorite Garlicky, Lemony, Kale recipe that is super easy and delish. So, if you want to shop like Yeh, buy kale.