This Desperate Housewife Might Be Wendy's Most Famous Ex-Employee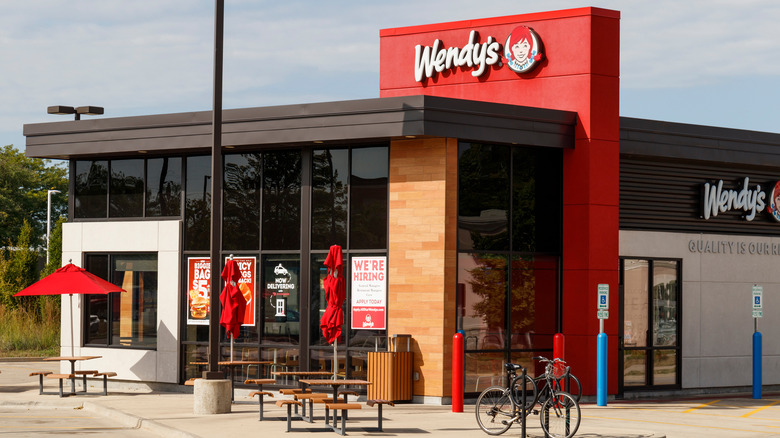 Jonathan Weiss/Shutterstock
Oftentimes, before celebrities hit it big, they've paid their dues working in the fast food industry. Take, for example, Jennifer Hudson, who did a stint at Burger King, or Maria Menounos and Madonna, both of whom worked at Dunkin Donuts, although Madonna says she was fired on her first day for "squirting jelly on a customer." Additionally, Rachel McAdams, James Franco, and Andy Grammer all worked at McDonald's — Grammer says he can "make a mean McFlurry" (via People). But there's one specific actor who got a job at Wendy's because she was desperate for money. 
The actor, producer, and director rose to fame as Wisteria Lane's Gabrielle Solis on "Desperate Housewives," but before she was famous, Eva Longoria, who is from a Mexican-American family, was the youngest of four sisters growing up in Texas (via IMDb). When Longoria's father informed her that she would have to pay for her quinceañera on her own, she was determined to have a party and decided to do what any hard working teenager would do: She got a job. Longoria worked at Wendy's for six years, during which time she was promoted to manager. After celebrating her hard-earned quinceañera, Longoria went on to give some of her earnings from working at the restaurant to her family (via Food & Wine).
"I loved working there," Longoria said on "Rachael Ray," via YouTube. "I think everyone should work in restaurants."
Eva Longoria knows how to put together a killer burger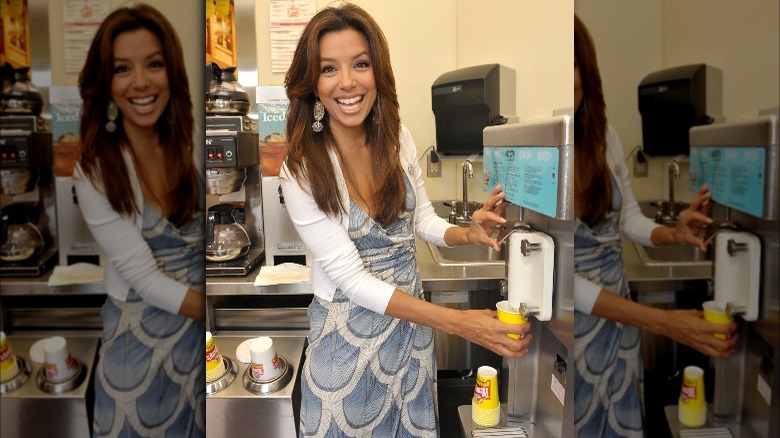 John Shearer/Getty Images
One of the most important skills Eva Longoria learned while working at Wendy's was how to "properly" assemble a burger. Longoria is a pro at slapping on condiments in a way that ensures optimal tastiness. "What we learned at Wendy's was mayonnaise goes on the bun first to seal the bun ... and then you put ketchup on top of that, so it's mayonnaise, ketchup, mayonnaise, ketchup. And the mustard goes on the meat because it brings out the flavor of the meat," she said on "Rachael Ray." (via YouTube). Cheese is, of course, also an essential element of a bonafide burger, and as for Longoria, she prefers what she calls "yellow" cheese. "I don't know if it's cheddar. I know it's yellow," she said.
Longoria translated her experience in fast food into ownership of two restaurants: SHe, a venue catering to women, and Beso, a steakhouse. According to a 2014 Eater article, both restaurants have since closed. Longoria has also authored a cookbook entitled "Eva's Kitchen" and recently released her own tequila brand. Seems like learning how to work hard for what you want has surely paid off for Eva Longoria as she is now estimated to be worth $80 million (via Closer Weekly).