Spicy Cherry Chutney Recipe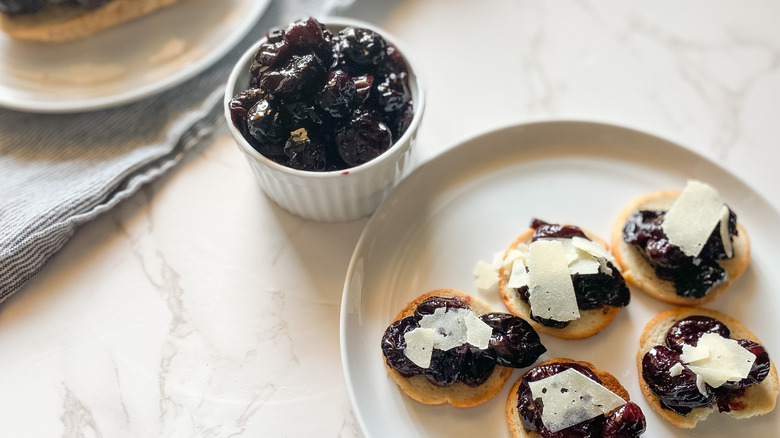 Kristen Carli/Mashed
Sometimes it's the condiments that really shine when you're enjoying a meal. While most people are familiar with ketchup, mayonnaise, and the like, chutney is an iconic condiment from India. It comes in countless variations combining fruit, vegetables, spices, vinegar, and sugar into a jam-like substance (via MasterClass). Depending on its flavor profile, chutney might be used to complement or contrast with the other items in a dish. Although chutney is especially prevalent in Indian cuisine, it can be used in a wide assortment of ways to pair with different flavors.
Registered dietitian Kristen Carli is a Mashed recipe developer who is always experimenting with diverse cuisines. This spicy cherry chutney is her latest creation and you'll love having this delicious condiment around. Carli chose to pair cherries with chilis explaining that, "Cherries can handle a little heat." More importantly, she chose to make a cherry-based chutney because she says, "They are also one of my favorite summer fruits." 
Gather up the ingredients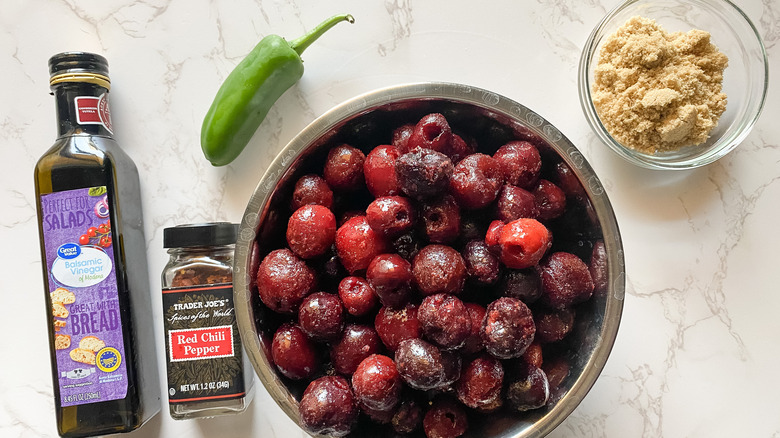 Kristen Carli/Mashed
You'll only need a handful of ingredients to make this spicy cherry chutney. To minimize the prep time Carli keeps it simple by using frozen pitted cherries. You'll be stewing them down so fresh cherries aren't really worth it for this recipe. Next, brown sugar helps to caramelize the flavors, adding complexity and richness to the chutney. Vinegar is incorporated as a preservative but it also adds a tang that is balanced out by the sugar. Since the cherries are dark with a pronounced taste, balsamic vinegar makes a great match. Finally, Carli opts for red chili flakes and a fresh jalapeño to complement the cherries, explaining that "The bright acidic flavor pairs nicely with the kick from the jalapeño." She recommends removing the seeds from the pepper, but if you really like the heat you can save some too.
Add all of the ingredients to a stockpot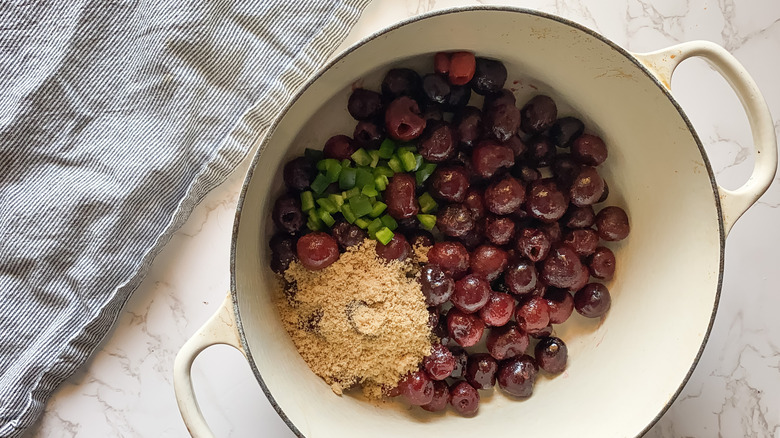 Kristen Carli/Mashed
First of all, set out a stockpot that is large enough to hold all of the ingredients. Add 4 cups of frozen pitted cherries to the pot, then measure out a ⅓ cup of brown sugar and a ¼ cup of balsamic vinegar and pour them on top. Next, sprinkle in 1 teaspoon of red chili flakes and add the jalapeño once you have removed the stem and seeds and finely diced it.
Cook and stir the contents of the pot for 45 minutes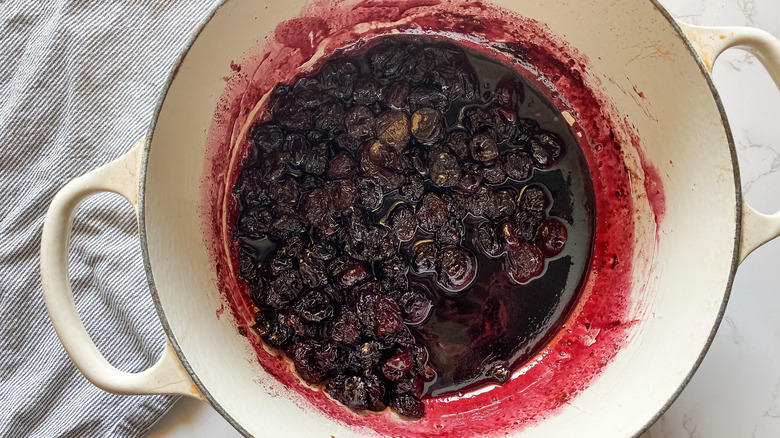 Kristen Carli/Mashed
Place the stockpot over the stovetop with the burner set to medium heat. Set a timer for 45 minutes so that the cherries cook as their flavors blend together with the brown sugar, balsamic vinegar, and spicy chilis. There's no need to stand by the pot constantly mixing, but be sure to occasionally stir the contents to prevent anything from sticking to the bottom. Carli explains, "After 45 minutes, the cherries will decrease in volume and become much darker." She describes that "The consistency will be similar to a liquidy jam," at which point you can remove the stockpot from the heat. 
Serve this tasty chutney in a number of ways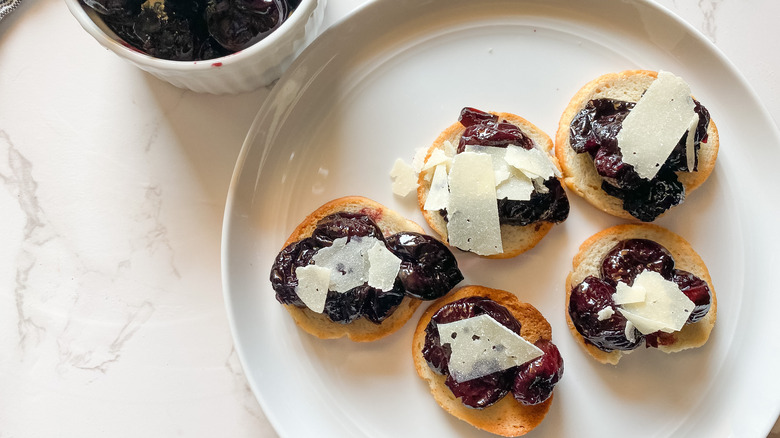 Kristen Carli/Mashed
Once the chutney has reduced to the desired texture, you're ready to enjoy the spicy cherry flavors. Carli uses the condiment in many instances and notes, "I love chutney on meats, toast, or crostini." If you're planning to use it on crostini, you'll definitely want to add a slice of cheese to complement the fruity flavors. While you're experimenting with bread and cheese, a simple sandwich is greatly enhanced if you add a layer of chutney. Or else, think of it as a sort of relish and serve it on the side with a roast or grilled meat. Since chutney is so present in Indian dishes, you could also let yourself be inspired by the cuisine. 
As far as leftovers go, Carli remarks that "This stores well in an airtight jar in the fridge for up to seven days."
Spicy Cherry Chutney Recipe
Sick of regular jelly or jam? Try this spicy cherry chutney, a perfect topping on toast, sandwiches, and crostini, and a delicious condiment for meat.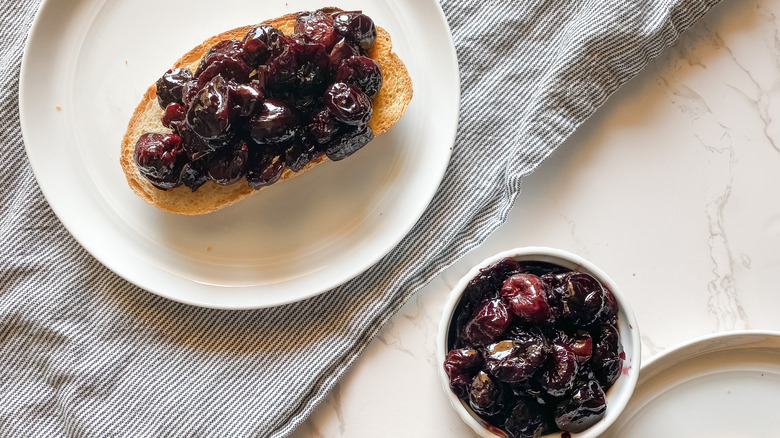 Ingredients
4 cups frozen pitted cherries
⅓ cup brown sugar
¼ cup balsamic vinegar
1 teaspoon red chili flakes
1 jalapeño, diced with stem and seeds removed
Directions
Place all of the ingredients into a large stockpot.
Place the stockpot on a burner over medium heat.
Cook the contents, stirring occasionally, for 45 minutes.
Serve as a condiment as desired.